Back to selection
"I Wanted To Take a Closer Look at How People Shut Down": Veerle Baetens on When It Melts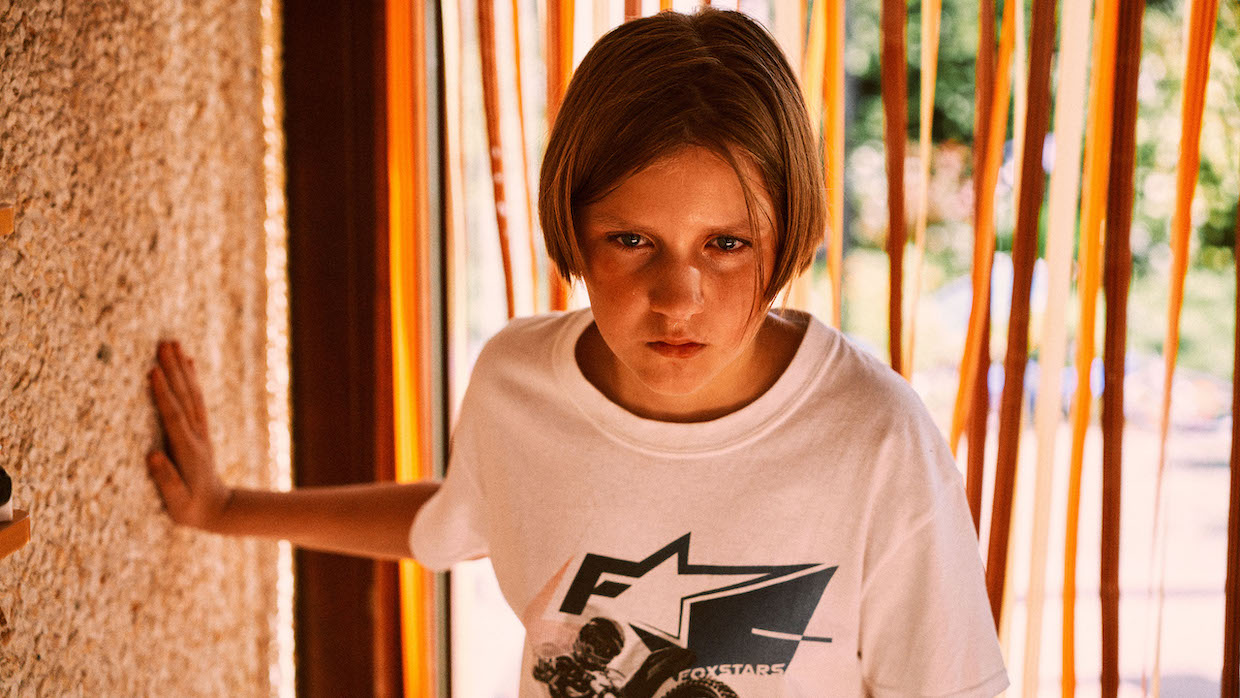 When It Melts, courtesy of Sundance Institute.
It's somehow been a decade since Veerle Baetens was named best European actress for her incandescent, heart-wrenching turn in The Broken Circle Breakdown. As a bluegrass-loving tattoo artist gradually obliterated by tragedy, Baetens' performance was complex, unflinching and emotionally raw. When It Melts, the Flemish filmmaker's Sundance-premiering feature directorial debut, cuts similarly close to the bone. 
Adapted by Baetens and co-writer Maarten Loix from Lize Spit's bestselling Flemish novel, it centers on an isolated woman named Eva (Charlotte de Bruyne) who returns to the village she grew up in with an ice block in the back of her car. There, in the dead of winter, she plans to confront the long-unresolved childhood trauma that altered the trajectory of her life. Simultaneously, the film falls back decades to follow a younger Eva (Rosa Marchant), who struggles to earn the approval of two slightly older boys across one long, oppressive summer.
For Baetens, directing has been a long-time dream, though she didn't pursue it until recently, instead starring in television series such as Tabula Rasa, which she co-wrote. The uncompromisingly painful subject matter of When It Melts presented an unusual but appealing challenge for Baetens in that it required her to work closely with two actresses to portray the same character at different ages, slowly revealing the incident that replaced her youthful sensitivity and innocence with profound loneliness and despair. 
"Being an actress, you are in a fragile place all the time," Baetens reflects, speaking over Zoom the day before her film's Park City premiere. "You're always subject to someone's desire, to someone thinking you're good or beautiful. Auditioning, as well as filming, as well as when you're up there on screen, people need to like you to connect with you. I just feel like I don't want to do that for a while." 
Instead, "I want to be the one who gives a safe haven to people who need to perform," she adds. "Because I know what that place is like. It's a beautiful place, but it's also a very fragile place."
Filmmaker: Veerle, I understand you were given Lize Spit's book The Melting as a present, along with a note suggesting that you consider directing a film adaptation. How did you arrive at the decision to direct? 
Baetens: Yes. In 2016, the book came to me, wrapped in paper, with a note: "Do you want to direct this?" And the producer at that time was Dirk Impens, at Menuet, who made The Broken Circle Breakdown. Now, going back 24 years ago, I had to choose what to study after high school. I looked at film school, but I also did an entry exam for a conservatory for musical theater. I got through that entry exam, so that was already something that I had achieved, and I chose to go that way, to be in front of the camera. Even then, I had a feeling that I wanted to be the creator and originator of something. 
In 2013, I co-wrote a series and felt that the next step would be directing. And then this present came, I read the book, and I immediately agreed with the producer that it had all the elements needed for me to make a great movie. The story appealed to me as a person, as did the main character. I recognized myself in her as a child, being the one who is less beautiful and not wanted, always wanting to please and always wanting people to like you. Some people are very sensitive to that. And the adult Eva is a person that I see around me, whom I feel I am fascinated by, because I don't grasp them. I'm not able to find contact. I wanted to take a closer look at how people shut down, in a way, and are not able to talk about certain things that happened to them. There's also an element of suspense in the fact that she drives around with an ice block in her car, to keep the audience in their seats, you know?
Filmmaker: In childhood, Eva wants so desperately to be seen, to belong, and there's such isolation to her life as an adult as well. What was your approach to filming a character like that?
Baetens: I wanted us to be close to her skin. At the same time, I wanted everyone to be human and perceived as human. I didn't want a bad guy, and even those playing those roles I wanted to be human. Even Marie, [one of the boys' mothers,] in a certain way, you can understand. It's horrible what she does, but you can understand it. When you look back at the past, when everything's still fine, I wanted warmth. I wanted to be close to the characters. I wanted emotion, and at the same time I wanted realism. With my cameraman, we went for plan-séquence, because long takes contribute to the realness of the story, but we also wanted to go against the toughness of certain elements of the story. What also happens is that, with Eva as an adult, we're already in a small space. With young Eva, we begin quite large or medium, and the closer you come to the ending, the more it narrows down. You feel, during the movie, that Eva's life is narrowed down.
Filmmaker: After you signed on to direct When It Melts, how did you go about finding the right team to make the movie?
Baetens: First, we auditioned the kids. Of course, Eva was especially important. We did group workshops with the kids, so that we could see their evolution. Every time, we would narrow down the group. Every time, we would bring them further, and we did an acting workshop with them. At the end, we finished with the perfect group of kids. Then, we started casting the adults. That went in a very natural way. [Charlotte de Bruyne,] the adult Eva, didn't have to audition, because she's a great actress in Flanders, and she bore a physical resemblance to [Rosa Marchant,] the little Eva. 
My crew, because I've been acting in Belgium for 20 years, I know who I like to work with. I know with whom I feel comfortable and which people could help me to make this film in the best way possible for the actors. For me, the actors are the most important, and everything else needs to be at their service, in a healthy way. It's very important to create a safe environment; that's the only way an actor can feel safe to just throw themselves into it, fall down, and stand up again. Someone presented the writer, [Maarten Loix,] to me, and we just clicked. We have the same taste in movies, and we want to talk about the same subjects of life. I did a series, Cheyenne & Lola, with [Frederic van Zandycke,] my cinematographer, and I loved working with him as an actress. I saw how he was with actors and with his crew; he was the best. He's very young. He's 29.
Filmmaker: In the film's most upsetting scene, a game that these children play takes an extremely dark turn, which we experience from Eva's perspective. What was your approach to working with young actors on such challenging material? 
Baetens: It was important for me that everything that we did was done in the best and safest way possible. To begin with, the kids became a very strong group of friends. Much in advance, we started to spend time together, working on acting—a weekend here, a weekend there—so that they really trusted each other and also trusted us. 
The scene you're talking about was shot completely at the end; it was the last scene that we shot. We had three days to shoot it. We rehearsed the game, and we rehearsed the fight in advance, but we didn't rehearse the scene itself. That was just for the day when we were going to do it. There was a psychologist attached to it, who was there the day of the shooting. She would take them out after every take and play fun games with them, to get them out of the emotional parts of their brains. Of course, there was a lot of talking with the parents, a lot of talking in general. 
What Rosa always says is that it was actually one of the most fun days of shooting, because it was a lot of fun before and a lot of fun after. Still, even now, I think aftercare is very important. We get together, we talk, we play games, we make dinner together. I think it's always like this, but it's incredible how kids grow because of doing something like that, how they become more secure about themselves. There's something magical about acting and about being with a group of people making something together. It's not as horrible as it seems; in reality, what was behind the scenes, it was beautiful.
Filmmaker: Your performance in The Broken Circle Breakdown — perhaps the film you're best known for — is remarkably visceral, and the performances of Charlotte de Bruyne and Rosa Marchant in When It Melts achieve a similar effect. Has directing changed your perspective on the creative dynamic between actors and directors?
Baetens: I have changed. After making the movie, I did another film, [A Sister,] by Delphine Girard. And I told myself what I learned from the kids is that acting is first trying what the director asks and not questioning everything, as I used to. I could be difficult, sometimes. I'm not saying you cannot contradict the director or question things, but it's about being open to a director, to giving and then seeing if it works, because everything you do is okay. When the director comes to you, and he says, "Can you do this or that?," it's not because it's bad, but because it's working. That's what I learned from working with my actors. It's not bad, what they do—it's good. I'm just working with them. I'd always felt like a director didn't think [my work] was good. I suppose it depends on the relationship between you and the director—if you feel safe, if he respects what you give. Acting is so much about giving, I think, to be honest.
Filmmaker: The two timelines at play in When It Melts, that interweaving of past and present, is essential to its exploration of trauma's lingering impact. How did you determine where to move back and forth between them?
Baetens: It was an on-going search. In the book, there are three timelines, and we narrowed it down to two, which was enough to tell the story. In the writing, it was more fragmented. And then we came into the edit, and we saw the structure wasn't working. The search was about how we could stay connected to the person of the past but also want to see the person of the present and stay connected. And how could we wind them together? We were just searching the whole time. How long do we need to stay with little Eva? How long do we need to stay with Eva in the present? You have the past, and then you have the present, but everything in between—the inter-time—is not shown. For a long time, it was difficult to deal with, because you need to jump [away from the past] and you need to understand the person in the present. That was something to search for. It's a frozen state, that inter-time. The fact that it is not there is because it's non-existent. At that time, she does not exist. 
There's one other thing I wanted to tell you, about why I wanted to make this movie. The world takes such a hard stance toward people who don't talk about their problems and are not resilient enough to fight back and stand back up every time. Our world is very much about succeeding and being at the top. And I wanted people to attach to a person like that, so that they can become her friend and family, because, in real life, you maybe wouldn't attach to a person like that.
Filmmaker: You worked with Bjorn Eriksson, who also composed the music for The Broken Circle Breakdown, on this film's score. Especially given that you're a musician yourself, how would you describe that dynamic on this particular project?
Baetens: He also did Cheyenne & Lola, which is a series in which I acted, in France. He's not just someone who brings music to the image; he brings music to what he feels. When he read the story, and when he read the script, he could immediately start composing. He has this vigilance, also, to keep on searching for the right instruments, for the right atmosphere, for the right hardness or harshness or softness. We feel each other. We've been doing concerts together for two years, so I know him and he knows me. And it just feels safe. He has many colors; he can do a lot. He's versatile. And that's why I really wanted to work with him, and I'm so happy, because we get a lot of compliments about the music. The song in the credits is so beautiful. I really love that song. For me, it brings the film together. This is what it's about.