Back to selection
"25 NEW FACES" FEATURED AT THE GRAND CINEMA IN TACOMA, WA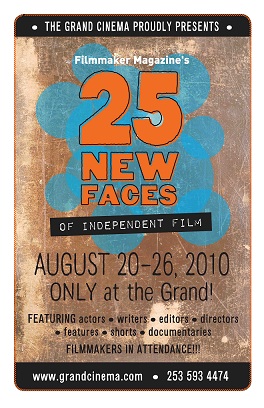 Attention film lovers in or around Tacoma, Washington: Beginning this Friday, The Grand Cinema will be presenting projects from this year's "25 New Faces of Independent Film."
Nowhere else in the country will you be able to see the works from this year's 25 New Faces in a concentrated program at the same venue. The six-day event will include 21 films and 12 of the "25" will be making the trip to be in attendance, including New Low's Adam Bowers, Babyland's Marc Fratello and The New Year's Trieste Kelly Dunn.
We here at Filmmaker would like to give a special thanks for to The Grand Cinema's executive director, Philip Cowan, and his staff for reaching out to Filmmaker with this idea and putting this event together. We hope this is the start of an annual film event in Tacoma for years to come.
Click here to learn more about the event, how to get tickets and a PDF version of the schedule.