Back to selection
"A Story That Plays With the Senses": DP Lílis Soares on Mami Wata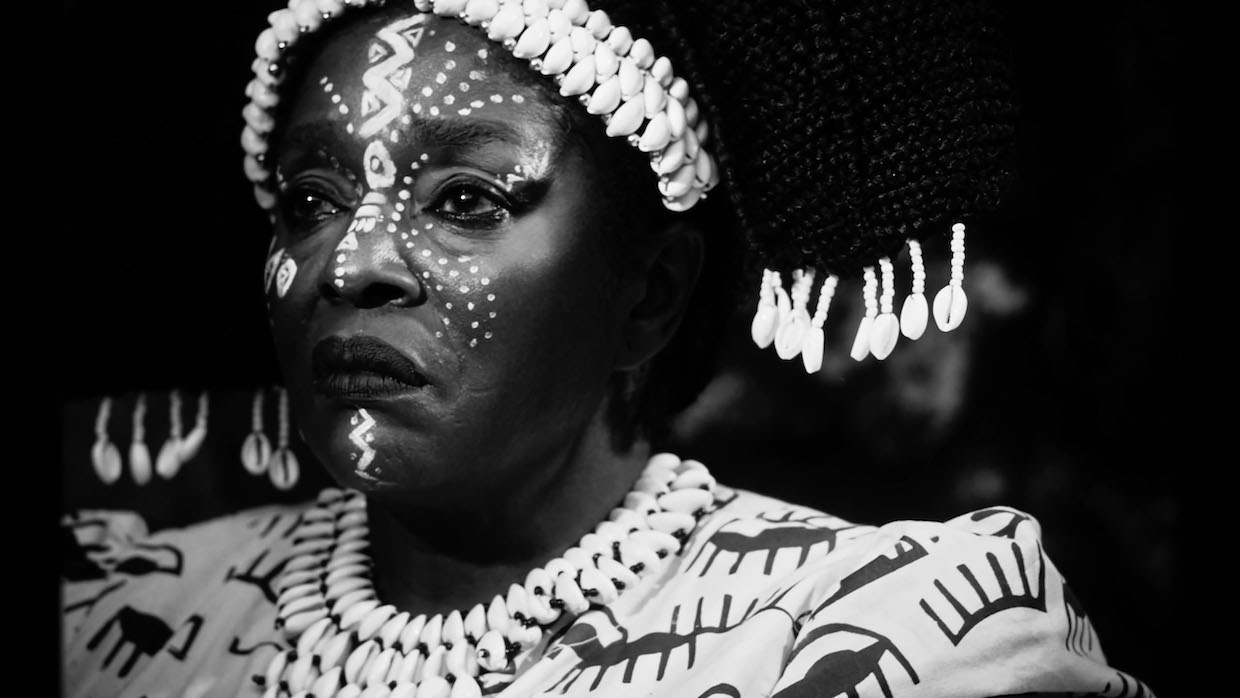 Rita Edochie in Mami Wata.
A folkloric African water deity is the titular focus of Mami Wata, the Sundance-premiering film from writer-director C.J. "Fiery" Obasi. The revered Mama Efe (Rita Edochie) serves as the conduit between the inhabitants of the seaside village of Iyi and the sacred water spirit, but a brewing period of civil unrest threatens to throw the entire village into extended tumult. When a young boy dies of a virus, neither human nor spirit can intervene to stop more bloodshed.
Cinematographer Lílis Soares discusses the influences and approaches she utilized while shooting the sumptuous black and white film.
See all responses to our annual Sundance cinematographer interviews here. 
Filmmaker: How and why did you wind up being the cinematographer of your film? What were the factors and attributes that led to your being hired for this job?
Soares: I think director C.J. Obasi could answer this question better, as we didn't know each other. I've always worked in the area, I went through many functions until I established myself as a cinematographer. I started my studies in Brazil in Radio and TV and also studied in Paris, France, a second graduation/specialization in cinema/photography. I always knew the difficulty of the area, not least because I don't have many references from people with my profile in the role. However, I have always been passionate about film and images. And I've always wondered about the way people of color were photographed. So that made me direct my studies towards black skin and new narratives. I find the studies on "new gauze" and many experiments in this sense very interesting. I started researching about it and found works by many artists that fascinated me a lot and also important texts in that sense. Perhaps my turning point was reading texts from Bell Hooks, with The Oppositional Gaze: Black Female Spectators being what provoked me the most. From then on, I deepened my technical and theoretical studies, whether in the six years I lived in Europe or on my return to Brazil. I worked on many projects and won an award that made these characteristics of my study and aesthetics a little more latent. I was nominated for the C.J. in this workflow and when we met, I understood that, even with an ocean separating us and we never spoke, we had the same aesthetic and narrative yearnings. For me, it was a great opportunity to collaborate and put into practice much of what I had already experienced in some works and studies.
Filmmaker: What were your artistic goals on this film, and how did you realize them? How did you want your cinematography to enhance the film's storytelling and treatment of its characters?
Soares: My personal and professional goal is precisely the research to include this language and messages into my image. Understanding what a new gaze really is, and how my trajectory and technique can influence how I produce images and tell stories. In this movie, I tried to approach the camera to the characters to feel the breath and the walk. Actually, the camera is another character. I would like viewers to feel inside the film, as part of the story. Per example, many times, the camera walks and breathes with Prisca. And there is the point of view of the ocean too. The ocean is the biggest character of this movie, in my opinion. And it looks at the world like a God, like a mother. I tried to create a mix of perspectives and sometimes break the fourth wall. 
Filmmaker: Were there any specific influences on your cinematography, whether they be other films, or visual art, or photography, or something else?
Soares: Yes, there are many artists and films. Photographers like Seydoux Keita, Gordon Parks, Zanele Muholi, Joana Choumali, Damien Jelaine. Films like Touki Bouki, Atlantic, Moonlight, Bush Mama. 
Filmmaker: What were the biggest challenges posed by production to those goals?
Soares: Mami Wata is an aesthetically daring film. The choice of director C.J. Obasi to make a film in black and white with 99% of actors with jet black skin, shot essentially at night, either on the beach or in the forest, and with an ancestral African theme would be a great challenge. And we quickly understood that the pandemic and logistical issues would make our process even more difficult. We had to adapt a lot from what we had initially planned. We shot in Benin, and the equipment that was coming from Nigeria was delivered very late, which also brought difficulties for our shooting schedule. Since pre-production we had to get creative to find technical and narrative solutions for the scenes.
Filmmaker: What camera did you shoot on? Why did you choose the camera that you did? What lenses did you use?
Soares: I used an Alexa mini and Zeiss CP3 and Angenieux zoom lenses. Alexa is my favorite camera, and together with the quality of the Zeiss lenses and Angenieux zoom lenses I was able to get interesting results in terms of texture, depth of field and movements. 
Filmmaker: Describe your approach to lighting.
Soares: I found creative solutions to survive the limitations that we had. I tried to study a lot the meaning of each scene and think about what I would like to see. For example, I didn't have lighting balloons to light the beach or the forest. I had to adapt the aesthetics and then I worked the highlights and contrasts, always thinking about the lights' distances and the acting area. I understood that I couldn't have a soft light like I planned at the beginning. So I used the shades of light in another way.
The Black skin, the texture of the sea, the contrasts and the brightness of the night were important elements in this experiment and, as an essay, we could see in images that there is a Black African narrative aesthetic, a story that plays with the senses, with the occult, which still needs to be looked at with more responsibility and sensitivity.
Filmmaker: What was the most difficult scene to realize and why? And how did you do it?
Soares: Mami Wata wasn't an easy film at all. For example, I didn't have a motor zoom and that was a very important aesthetic for me on this film. Zooming out or in brought a specific language that I believe a traveling movement wouldn't give us, in addition to slowing down our process. I didn't give up on the idea and opted to do it manually, even though the zoom movements were very slow and long.
A shooting process like this says a lot about what the end result will be, and which pieces are in fact fundamental for sustaining an aesthetic unity. As a cinematographer, I had in my hands an incredible opportunity to visit my roots and explore Black and diasporic aesthetic language in depth. So I used my creativity and put my body, imagination and techniques to work. 
Filmmaker: Finally, describe the finishing of the film. How much of your look was "baked in" versus realized in the DI?
Soares: There is a lot of what I "baked." C.J. and I would like to have more grains, blur and some softness in highlights. 
TECH BOX
Film Title: Mami Wata
Camera: Alexa Mini
Lenses: Zeiss CP3 and Angenieux zoom lenses
Processing: ARRIRAW
Color Grading: Davinci Resolve