Back to selection
"Be Very Conscious About Pruning Unnecessary Branches": Editor Silvija Vilkaite on Slow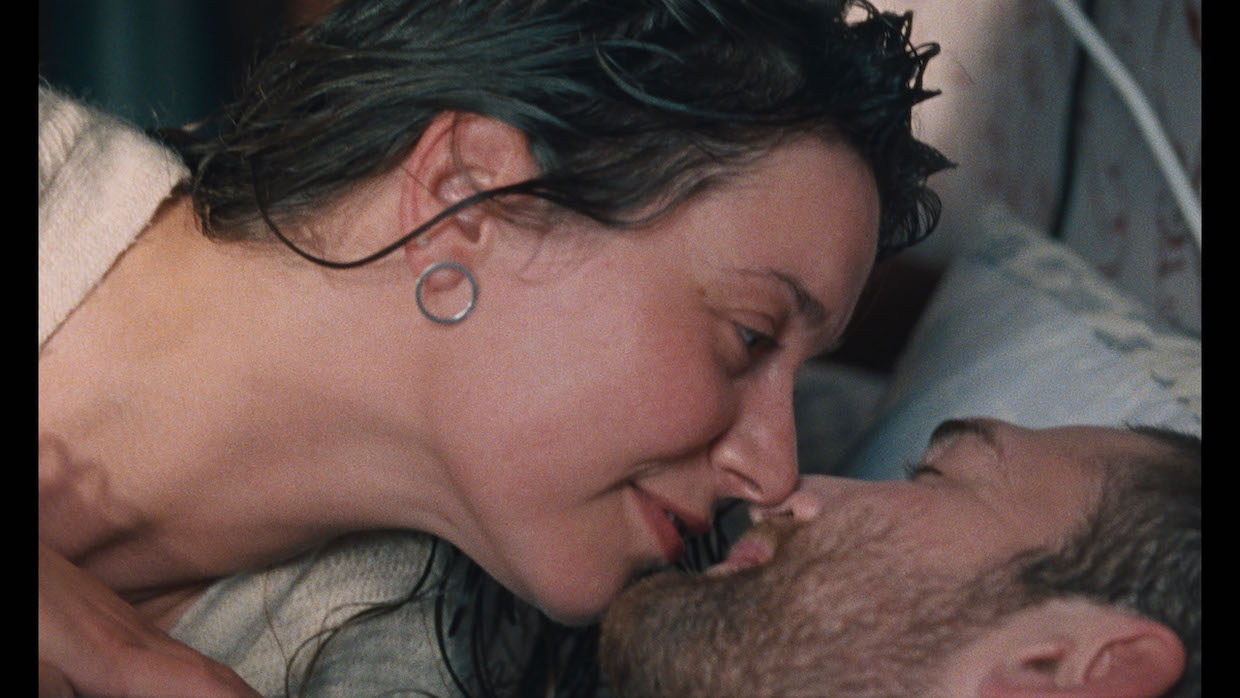 Slow, courtesy of Sundance Institute.
When contemporary dancer Elena (Greta Grinevičiūtė) meets sign language interpreter Dovydas (Kęstutis Cicėnas), they're immediately attracted to each other. Slowly, their bond grows more intimate, but becomes somewhat complicated when Dovydas discloses his asexuality. Yet the pair commit to recognizing and facilitating each other's needs—until they inevitably become weary of constant compromise, leading them to explore the limits of their relationship. Slow, writer-director Marija Kavtaradze's sophomore feature, premiered at Sundance in the World Cinema Dramatic category.
Editor Silvija Vilkaite discusses how she approached cutting the film, a process which she considers "a pleasure."
See all responses to our annual Sundance editor interviews here.
Filmmaker: How and why did you wind up being the editor of your film? What were the factors and attributes that led to your being hired for this job?
Vilkaite: I knew the producer of the film Marija Razgutė as we have worked on a couple of successful movies before—The Saint by Andrius Blaževičius and Nova Lituania by Karolis Kaupinis. So I did have high hopes that this project could land on my hands as well. Moreover I knew the movie director Marija Kavtaradze from industry circles, however we have not had a chance to work together yet. Regarding the film itself, I knew a little bit about it as I had edited the test scene which was used for film funding. I was enchanted by its feeling—I have never experienced such emotions while editing the film. So of course I wanted to edit this film as it should be special. Honestly, there was a moment where I thought that I might not get it. It was early spring of 2022 when I was on a ship which was slowly sailing through the waters of Garda lake in Italy when I saw a picturesque older man sleeping on a bench and made a picture which later on uploaded to social networks with just 1 word: SLOW. And that was the same day when I got an offer to edit the movie. It feels like I sent a message to the Universe and it replied. So to sum up—feels like it was meant to be, nevertheless.
Filmmaker: In terms of advancing your film from its earliest assembly to your final cut, what were goals as an editor? What elements of the film did you want to enhance, or preserve, or tease out or totally reshape?
Vilkaite: Let's start from the basics which had a big influence on what we can or cannot do in the editing phase—Slow was shot on a 16 mm film. It means that there was not that much footage. However when I finished the Script version, we saw that almost an hour of the movie must be cut out and we do need to change the structure. At first it went quite easy until we reached the duration of 2 hours. We had to stop there and disconnect a little bit to be able to look at the film from a new perspective, to see it with fresh eyes, analyze it, notice things that don't work, but don't cut the feeling. The movie is about feelings so the worst thing we could do is rob the movie by cutting or shortening the scenes which created those emotions. So by no means we wanted to ruin that.
When I was still watching all of the material, I felt deeply affected by it—the acting was so sincere and naked without any effects, the locations were so naturally inviting that when wandering in the city I thought that if I enter this café I will find Dovydas and Elena there. The feeling was that strong. The footage swallowed me and for a short time of my life I felt like I was living it. The last time I got so close to the characters was yet in my adolescent years while reading J. D. Salinger's The Catcher in the Rye. So my main goals were to make sure that the feeling in the movie is planted from the first scenes, cherished throughout the whole movie and blossoms, as well to be very conscious about pruning unnecessary branches. I had to build as equal characters as possible to balance them very well. And create such a strong and affectionate connection between them, so that the viewer would be rooting for their success and falling for their love from the very beginning.
Filmmaker: How did you achieve these goals? What types of editing techniques, or processes, or feedback screenings allowed this work to occur?
Vilkaite: Film is an emotional experience and I always say that video editing is a science of empathy. You have to be a very compassionate person to be able to identify yourself with the characters, feel the emotion of the film, be able to reflect the wishes of the director and in the end combine that all into the best possible result. 
In order to achieve the desired feeling and keep the faith in love of main characters, we had to move some scenes to the far end of the film, as well as make some scenes with other men in Elena's life "colder", cut some glances which could lead to the wrong directions, cut some of the heroine's choices.
We had a couple of screenings for selected audiences and some consultations on editing, thus we listened to what they had to say, analyzed it and…ignored it. Just kidding. We for sure took into account the comments which were repeating. What I must say is that this film is perceived differently between men and women. Men somehow wanted to diminish the role of Dovydas in the movie…It might be that he created some uncomfortable feelings for them. While on the contrary, women always ended up saying that—I would love to have a boyfriend like that. 
To sum up, I could say that empathy, psychology, screenings, consultations, the possibility to put the film aside for a couple of weeks combined with the great understanding of each other between me and Marija Kavtaradze who knew really well what she wanted and what didn't lead to the final result.
Filmmaker: As an editor, how did you come up in the business, and what influences have affected your work?
Vilkaite: Back in 2005, I graduated from the Lithuanian Music and Theater Academy in TV and Film Directing. I always edited all of my work myself starting from the linear editing system when the editing is done on VHS tapes. Coming to computer editing felt like heaven to me. I remember sitting in the editing room and spending those few precious hours dedicated to video editing (at that time 17 students were using one editing room) browsing the editing program just trying to find out what effects and miracles it can do. It was extremely interesting to me and time just flew by. At that time for a couple of years I worked as a director for MTV Baltics and some commercials, however continued doing editing work for myself and for others. When the world was hit by an economic crisis, I was faced with the dilemma of what to do now, because the whole world was slowing down. Editing! I love editing, it is my hobby, so maybe I can turn it into my job, and as they say, never work again. So, from this thought, I deliberately started to go in this direction and wondered how I had not seen it before. Later I graduated with a Master's degree in editing. So I edited, worked at film festivals, and one day the same Marija Razgutė called me and offered to work on the film The Saint by Andrius Blaževičius. This created a snowball effect for my career in the movie industry and films kept coming—feature films, documentaries, shorts etc. So big thanks goes to the economic crisis I guess.
Filmmaker: What editing system did you use, and why?
Vilkaite: I always work with Adobe Premiere Pro. I started video editing with it back in my studies and continued throughout. Premiere is based on a so-called timeline editing and for me it is how my brain works. It is quite convenient as you can have multiple sound tracks. As for video tracks, if 3 might be enough, I rarely escape with less than 17 audio tracks in my work. 
Filmmaker: What was the most difficult scene to cut and why? And how did you do it?
Vilkaite: I must say that this editing project was a pleasure. Marija Kavtaradze and I clicked immediately and I can say that we have not only bonded together well but it turned out to be a nice friendship as well. We were not afraid to be vulnerable around each other or admit that we don't know something, however at the same time we were stubborn and not too serious. At some points my family was asking if we were working or just having a laugh session.
While coming back to the question which scene was the most difficult one to cut or edit, I would say that it was not a single scene but rather the whole ending. We had a number of different endings and none of them worked in the way we wanted. It seemed to me that I already made all possible versions and combinations, but we still could not finish the film on the note we wanted. And one day my mother came by while I was watching one of the endings and without seeing the whole movie she just made a comment: "They are kissing here, but I do not feel anything". That was an eye opener for me—for the whole movie we were creating the feeling, building it, nourishing it, while for the ending we somehow put the feeling aside and went for the logic. Maybe we were already a little bit exhausted from carrying all those emotions and feelings from day to day and we no longer had that extra space for the last piece…However, after listening to the comment of my mom, I went straight to the computer and made the ending. And this is the ending which you see in the final cut. So listen to your moms, they always know best!
Filmmaker: Finally, now that the process is over, what new meanings has the film taken on for you? What did you discover in the footage that you might not have seen initially, and how does your final understanding of the film differ from the understanding that you began with?
Vilkaite: I remember that moment when it clicked to me watching a moment of a "nun" scene. I was watching maybe the eighth draft of the film, and it came to me that it could as well be about the end instead of the beginning. And we moved the scene to the end. Just the words of the nun were so full that they can be interpreted in different ways and that worked well for us. 
Editing such a "real" movie was a different experience. At some point it even reminded me of a documentary. I felt so close to the main characters and it felt so real. I can admit that after Slow it was hard to edit a different style of film. Everything felt so artificial…
What makes me happy is that we have managed to keep the feeling and emotion which was in the movie material from the very beginning. So people will see amazing actors and hopefully fall in love with them. And of course I am very excited and happy that with this film dreams of both Marijas came true and I had an honor to be a part of that.