Back to selection
Berlinale 2023: A Very Long Gif, Our Body and Orlando, My Political Biography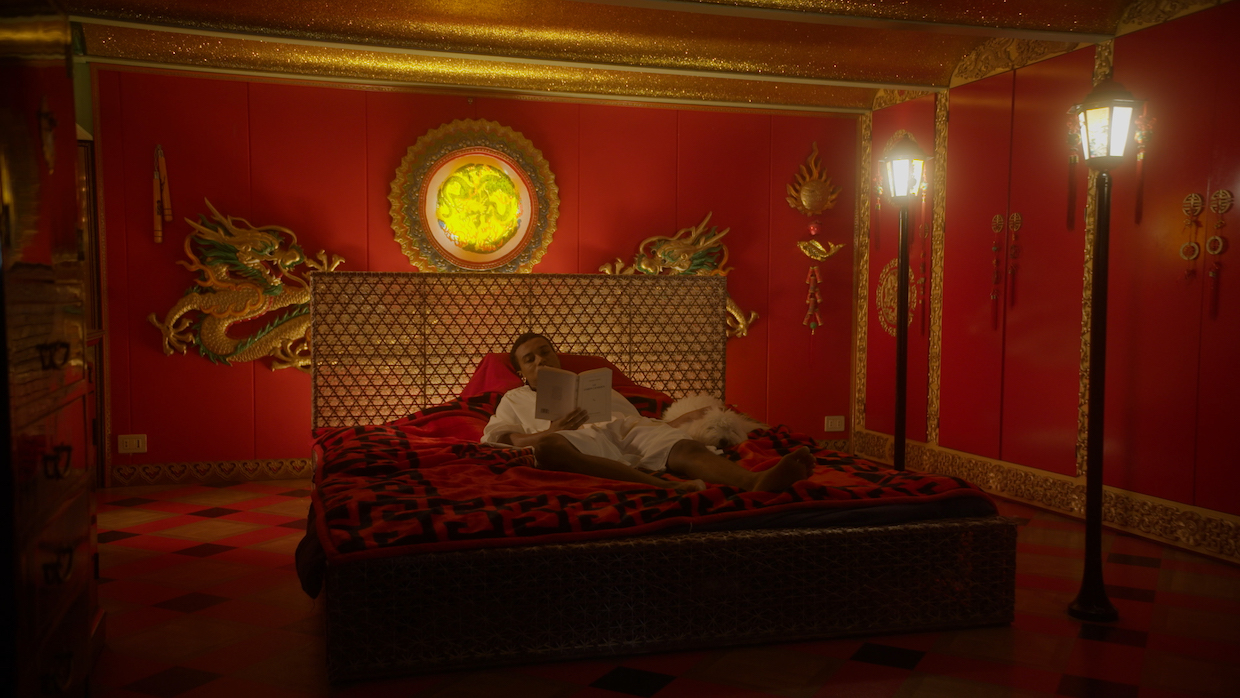 Amir Bally Pompom in Orlando, My Political Biography
My Berlinale 2023 started with a trip down Eduardo Williams' digestive tubes. Much of the material in A Very Long Gif, a single-channel installation included in the Forum Expanded exhibition, was captured with a capsule endoscopy camera. This minuscule device is swallowed like a pill and journeys through one's gastrointestinal tract, taking thousands of pictures along the way. Effectively, it records a traveling shot at a frame rate of two or three images per second. Williams ingested one himself and condensed its eight-hour passage into a 75-minute sequence, which is looped and projected on a wall in a large round format. The camera's queasy, lurching motion as it is squeezes along his insides recalls the handheld shots that make up most of his films, where they uncannily transition between disparate, often dark and threatening, locations. 
That A Very Long Gif is a homage to Bruce Baillie (it was originally commissioned for this tribute exhibition), a filmmaker known for the exquisite beauty of his images, is in keeping with the piece's overall humor. It's not that by photographing the content of his bowels Williams set out to make the ugliest, most revolting work possible. Rather, the installation revels in contradiction. Exerting a morbid fascination, the footage is certainly transfixing. Some parts reach a level of abstraction that could even qualify as beautiful, as when the lens fills with tiny bubbles that reflect the camera's light, resulting in a tapestry of golden halos. Then, of course, one remembers what is actually represented and the awe instantly dispels. 
Technology's invasive relationship to the body in contemporary society is a theme that has informed Williams' previous filmmaking. To elaborate on it here, he also shot additional material with a telephoto lens from his apartment in Athens. Suggesting the perspective of panoptical surveillance, these urban scenes—views of the Acropolis, lovers making out, a party on a hillside—play in two smaller circular frames that very slowly travel across the centre of the endoscopy footage, so that the configuration of the three screens evokes two moons orbiting a large planet. It's a facetious quid pro quo: in exchange for filming others without their knowledge or consent, the artist exposes the most intimate part of himself. The punchline is that the former images are shot from such distance that people appear as blurry silhouettes, while the proximity of the latter is so extreme as to render them completely anonymous.
A Very Long Gif inevitably brought to mind the surgical procedures that make up the bulk of Lucien Castaing-Taylor and Verena Paravel's De Humani Corporis Fabrica (2022). With respect to the abstraction that both these works deliberately play with, Claire Simon's documentary Our Body, which screens in the Forum section, could be considered their antithesis. Shooting in the gynecological department of a Parisian public hospital, Simon maintains a resolute emphasis on the personal dimension as she sits in on a wide variety of consultations and procedures. These begin with a teenager seeking an abortion and finish with an elderly woman who has advanced cancer, giving the film a structure that corresponds to a lifespan. Except for Simon herself, who eventually also goes in for treatment, the same patients never appear twice, which avoids building sentimental narratives from individual cases and instead embraces them into a collective experience.
As an expression of empathy and universality among women, this strategy is effective as well as affecting. The choice of including two pre-op trans men among the patients, however, comes with potentially contentious implications. Had Simon made a documentary with a primarily institutional focus, à la Frederick Wiseman, their presence would have been a simple reflection of reality. Through the considered and evidently conceptual selection of patients, however, Our Body articulates a definition of womanhood. It undermines the film's progressive agenda that this definition should be based strictly, as the title suggests, on the body. Not only does it include people who would exclude themselves, but also presents reproduction as its determining feature, affording the process of pregnancy by far the most attention and running time, with maybe a dozen patients charting every step from the start of fertility treatments to delivery. 
"Bodies are political fictions," states Paul B. Preciado in Orlando, My Political Biography. The writer and queer theorist's debut film, showing in the Encounters section, makes for a compelling double bill with Our Body. Although Preciado's exploration of trans identity expressly rejects categorizations, he adopts an approach analogous to Simon's, constructing a polyphonic portrait from numerous experiences. As he explains early on, the recognition he found reading Virginia Woolf's Orlando: A Biography as a young teenager proved pivotal to his self-discovery. In addition to paying grateful homage to Woolf and her novel, My Political Biography endeavors to extend the text's generosity further and account for the century that has elapsed since its publication. 
In a succession of stylized vignettes, filmed for the most part on deliberately artificial sets, trans people of all ages dressed in comically makeshift period costumes introduce themselves as the character of Orlando and take turns retelling the original story. While reading passages from the book or dramatizing specific scenes, they integrate aspects from their own lives, thus collectively composing the political biography of the film's title. Preciado, mainly in voice-over, elaborates the narrative with anecdotes and philosophical insights from his own theoretical practice. Nimbly balanced between a didactic treatise and a manifesto, the cumulative result is a wide-ranging deliberation on transness and its place within social and cultural history. (Considering the profusion of references and allusions, the conspicuous lack of any mention of Sally Potter's 1992 Orlando registers as an amusing slight.)
It's remarkable that Preciado manages to keep such a dense work accessible and inviting—and a lot of fun—throughout. Telling one's own (hi)story is declared as an imperative to survival, but even when chronicling trauma, the film's tone remains celebratory. Irony is deployed freely and joyfully, as in the scene that addresses the violence suffered by trans people at the hands of psychoanalysis. A group of Orlandos visit Dr. Queen (taking the place of Elizabeth I in the novel) and have a party in the waiting room, exchanging and popping hormone pills, while one of them exposes the futility of the shrink's attempts at rationalizing their dysphoria. His escalating befuddlement at Orlando's self-evidently delivered retorts ("I have a female penis") is priceless. The humor is never scornful or exclusionary, though. When in the courtroom finale, set in 2028, a cis judge (played by Virginie Despentes) is invited to give a ruling on all the Orlandos, their political biography concludes with an affirmative vision of community.