Back to selection
SFFILM Announces Full Lineup for the 66th San Francisco International Film Festival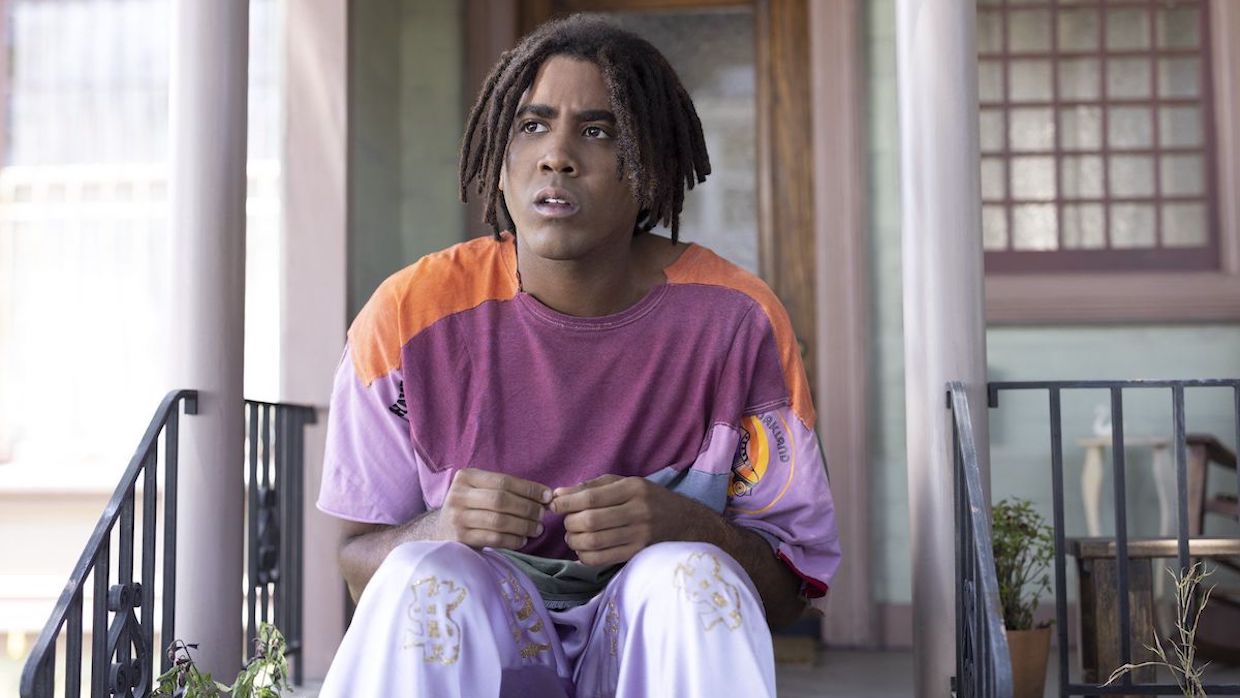 Jharrel Jerome in Boots Riley's I'm a Virgo.
SFFILM announced today the full lineup for the 66th annual San Francisco International Film Festival (SFFILM Festival), which will take place in the Bay Area from April 13-23. The longest-running film festival in the Americas, this year's program will screen films from 37 countries at various theaters in San Francisco, Berkeley and Oakland.
"It is SFFILM Festival season once again and I cannot wait to share this year's program with local audiences," said Jessie Fairbanks, SFFILM's Director of Programming in a press release. "The line-up includes a wealth of Bay Area filmmakers across all sections, and highlights new—and seminal—work from eminent filmmakers. Our curatorial team, dedicated to showcasing evocative stories, prioritized films that unite us all through cinematic expression and outstanding narrative craft. We continue SFFILM's legacy of bringing international work to the Bay with stories from 37 countries and an exciting array of emerging artists. For the third year in a row, half of this thematically diverse program is helmed by female or non-binary filmmakers and we are so proud to share these stories with festival attendees."
Appropriately, Opening Night and Closing Night selections feature projects from Bay Area filmmakers. The festival will open with the California premiere of Peter Nicks's documentary Stephen Curry: Underrated and close with a look at Boots Riley's forthcoming Prime Video series I'm a Virgo. Other notable works from local filmmakers programmed at SFFILM include W. Kamau Bell's 1000% Me: Growing Up Mixed, Babak Jalali's Fremont and Savanah Leaf's Earth Mama. 
"We are thrilled to bring an array of exciting new films and filmmakers to our discerning and passionate Bay Area film lovers," added Anne Lai, Executive Director of SFFILM. "Each year, our Festival unites us both inside and outside of theaters where we engage in conversations across audiences, filmmakers, industry guests, and others who help us deepen our understanding of the craft, and of the fascinating world we all share. I am particularly delighted that in addition to hosting screenings in venues across the Bay Area, we will have a Festival hub at the CGV San Francisco. We are excited to host a space this year that harnesses the energy of multiple screens. As audiences gravitate towards different fare, they will also be able to spend time in a gathering place designed to create connection, possibility, and opportunity with one another. Find your spot, and we'll see you there."
The 2023 SFFILM Festival will also present several special honors. The Persistence of Vision Award will go to Northern Irish director and film historian Mark Cousins; The Mel Novikoff Award will honor Firelight Media, founded by filmmakers Stanley Nelson and Marcia Smith, and will be presented alongside a retrospective screening of Nelson's The Black Panthers: Vanguard of the Revolution; two films will receive the Sloan Science in Cinema Award, Matt Johnson's BlackBerry and Sophie Barthes's The Pod Generation; finally, SFFILM will also recognize the career of Canadian-British director Mary Harron with a tribute and screening of her latest film Dalíland.
Find the full lineup below, and find out more about ticketing and screening locations here.
Narratives: U.S.
Are You There God? It's Me, Margaret (Kelly Fremon Craig)
BlackBerry (Matthew Johnson, California Premiere)
Dalíland (Mary Harron, U.S. Premiere)
Dreamin' Wild (Bill Pohland, California Premiere)
Earth Mama (Savanah Leaf, California Premiere)
Fremont (Babak Jalali, California Premiere)
Past Lives (Celine Song, California Premiere)
I'm a Virgo (Boots Riley, California Premiere)
Narratives: International
Animalia (Parmi Nous) (Sofia Alaoui, California Premiere)
Daughter of Rage (La Hija de todas las Rabias) (Laura Baumeister, Bay Area Premiere)
Ernest & Celestine: A Trip to Gibberitia (Julien Chheng and Jean-Christophe Roger, California Premiere)
The Gravity (La Gravite) (Cédric Ido, California Premiere)
I Have Electric Dreams (Tengo Sueños Eléctricos) (Valentina Maurel, Bay Area Premiere)
L'Immensità (Emanuele Crialese, California Premiere)
Love & Mathematics (Amor y matemáticas) (Claudia Sainte-Luce, Bay Area Premiere)
Luxembourg, Luxembourg (Antonio Lukich, Bay Area Premiere)
Martinez (Lorena Padilla, California Premiere)
Peafowl (Gong-jak-sae) (Byun Sung-bin, North America Premiere)
The Pod Generation (Sophie Barthes, California Premiere)
Snow and the Bear (Kar ve Ayi) (Selcen Ergun, Bay Area Premiere)
Something You Said Last Night (Luis De Filippis, US Premiere)
Stone Turtle (Woo Ming Jin, California Premiere)
Vincenta B. (Carlos Lechuga, California Premiere)
Documentaries: US
Bad Press (Rebecca Landsberry-Baker and Joe Peeler, California Premiere)
Being Mary Tyler Moore (James Adolphus, California Premiere)
The Black Panthers: Vanguard of the Revolution (Stanley Nelson)
Confessions of a Good Samaritan (Penny Lane, California Premiere)
Home is a Hotel (Kevin Duncan Wong, Tod Sills, and Kar Yin Tham, World Premiere)
Hummingbirds (Estefanía Contreras and Silvia Del Carmen Castaños, California Premiere)
Invisible Beauty (Bethann Hardison and Frédéric Tcheng, California Premiere)
Joan Baez I Am A Noise (Miri Navasky, Maeve O'Boyle, and Karen O'Connor, California Premiere)
King Coal (Elaine McMillion Sheldon)
Rally (Rooth Tang, World Premiere)
Stephen Curry: Underrated (Peter Nicks, California Premiere)
STILL: A Michael J. Fox Movie (Davis Guggenheim, California Premiere)
The Tuba Thieves (Alison O'Daniel, California Premiere)
Documentaries: International
Against the Tide (Sarvnik Kaur, California Premiere)
La Bonga (Sebastián Pinzón Silva and Canela Reyes, California Premiere)
The Deepest Breath (Laura McGann, California Premiere)
The March on Rome (Mark Cousins, California Premiere)
Mariupolis 2 (Manta Kvedaravičius, Bay Area Premiere)
Milisuthando (Milisuthando Bongela, California Premiere)
My Name is Alfred Hitchcock (Mark Cousins, Bay Area Premiere)
Smoke Sauna Sisterhood (Anna Hints, California Premiere)
Family Workshop
Mushka (Andreas Deja, World Premiere)
Mid-Lengths
1000% Me: Growing Up Mixed (W. Kamau Bell, California Premiere)
Creating Things (Bryan Simpson, California Premiere)
Southern Afternoon (Tian Lan, North American Premiere)
"What These Walls Won't Hold" (Adamu Chan, World Premiere)
Sol in the Garden (Emily Cohen Ibañez and Débora Souza Silva, World Premiere)
How We Get Free (Geeta Gandbhir, California Premiere)
The Kidnapping of the Bride (Sophia Mocorrea, California Premiere)
Balikbayan (Rebecca Rajadnya, California Premiere)
No More Longing (Connor Lee O'Keefe, World Premiere)
Shorts
Shorts 1: Generations
Nǎi Nai & Wài Pó (Grandma & Grandma) (Sean Wang, California Premiere)
Carrion (Yvonne Zhang, California Premiere)
Mancha (Nicole Mejia, California Premiere)
Still Waters (Aurora Brachman, California Premiere)
The melting creatures (Las criaturas que se derriten bajo el sol) (Diego Céspedes, California Premiere)
Now I'm in the Kitchen (Yana Pan, US Premiere)
Rest Stop (Crystal Kayiza, California Premiere)
Shorts 2: Traditions
By Water (Iyabo Kwayana, Bay Area Premiere)
Sèt Lam (Vincent Fontano, California Premiere)
After We're Gone (Ima Iduozee, California Premiere)
I Am Home (Kymon Greyhorse, Bay Area Premiere)
Addresses (Direcciones) (Maria Luisa Santos and Carlo Nasisse, Bay Area Premiere)
Cloistered (Catherine Finsness, World Premiere)
Birdsong (Omi Zola Gupta and Sparsh Ahuja, California Premiere)
Shorts 3: The Body
Persona (Moon Su-jin)
How to Carry Water (Sasha Wortzel, North America Premiere)
Maria Schneider, 1983 (Elisabeth Subrin, California Premiere)
And Then I Was Here (Alex Stergiou, California Premiere)
Regard Silence (Mira el silencio) (Santiago Zermeño, North America Premiere)
Shorts 4: Family Films
New Moon (Jeff Le Bars and Jérémie Balais)
Pete (Bret Parker)
The Wind and the Trees (Todd Stewart, California Premiere)
Kintsugi (Cleto Acosta-McKillop, California Premiere)
El Moño (Luis Fernando Puente and Lizde Arias, Bay Area Premiere)
Swing to the Moon (Marie Bordessoule, Chloé Lauzu, Adriana Bouissié, Vincent Levrero, Nadine De Boer, Solenne
Moreau, and Elisa Drique)
With a Wool Ball (Con un Ovillo de Lana) (Belén Ricardes, California Premiere)
Dipsas Speaks (Craig Daniel Leon)
Labor of Love (Richard O' Connor)
Code Rose (Taye Cimon, Pierre Coëz, Julie Groux, Sandra Leydier, Manuarii Morel, and Romain Seisson, California Premiere)
Shorts 5: Youth Works
Rational Functions (Esmé Nix, Bay Area Premiere)
Our Days in Dongshi (Hsiang-Yu Li, Tse-Ling Huang, Po-Wen Yen, and Hsin-Yi Hung, California Premiere)
The Sound (Cole Willis, California Premiere)
My Sisters in the Stars: The Story of Lee Yong-soo (Ian Kim, Bay Area Premiere)
Growing up with Memory Loss | A Gift for My 16th Birthday (Keertana Sreekumar, Bay Area Premiere)
Parental Orbit (Dara Carneol, California Premiere)
Hop Heel Drop (Sania Bhatia)
An Island in the Middle of the Sea (Alberto Montull)
American Ball Game (Teja Mettu and Krish Mysoor, World Premiere)
Shopworn (Athena Cheris, California Premiere)
The External-Internal Monologue of an Interdependent Insomniac (Julian Felix Aaronson, California Premiere)