Back to selection
Do the Yam: Astaire & Rogers: The Complete Works
"I wanted to be a dancer," says Fred Astaire, wheezing out a tune on a harmonica with his gangly frame draped casually over a medical couch. "Till I was psychologized."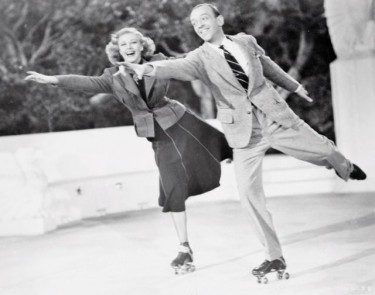 Astaire plays doctor—a shrink, of all things—in Mark Sandrich's Carefree (1953), a little-known screwball comedy gem as antic and goofy as Howard Hawks' Bringing Up Baby (1938) with dance. And what dance! Accompanied by an Irving Berlin score, Astaire and Rogers are at the top of their game in the tale of a therapist (Astaire) who must find the root of the commitment phobia that plagues his new patient (Rogers). "She's probably just another pampered, maladjusted female," opines Astaire into his doctor's recorder, prescribing her a good spanking. Until he meets her, that is. Then a playful game of one-upmanship, and eventually love, ensues.
In a dance number for the ages, Astaire first tries to impress his patient on the links with a solo pas de golf club. Looking up to make sure Rogers is watching attentively from a balcony, he turns golf into tap dance, and back again.
The scene evokes Astaire's most celebrated moments partnering with objects, from a coat rack to
a photograph in Stanley Donan's Royal Wedding (1951). It only takes a single idea and he's off and dancing with the lanky, effortless and easy grace of Barack Obama at the podium.
But when he and Ginger team up, there's no coat rack in the land that can compete. Whether she's biking in shorts or dining in the poofy-sleeved, big-shouldered gowns that seem to float around her like fog, Ginger is funnier and lovelier than ever. Together, their chemistry is undeniable, and their dancing—captured in full-length, full-body shots with the barest hint of editing—is sublime.
The quick pacing, punny one-liners, and wry send-up of psychoanalysis move nearly as quickly as the protagonists' feet. In order to get his patient to dream, Astaire's Dr. Tony Flagg prescribes Rogers' Amanda Cooper a series of nauseating, dream-inducing foods, from seafood with whipped cream to cucumbers and buttermilk. (Happily, this method of treatment gives occasion for a beautiful, slow-motion dream sequence.) In the best dance named after a root vegetable since the Mashed Potato, the audience and patrons of a crowded country restaurant "Do the Yam." When hypnosis is the remedy, the good doctor conducts Rogers in an intricate performance and she does his bidding as though moved by invisible puppet strings.
In Astaire & Rogers: The Complete Works, the series of the duo's films now at Film Forum curated by Bruce Goldstein, audiences can see them on the big screen in a series of double-features. Last week, Carefree played with Shall We Dance (1937), also directed by Sandrich. The latter film offered New York City scenes from a boating trip in Central Park to a dance number performed entirely on roller-skates, and a grand finale featuring Fred surrounded by a throng of dancers wearing Ginger masks.
And through it all, such a darned good time! At this program, the only folks having more fun than the stars onscreen are the lucky members of the audience. Head to Film Forum on Tuesdays through September 14 and when you emerge from the theater, you might just be doing the Yam, too.
Top photo: Ginger Rogers and Fred Astaire in Mark Sandrich's Shall We Dance (1937). Courtesy Photofest.