Back to selection
JOHN SLOSS: "I COULD BE BANKSY!"
Cinetic Media powerhouse John Sloss took to the stage on Wednesday morning at the Independent Filmmaker Conference in a conversation moderated by indieWIRE's Eugene Hernandez (who announced today that he is leaving indieWIRE to take a new role as Director of Digital Strategy at the Film Society of Lincoln Center). Sloss began the conversation by acknowledging that we all stand on the shoulders of giants, pointing to the influence of John Pierson on his career, "His heart wasn't in the business side of things but mine was." Everyone should read Pierson's book Spike, Mike, Slackers and Dykes he declared. He then moved on to talk about the recent uptake in buying activity at Toronto. He acknowledged that films were selling for less than before but he didn't necessarily see this as a bad thing, "The marketplace is becoming much more efficient. You can anticipate what the offers will be because these guys know what the revenue streams will be."
Like many other industry pundits at the conference this year, Sloss remarked that a theatrical release does not always make sense for a film, "What is this irrational compunction filmmakers have to mortgage the value of their film doing a theatrical release?" He acknowledged the upsides of theatrical including of course the all important critic reviews but said that filmmakers must understand that distributors are basically doubling down on theatrical and then hoping to make their money back on ancillary streams. He added that film critics risk becoming irrelevant if they only focus on theatrical releases.
Sloss went on to talk about his first foray into theatrical distribution with Exit Through the Gift Shop, a documentary about Banksy. "I was always very critical of basketball referees until I had to be one myself," he said, explaining why he wanted to try distribution. They experimented with different approaches with Exit, including free screenings. "There are films where by screening them you expand the audience and there are films where by screening them you use up a finite audience." Exit was definitely the former. They rolled the film out with an extensive social media campaign, helped by Marc Schiller, and ended up grossing 3.5 million dollars, not at all bad for documentary. He insisted that self-distribution is a viable option as long as you get the help you need – Cinetic worked with Richard Abramowitz of Abramorama to release Exit for example. It should also be noted that they spent slightly over 1 million on the release so this is not the sort of self-distribution campaign that can be replicated by everyone! When asked whether he had ever met Banksy, Sloss said no and that he believed "the universe conspired to keep Banksy anonymous." He added, "I could be Banksy!"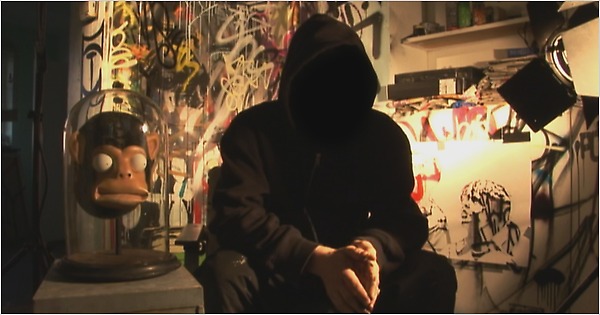 "The universe is conspiring to keep Banksy anonymous." – still from Exit Through the Gift Shop
Sloss concluded the conversation by coming back to his earlier point about the increasing efficiency of the market for independent film, " I'm a big fan of economic efficiency. To the extent that piracy doesn't put us all out of business I am optimistic. The past ten to twelve years [until the crash] was a bubble. It's not bad that people are making films for less and not necessarily doing theatrical."
Ingrid Kopp is Director of Shooting People in the U.S.