Back to selection
"BLUE VALENTINE" GETS NC-17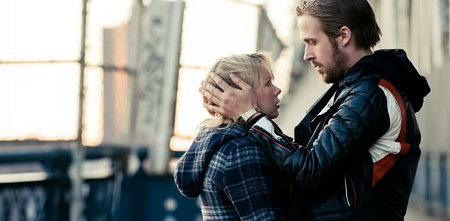 In news that just makes you scratch your head, according the Mike Fleming at Deadline, the MPAA ratings board has given Derek Cianfrance's Sundance gem (and Oscar hopeful) Blue Valentine an NC-17 rating.
Starring Ryan Gosling and Michelle Williams as a married couple who are on the verge of a divorce, Fleming says the rating was given due to the scene where Gosling and Williams' characters spend the night in an adult fantasy suite.
"They get drunk and their problems intensify when he wants to have sex and she doesn't, but will to get him off her back. It is an upsetting scene that makes you squirm, but is an honest one that establishes clearly that  this couple has nothing left and isn't going to make it because love has turned into contempt. There is barely any nudity in the scene, as I recall (though I haven't seen it since last January) and there is no violence."
I saw the film last month (as we had Kramer vs. Kramer director Robert Benton interview Cianfrance for our Fall issue) and yes, there is some brief nudity in a shower scene, but very tame and nothing that would qualify for an NC-17 rating.
Fleming also notes that this is the third Weinstein Company title with Oscar hopes to get pegged with a disappointing rating from the MPAA (The Tillman Story also received an NC-17 and The King's Speech was given an R, though the hopes were for a PG-13).
Currently, The Weinstein Company does not have an official comment, they open the film Dec. 26.