Back to selection
"TERRI" DIRECTOR AZAZEL JACOBS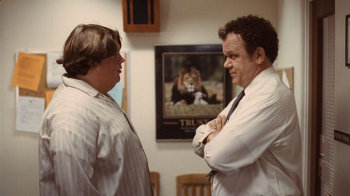 Azazel Jacobs' profile has grown steadily since he made his striking, black-and-white debut feature, Nobody Needs to Know, in 2003. He followed it in 2005 with the delightfully quirky and inventive The GoodTimesKid, a film which found a devoted audience on the film festival circuit and was eventually released theatrically in 2007. Jacobs' third feature, Momma's Man, a poignant tale of adult regression into childhood, had its world premiere at Sundance. It became one of the hits of the 2008 festival, and played in theaters later that year to universal acclaim.
Jacobs, the son of experimental filmmaker Ken Jacobs, grew up in New York City and is now based in Los Angeles, and his first three features were all set in one or the other of those two cities. With Terri, his fourth film, he moves into new territory as he tells a touching tale of a obese, socially withdrawn teenager (Jacob Wysocki) in a small California town who develops a surprising friendship with his high school headmaster (John C. Reilly). Jacobs, who seemingly never repeats himself as a filmmaker, has made a more polished and commercial kind of indie film that nevertheless still bears the sensitivity, emotional insight and deft directorial touch that is the mark of his work.
In the build-up to Terri's premiere at Sundance, Filmmaker chatted with Jacobs about his latest film.
Can you tell me about your working relationship with Patrick Dewitt. How did you first meet him? What drew you to him as a writer? What was it like collaborating with him?
I met Patrick through his wife, also a writer, Leslie Napoles. He was a bartender at the time, and more and more I liked going to his work just for the conversation. At some point, he gave me a manuscript of what would become his first novel, Ablutions, about his experiences as a bartender. It was the kind of writing I love most; playful, truthful, individual. I did not see a way I could bring anything new to a film that took place in a bar, but from then on had every hope of collaborating with him. Pretty soon after he sent me some writing in which Terri was one of the characters. I desperately wanted to tell someone else's story after Momma's Man, and in Terri I found a way in to someone else's world.
You have a story but not script credit on this film — was it a conscious decision to step back and let Patrick deal with that side of things?
I had the full intention of being a co-writer, but after the story was developed and Pat started to send me pages, I soon saw there was not much for me to do other than slight edits and sequencing suggestions. After the first draft was completed it was very clear that it really came from him, and I pulled my credit.
Due to your deal with ATO Films, you had distribution locked up right from the start. How did that support and security affect the way you made the film?
It for sure had an effect on my mindset, just knowing that the film would come out, but I am not sure what the effect was. I generally work with the idea that somehow, some way, I will get my films out. The real benefit came as I got to know ATO, and saw that it was made up of extremely intelligent and knowledgeable people. I was worried what their notes were going to be until I got them, and then saw how they could the make film stronger. It is one of those incredible luxuries you get used to, and want for every film you make.
Casting the part of Terri correctly was so crucial to the film's success, and Jacob Wysocki does a great job with the role. What process did you go through to find him?
That is really to the credit of Terri's casting directors, Nicole Arbusto and Joy Dickson, who searched far and wide for anybody that could remotely fit the physical aspects that was called for. After we were able to narrow it down to three very strong possibilities for each of the main kid roles, we mixed and matched till we found the strongest combination. We were able to bring John C. Reilly in for that as well, which was a huge help in seeing what worked best. Ultimately I took Jacob out of the audition room, and went through some of the scenes. Then it became very clear he was the Terri I was looking for.
This is your first film with an established actor like John C. Reilly. What was it like working with him? Did his experience change the way you directed him and/or other actors?
I had a great time working with John, it was a chance for me to work with, in my mind, one of the best living actors. For sure I was intimidated at first. It took me at least two days to not think about some of the great directors he has worked with. But I never tried to pretend I had as much experience as him — I just tried to do what I can do best. Very quickly I was able to see the respect he was giving me, and to the film, and was able to lose the intimidation. I'd say the biggest difference in directing was that I went into it knowing what he was capable of, while with most of the others, it took shooting their first scenes to see, that yeah, this could work.
Your previous films are set in L.A. or NYC, but this is a small town. How much did location play into the vibe of the film?
It really just went back to wanting to do something very different than my last film, to go to a place that was unfamiliar. Also, though I think Terri's story could happen in either L.A. or New York, I was interested in the seclusion that I thought a small town could bring to the story, [and that it could] help define the characters. Funny enough, even with my interest in running in an opposite direction, there were more than a few times where I'd be in the midst of shooting a scene and it would feel similar to a previous shooting experience. I took that for meaning that I had found some common ground between what I knew and what I was seeing.
There's a different look and feel to each of your films. Do you feel like you are particularly fluid as a filmmaker in that regard?
I like the idea of working within the language that has already been generated for each of the kind of stories I am doing, and by using it, digging for what different things I can add to it. Regardless of the differences between my work, it has all been personal, and I have the hope that that will naturally cause a difference within the genre, but the feeling the same.
As you already have distribution going into Sundance, what are your hopes for the festival?
I want to know if and what resonates with the audience. That very first screening with people feels like the closest I ever get to experiencing the film new. I'm hoping it goes well.