Back to selection
JENNIFER LAWRENCE Q&A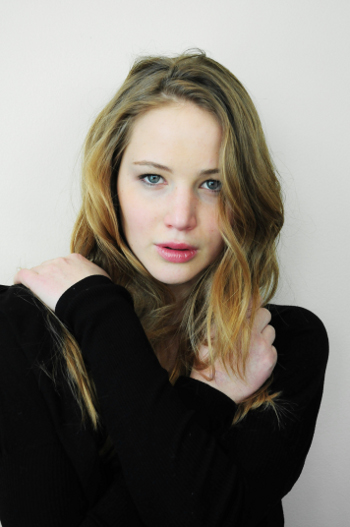 Jennifer Lawrence. Photo by Henny Garfunkel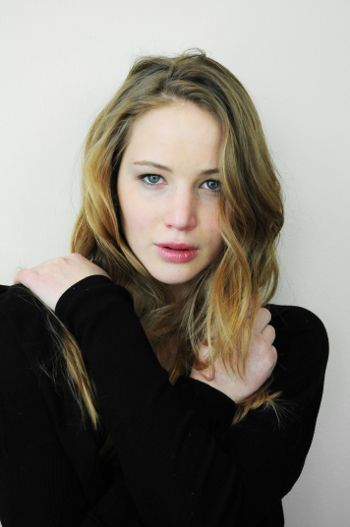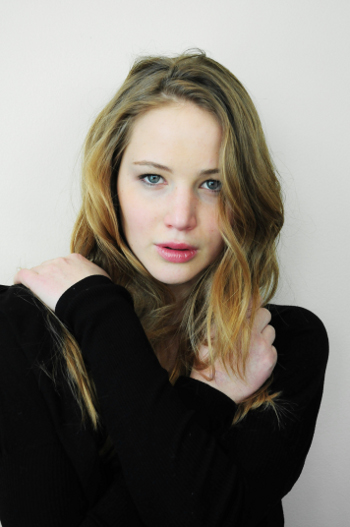 This piece was originally printed in the Spring 2010 issue. Winter's Bone is nominated for Best Picture, Best Actress (Jennifer Lawrence), Best Supporting Actor (John Hawkes) and Best Adapted Screenplay (Debra Granik & Anne Rosellini).



It's not often a striking young girl makes it in Hollywood without accentuating her looks, but Jennifer Lawrence is not your typical 19-year-old actress. While many of her peers go for lightweight parts in bubblegum teen comedies, Lawrence has taken a more serious route, filled with dark roles that deal with issues well beyond her years.
The Kentucky native left home for L.A. at 14 and after getting bit parts on TV shows like Monk, Cold Case and Medium, landed the role of daughter Lauren on the TBS series The Bill Engvall Show in 2007. A year later she was cast in her first leading role in The Poker House, an intense drama playing a young girl whose mother is a prostitute. She followed that with Guillermo Arriaga's moody directorial debut The Burning Plain, where Lawrence once again is a teen dealing with mom issues. So when her agent handed her the script to Debra Granik's adaptation of Daniel Woodrell's gritty novel Winter's Bone, Lawrence had no doubts she had what it took to play the demanding role of the book's lead, 17-year-old Ree Dolly. Covered in a bulky jacket, winter cap and her face chapped from the cold, it isn't Lawrence's physical traits but her tenacious performance that grabs our attention and draws us deeper inside Ree's struggle to find her crystal meth-making father in the Ozarks.
Gaining high praise at this past Sundance, where the film won the Grand Prize, Lawrence has continued her good fortune as she's recently wrapped her next film, The Beaver, a dark comedy starring Mel Gibson and Jodie Foster, who also directs.
Filmmaker talked to Lawrence over the phone about her performance as Ree, which has already started Oscar buzz.


I believe in an interview you did at Sundance you said that your mother read Winter's Bone some time ago and told you Ree would be a good part for you to play.
Yeah, she said if they ever make it into a movie I would be perfect for it. Then five years or so later I got the audition and ended up doing it. So it was sweet because I got the movie but bitter because my mom was right. [laughs]
What was it that grabbed you about the role?
I can't even remember a movie I've seen where a woman is the strong one, a woman is at the forefront of the story and she's not a sidekick to another man who is going on an incredibly difficult journey. And not even a grown woman, a young 17-year-old woman. I just craved to be able to do that character. Then after talking to Debra and hearing her plans for the movie, I couldn't resist it. I became obsessed with it.
What was your audition like?
I'm really bad at auditions. I don't really like them because I feel like you get six pages and you're supposed to just go in front of people you don't know and "start acting." But I was able to read the script first and develop what I thought would be my idea for the character. I went in there and they liked it.
How long was the wait before you knew you had the part?
Gosh, it felt like 45 years. After the audition I think I got called back right away and that's when I met Debra and [co-writer and producer] Anne [Rosellini]. Then they went back to New York [for more auditions]. They liked me but they thought I was too pretty. I wasn't very happy when I found out why I wasn't getting the movie. So I flew to New York and read for them again. I flew the red-eye over and was on no sleep, so I guess then I wasn't too pretty.
What conversations did you have with Debra about the part?
Debra's main concern was she wanted everything to be authentic. She pulled it off. There's not one thing in that movie that isn't sincere and authentic. And she just wanted to make sure that I understood not only Ree but the life of the people there. I spent enough time with the families and saw the way that they lived life that I could play a girl growing up in that place. Ree was up to me, since I was the actor, but Debra wanted to make sure I understood what it would be like for a girl my age to grow up in a home and in a family and in a place like the Ozarks.
So you hung out in Missouri and stayed with a family?
I did. I spent a lot of time with the family of the house that we shot the movie in. And the little girl Ashley, who played my little sister, she lived there and we became really close, so when we began filming it was like second nature to me and I was so comfortable with her.
Having grown up in Kentucky, I would imagine you've spent a lot of effort as an actress trying to lose your accent, so was there an insecurity in trying to create one for this role?
It worried me at first because Debra had recordings and the people in it pronounced things a little bit differently. Every time I would try to speak my Kentucky accent would come out. I just thought it was going to sound horrible. So I wrote Debra an e-mail and said "I don't know if I can do this," and she was like, "Just speak in your Kentucky accent." She loved the way that I spoke. So that was a huge relief. All I had to do was call my mom and talk to her for five minutes and I had the accent for the rest of the day.
You've played some serious roles before this one. I read after shooting The Poker House you had to go through therapy. Is it hard to leave the characters you've played?
With The Poker House I was 16 and it was my first movie. Now fortunately I know how to leave the character when I leave work. In fact, it leaves me after [the director calls] cut. But with that [film] I just felt I had to take all of it on, and it did take a toll on me. It's just hard to come out of because you spend two months being a person and going in these dark places, and when you're young you don't know how to get out of those dark places. But it wasn't that bad. My friend knows a therapist and I just talked to her for a little while. I just needed someone to talk to.
Has it always been a conscious decision to go for the more serious roles as opposed to the young glamour parts that most teens your age take?
Yes. I remember being 14 and I told an executive at Disney that I didn't think I was very Disney and did not want a television show. [laughs] There are people for that and they're extremely talented, but everybody has a different avenue that they take and I didn't fall in love with those things. I fell in love with the dramas and the grunge and the edgy and the dark — whatever you want to call it. The things that I've done are simply the things that I really wanted and I cared about. If I don't really care about something I don't have any interest in doing it. I don't know what that says about me. But I don't want to do sad movies my whole life. I'd love to be the female Alec Baldwin. [laughs]
And it sounds like your next film, The Beaver, is on the lighter side.
Yeah, I do get to be funny. I was able to be as normal a teenage girl as I could be.
Your performance in Winter's Bone has already started talk of it being Oscar worthy. Have you thought about that possibility?
No. I can't. My mom e-mailed me an article last night about that and I had to shut my computer. I was like, "I can't be thinking about this at 19." [laughs]