Back to selection
"SELF MADE" OPENS MOMA'S DOCUMENTARY FORTNIGHT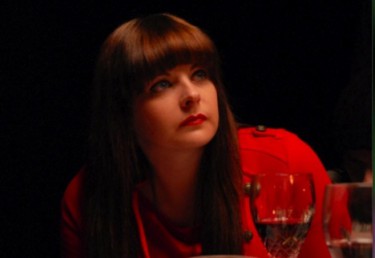 Documentary Fortnight, MoMA's International Festival of Nonfiction Film and Media, kicked off its 10th season last night with the world premiere of Self Made. The film, a first for British artist (and Turner Prize winner) turned filmmaker Gillian Wearing, takes the audience through the cathartic process of a Method Acting class populated by a small group of hand-picked non-professionals and led by acting teacher, Sam Rumbelow. The movie shows how strong performances can result from emotional excavation. It's a raw and emotionally powerful film and one that makes clear that Method Acting, first invented by Stanislavski over a hundred years ago, is still relevant.
As will be the case in most of the screenings in the festival, there to introduce Self Made and to take questions afterward were director Wearing, Rumbelow and one of the actor participants, Lian Stewart. Because of the demanding emotional work required by those who participated in the film, last night's audience seemed most concerned with their mental health following production and what they are up to now. Both Wearing and Rumbelow were able to put everyone at ease as did Stewart who seemed genuinely surprised by the reaction of the audience.
Documentary Fortnight runs through February 28th and boasts a total of 20-feature length films representing some 14 countries. Included in this year's festival, are two programmatic themes: contemporary Chinese documentaries and the legacy of New Day Films. The latter is a distribution company distinguished in that it is owned and operated by a co-operative of filmmakers and that 2011 marks their 40th anniversary. New Day has a remarkable legacy for socially progressive films, a number of which will screen during the last weekend. Additionally, a number of the founding members are expected to be in attendance as well as some of its newer members.
Some other noteworthy films to be screened in the next two weeks are Nicole Torre's Houston We Have a Problem, a straight look at the oil industry from the mouths of Texas oilmen; 45365 is Bill Ross and Turner Ross' is a sly and subtle look at the interactions of a small community in western Ohio; and Johan Grimonprez's Double Take, an art house hit last year that may best be described as a hybrid narrative/documentary involving Alfred Hitchcock — portrayed by a doppelganger — caught up in a tale of Cold War period intrigue.
Doc Fortnight's selection committee includes MoMA's Sally Berger; Debra Zimmerman, Executive Director of Women Make Movies; and Chi-hui Yang, an independent curator. — Adam Schartoff
Adam Schartoff is a freelance writer living in Brooklyn. Besides contributing articles and interviews to a number of websites and newspapers on the topic of film, his current passion is programming filmwax, a film series based in Park Slope. The series gives him an opportunity to support good filmmakers and their work.