Back to selection
ALISTAIR BANKS GRIFFIN, "TWO GATES OF SLEEP"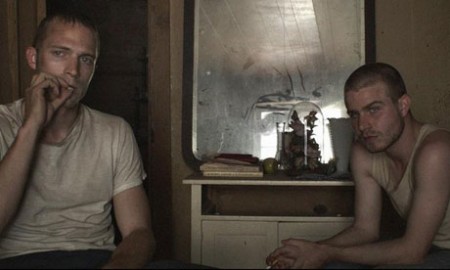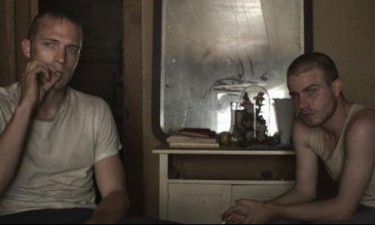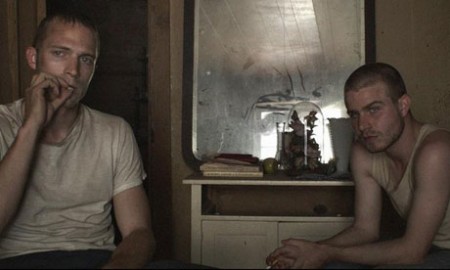 American independent films of the narrative variety are rarely hard art films. But in the case of Alastair Banks Griffin's Two Gates of Sleep, which bowed at last year's Directors' Fortnight in Cannes before finding its way to AFI Fest last Fall, one should be ready to enter a long-take heavy, unspeakably gorgeous dirge that is sure of its influences and even more sure that it has something deeply resonant to express to you. It's the type of movie that, as the cliche goes, requires the audience to "do some work," that isn't going to bend over backwards to entertain you, that's going to leave your questions unanswered and your desires for exposition or denouement unfulfilled. It tells the story of a pair of backwoods brothers (Martha, Marcy, May, Marlene's Brady Corbett and Tiny Furniture's David Call) in the rural American South who choose to bury their dead mother (Karen Young) in a pine box of their own making after she dies from some unexplained ailment in a field near their home.
Griffin, a native Southerner and prodigious cinephile making his directorial debut, did the festival rounds in 2008 with his short film Gauge. It was there that he met the producers of his most recent film, Sean Durkin, Josh Mond and Antonio Campos of Borderline Films, who were at NYFF '08 with Campos' startling feature debut Afterschool. After discovering a mutual appreciation for austere narratives with young, untraditional protagonists, they banded together to make Two Gates of Sleep, which features the most impressive work yet from Borderline's house cinematographer/young d.p. of the moment Jody Lee Lipes, who like Durkin and Campos was featured among our 25 New Faces in Independent Film. Two Gates of Sleep opens on Friday at the ReRun GastroPub Theater in Dumbo, Brooklyn.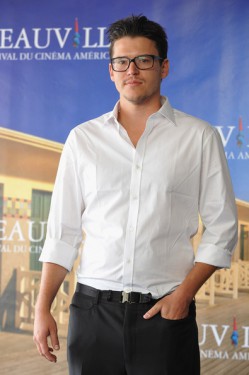 Filmmaker: Watching your film for a second time recently, it strongly recalls the work of both William Faulkner and Terrence Malick to me.
Griffin: They are big influences. There were some other influences that went into the genesis of the film as well. In relationship to Faulkner, what was really fascinating to me and what connects a lot of these things is that I grew up in Louisiana and felt very connected to his writing. Being around that environment, I saw where he was coming from and how he found this beautiful voice to represent a part of the world and a part of society that has a very hard time articulating itself. Faulkner was able to create a voice for their interiorized monologues. When I discovered Malick's work, I felt that Malick was very much referencing Faulkner in a way. He was able to grab those interiorized monologues and find a way to put them in a poetic text that could essentially drive the narrative of his films. When I began to approach this film, I knew I wanted to stand on the shoulders of both of those men, but at the same time approach it differently. Instead of having that interiorized monologue, I wanted to approximate what they were both getting at by doing a film without words and without so much voiceover. There's a little bit of voiceover in Two Gates, but it comes much more as a part of a dream essentially, a moment of transcendence. So what I set out to do was to try and craft performances where you could get what Faulkner was trying to get at in his writing with glances, gestures, body language and the mise en scene of cinema — [using them] as tools to pull those out of the characters.
In order to do that, I really turned to the work of Robert Bresson, who had an incredible career making this exact type of cinema. He treated actors not so much as actors but as models. He described them as models, at least. In doing that, his theory was that if you strip down the actors' ability to gesture, use facial expressions and all the kind of crutches, well maybe not crutches, but all the things that are given to and taught to actors as part of their training to use as tools — if you take that away from an actor, what exactly happens? This is one of the main things we were experimenting with, trying to see what happens when you take those tools away. Amazing things can happen when an actor is forced to stay stern-faced and you see the tiniest twitch of an eye. It says worlds about what is happening there. So it was using all of those things to form a larger conglomeration of references.
Filmmaker: Was it difficult to get your actors on the same page with you in terms of your desire to emulate the Bressonian acting style?
Griffin: Brady Corbett was attached to this project very early on. He and I choose to work together based upon a shared love for a lot of these films by filmmakers like Bresson, Andrei Tarkovsky, Alexander Sokurov, Yasujiro Ozu, Carl Dreyer from the '50s, '60s and '70s. So Brady and I were very much on the same page from day one. I went into it knowing he was going to play that role from very early on, and we crafted it together.
Later on in the casting process I was very lucky to find David Call and Karen Young, who are both very experienced, trained actors. I cast them not only for their talent but for their similar visual qualities and their ability to interact with each other. I thought they were very convincing as a family. When you see them together it's kind of shocking how much David and Brady feel like brothers. With David and Karen the acting style was a large discussion. David was able to get there relatively quickly. With Karen, who is a Broadway actress, it took a lot of discussion about what was really going on for her to get to that place, but once she got there it was just incredible. Of all of the performances, she really seemed to have the least grasp of what was going on while we were filming but afterwards when she saw the final results of her performances she was really surprised and excited about it because it was something she had never done before. I think the process involved constantly having to look at the frame and look at what was going on in front of the camera and being a little bit of a police officer without being dogmatic; when I saw a hand going to gesture or some other type of exaggerated movement, it had to be squashed pretty quickly. After about a week of that, I think they started to really catch it and go with it, and the result is what ended up on the screen.
Filmmaker: How did you go about finding the very evocative Mississippi locations you ultimately used for shooting?
Griffin: Where we shot is about an hour-and-a-half to two hours outside of New Orleans, where I grew up. My family spent a lot of time in the '80s and '90s in this little, weird part of Mississippi that is just north of the border in southern Mississippi in the beautiful place where the Louisiana swamp — which you can visually note from films and photography — starts to end and this ancient pine forest begins. The result is you get these white sand beaches running through old forests and these crazy banks, it's just an epic, strange, crazy landscape that I haven't seen in many other parts of the world. I was always fascinated by it growing up. I would find myself occasionally getting to interact with some of the other kids my age growing up in that area, and I wasn't necessary able to communicate with or relate with them. But we would somehow manage to play together on some level. I was always wondering what their life was about when they left where me and my brother were, which was so different. My mind was always racing and daydreaming about what their world could have been. So the film couldn't have been shot anywhere else in my mind; that place was so specific to my feelings and thoughts and emotions about what I was trying to say. The themes I was trying to get at were hyper-specific to that place.
That said, the actual location that the film's story is set in — or any understanding of where you are in the world — was not so important to me for the audience. It was very important for me to strip that knowledge out as much as possible. I thought it was much more of a placeholder for the idea of a Southern environment, whether you're in America or South America or anywhere else in the world, I thought that vibe was really important.
Filmmaker: The way in which you shot and production designed the film gives the locations a sort of timeless, mythic quality.
Griffin: One of the things we did with the costume designer Lisa Hennessy and production designer Kris Moran was to give them dates, really from the turn of the century until about 1985. Anything in those time periods was game. I wanted you to be off your center, not only about the place, but the time period. There are moments when it almost feels like a period film. I was really hoping that you would never really be able to get your grounding in that sense and that all those things would play into the idea of timelessness.
Filmmaker: The newest thing I recall seeing in the film is a microwave.
Griffin: There's some things that snuck in there. I think those things are important too. The sounds of the microwave, of the TV, were really important to me. What those pieces of technology mean in terms of them creeping into their world. Their world is dissolving in a way. That world can't really survive so much in modern day. I think that the idea of hunter-gatherer cultures or something like a hunter-gatherer culture, especially in contemporary America, is really a dying concept. I'm really into the romantic and socio-economic aspects of what that is and where that's going as well.
Filmmaker: How did your largely New York based cast and crew hold up being in such a remote part of the Deep South?
Griffin: Being in that environment proved to be way more challenging than we anticipated. There were moments when it definitely approached Herzogian levels of ridiculousness. One of the first things that happened when I got down there with Jody Lee Lipes and the producers to do our scouts was that we got hit by one of the biggest rainstorms in the last 20 or 30 years. The river not only came up ten feet from the bank, but then came up another eight feet higher than that and flooded us out completely. We lost every production vehicle we had instantaneously. We were stuck deep in the backwoods for about three or four days before the water went down. At one point, Jody and I were getting into kayaks to go out and scavenge food from faraway neighbors after we ran out of supplies. [laughs] So that was a very ominous beginning but luckily it was one of the worst things that happened and from then on it got smoother. But when you're in an environment like that you're dealing with everything from snakes to huge spiders and all kinds of wild life that's really out there to get you. It was an adjustment for sure. We were also working in a community where people were a bit skeptical and curious about what you're doing. I'm kind of from there so it helped, but at the same time you're still an alien so you kind of have to balance a really thin line to be respectful of that world.