Back to selection
DALLAS INTERNATONAL FILM FESTIVAL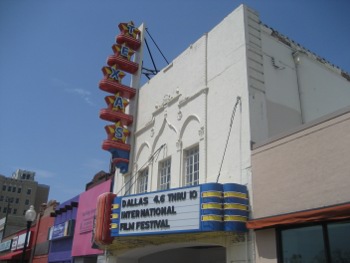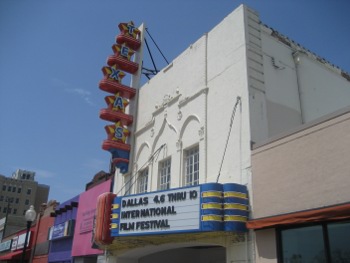 The 2011 Dallas International Film Festival closes today, wrapping up an 11 day fest that accomplished what all regional fests should: screening favorites on the festival circuit while highlighting the talents of filmmakers in its community.
Thanks to the tireless efforts of the Dallas Film Society (which took over the festival when the three-year licensing and consulting deal with AFI wasn't renewed before the 2010 fest) — specifically chairman Michael Cain and artistic director James Faust — the 5th DIFF has integrated itself nicely into a Dallas arts community that already has a full calendar of events to choose from throughout the year (some of my favorites I was told were going on or coming up were an Irish music festival, free earth day fest and one on ukuleles).
Screening throughout Dallas and even expanding as far as the Angelika in Plano, TX this year, DIFF had Sundance hits BEING ELMO: A Puppeteer's Journey (which opened the fest), The Future, Terri, The Greatest Movie Ever Sold, Page One: A Year Inside the New York Times, The Oregonian, Project Nim and Jess + Moss, which won the Best Narrative Feature prize.
A standout from the Sundance crop for me was Steve James' The Interrupters, which I missed at Park City. Inspired by a New York Times Magazine article written by his friend and producer on the film Alex Kotlowitz, the film looks at a group of former gang members in Chicago known as Interrupters who have put down their guns and vow to end the violence in their streets by confronting friends and family and playing mediator to help settle disputes without anyone getting injured or killed. James (who also received the Dallas Star Award at the fest, the first time it's been given to a doc filmmaker) showcases this with his usual verite style, capturing intimate moments that will both scare and inspire you. James also shows how the Interrupters chip away at the "gangster" facade needed in the streets to reveal people who are just trying to survive. It is not only a film of hope but a love letter to Chicago.
Gil Gates Jr.'s dark comedy Lucky, starring Colin Hanks and Jeffrey Tambor received good news when it was picked up by Phase 4 for distribution before its world premiere at the fest in the middle of the week, while it was a homecoming of sorts for the U.S. premiere of Beautiful Boy as producer Lee Clay is from Dallas. The film, which world premiered at Toronto, is the debut feature of director Shawn Ku and stars Michael Sheen and Maria Bello as a couple in a shaky marriage whose lives are changed when their son goes on a shooting rampage in his college and kills himself in the process. The film can get a bit nauseating with its shaky handheld camera work, but the work of Sheen and Bello is impressive as well as what Ku pulled off with only an 18 day shoot.
I was pleasantly surprised by the closing night film, John Landis' Burke and Hare, his first narrative feature in over a decade. The UK-produced film stars Simon Pegg (Burke) and Andy Serkis (Hare) as the two legendary Edinburgh serial killers who sold the corpses to a doctor for dissection at the renowned medial college in town. Landis' sharp humor and love of gore is found throughout, while Pegg and Serkis have incredible chemistry. Having already been released in the UK, it doesn't seem there's a distribution for the film in the States. But it's certainly worth checking out if it ever goes on Netflix.
There was also an impressive showcase of home grown Texas filmmaking talent. One of my favorite shorts was the Midnight selection Neal. Directed by Dallas native Geoff McGee, it's a hilarious story about a couple celebrating their anniversary only for it to be ruined when their pool cleaner goes rouge leading to a bloody conclusion. It also includes some great underwater shots done with a 5D. There was also Katrina's Son by Ya'Ke, a haunting story that comments on our post-Katrina world and the instant loss of innocence by the children effected by it. In the short a young New Orleans boy searches for his mother in San Antonio after the hurricane. On the feature side I was extremely impressed by Clay Liford's Wuss, which received a special jury prize (he was also the d.p. on Neal). Following the lame life of substitute teacher Mitch (Nate Rubin), who still lives at home with his mom and horrible older sister, aspires to be a sci-fi author and spends his free time smoking weed and playing fantasy board games with his friends (who also give him shit constantly), things get worse for Mitch when the school bully (well, bully isn't the right term, the kid is a gun runner so I guess we're not talking about a guy who's going to take your lunch money, but anyway…) who makes him a target after Mitch sends him to detention. Mitch is beaten up by he and his friends, pistol whipped a few nights later when Mitch tries to talk to the kid's mom, and soon finds himself immersed in the illegal activity going on in the school to try to show he's a tough guy and enact some revenge. Rubin plays Mitch perfectly as the wise-ass schlub while Liford, who shot the film in Dallas and lives in Austin, uses the realities of today's teacher having zero authority in the classroom to create a humorous and often chilling story, filled with witty dialogue, slick style and a great soundtrack. The film premiered at SXSW this year.
The biggest highlight of all for me at DIFF was the Texas Theatre (pictured above). Most know it as being the sight where Lee Harvey Oswald was captured after the Kennedy assassination, but now it's a beacon of what the power of a film community can do. The theater, from what I learned, had been closed for many years and recently was taken over by filmmakers Barak Epstein, Adam Donaghey, Eric Steele and Jason Reimer (Epstein, Donaghey and Steele are also the producers of Wuss) who have since installed a bar in the lobby (a must have for Texas moviegoers) started a rough cut lab and even have a Dallas night on Sundays where people can show up and watch episodes of the seminal TV series while in their favorite late '70s-era Texas threads. This was the first year that the Texas Theatre was used by the festival. The acoustics of the massive one screen theater does need a little work as the sound bouncing off the walls makes it feel like you're watching a movie at a ball field, but mixing an era of cinema that's long forgot with the modern amenities of today is something I look forward to experiencing again.