Back to selection
Sasha Grey's Neü Sex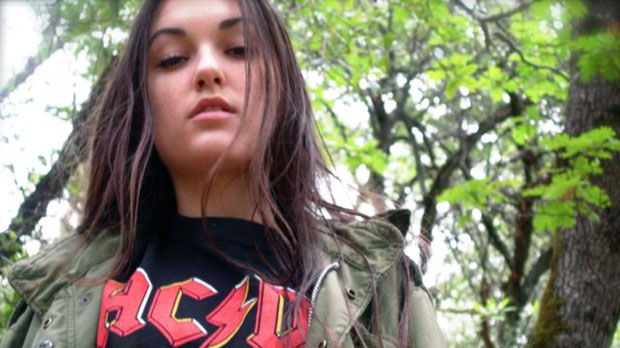 NOTE: Between the time I began reading Neu Sex and beginning this piece and the time I finished it, Sasha Grey publicly announced her official retirement from the adult video industry. If there is a certain bit of schizophrenia that follows below, this might account for that.

I've noticed a recurring theme in the criticisms that have awaited the publication of porn star/legit actress Sasha Grey's first book of photography, Neü Sex: this book would never have been published if she wasn't a hardcore porn performer; she's whoring her body to gain publicity; there are so many other talented young photographers who deserve to be published before her; blah, blah, blah. Yes, Neü Sex may be an intermittently alluring, admittedly minor debut book of photography from a young artist struggling to find her specific voice, but it's more valuable in its choice of subject matter (her) than as a portrait of a young visual artist (again, her). And if this assessment still seems somewhat unfair to those who resent that a 23-year-old performer-turned-photographer has secured a major publishing deal when so many of her peers are struggling to gain recognition for their craft, then you're missing the point. Sasha Grey's most noteworthy cultural accomplishment isn't that of a porn star, a model, a musician, an actress, a writer, or a photographer — her most impressive body of work is, quite simply, the creation of Sasha Grey.
It would ideally be preferable to discuss the work of an artist without feeling the need to summarize his or her life prior to that analysis, but, again, since Grey is her own most powerful creation, the two are pretty inseparable. Born in 1988 within a lower-income Sacramento household, Grey could barely wait until her 18th birthday to embark on an ambitious career as a prolific hardcore porn performer. She wouldn't be the first young woman to leap into that vocation, amass a considerable savings account, and retire early after demonstrating little sincere effort in her on-camera endeavors. But Grey was different — when she proclaims in the few sparse pages of her text that adorn Neu Sex (concise essays that are, to be honest, often rather insightful and also quite witty) that she views her work as a form of "performance art" allowing her to explore the extremes of sexuality, that may seem like a convenient claim for the former star of such video productions as Gang Bang My Face and Cum Fart Cocktails 5 (to name only a small fraction of her work: iMDB lists 228 titles for her as a performer and two as a director, although many of these are likely compilations that recycle footage from previous productions).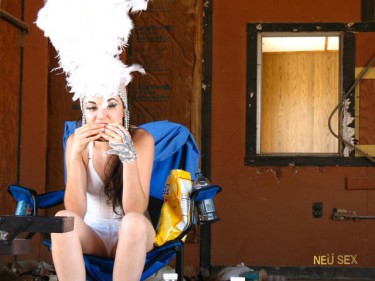 In Grey's case, though, it seems pretty clear that she means it, and she makes no excuses. The enthusiasm with which she embarked on sadomasochistic fetishes and on-camera sexual excesses that many adults didn't even know existed made her far from just a pretty face (which she certainly is — she exudes a natural beauty that eludes many adult video actresses). And her non-augmented appearance (no implants, and no alt-erotica tattoos or piercings either) also demonstrated a willingness to exist in the industry her own way, on her own terms. Rising to the top of a business that too often exploits performers, Grey seems smart enough to stand alone, while actually performing sexual acts of dominance, submission, and humiliation that could shock even the most jaded viewer. And, of course, there aren't too many porn performers capable of discussing Godard and Sartre, while using the career to advance her own interest in experimental industrial music (she has collaborated with Current 93, and has her own band, aTelecine). So Grey's best work might not be in her crossover performances in Steven Soderbergh's lethargic The Girlfriend Experience or the dire low-budget Canadian Herschell Gordon Lewis gore homage Smash Cut (not to mention playing a parody of herself as a recurring character on the HBO series Entourage) but rather giving it her all in Pirates II: Stagnetti's Revenge or Throat: A Cautionary Tale, all the while using the opportunity to discuss in interviews her love of the English industrial group, Throbbing Gristle.
Lest this sound like a completely sycophantic hagiography, let's return to her new photography book Neü Sex. It's never less than page-turning, but that has a lot to do with Grey as subject matter than it does with the originality of the work. But I think the entire purpose of the publication is to advance the iconography of Sasha Grey, and on that level, it's a success, even though I suspect it's preaching to the converted; I'm not sure how impressive it would be to a novice unfamiliar with her work, although one could certainly select less aesthetically appealing subjects than her frequently undraped form (though, oddly, she's more captivating when she appears more natural, and in many cases, even clownish). She has spoken of the need to document her daily reality, and that's undeniably a response to working in an entertainment industry where objectification of the female form is the name of the game. Yet Grey still often emerges from the work as somewhat more of the subject than the photographer, and it would be impossible to overstate the contribution made by her longtime partner. Ian Cinnamon, a talented photographer in his own right, and clearly the eye behind the camera in many of these images. There are highly stylized portraits where Grey is clearly not the photographer — not just in the sense of hands-on technical execution, but even in the conceptual implication. Some of the book's best work is found in the series of intimate close-up self-portraits that comprise the "Fun to Funky" chapter, and also in the images that don't feature Grey at all, such as the collection of candid and revealing photographs of the grungy bathroom on a porn shoot — complete with Summer's Eve douche kit and Fleet enema works stacked atop a toilet base — in the "But Go Easy Step Lightly Stay Free" section. Grey does possess a photographer's eye for composition, and her best work possesses a restless energy and striking visual sense that — despite her own stated debt to the work of Nan Goldin (pretty apparent in her use of movement within the frame, and the ever-reliable "snapshot aesthetic") and Cindy Sherman (somewhat less obvious) — actually recalls an unapologetically lewd still photography equivalent to the colorful, exuberant hyper-reality of Wong Kar-wai, believe it or not.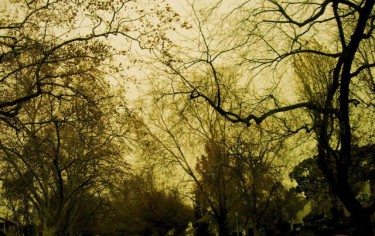 Of course, how involved one becomes in Neü Sex is rooted in how much one enjoys simply looking at Grey for most of the book's 192 pages. Consider me guilty as charged. Yet I would defend her skill as a visual stylist, and I would certainly defend her as an endlessly fascinating media figure. She's a study in contrasts: an intelligent and independent performer in an industry that appears to place minimal value on either quality in women; a performer who has portrayed submissive masochism while seeming more in control than most dominant personalities; and a radical sexual provocateur who projects a wicked sense of humor about her own position in that department. Although she just announced her retirement from adult filmmaking, she has already accomplished more in that field than most of the people who've ever ventured into that arena, and if her photography and music work are any indication, she has a wealth to offer in other disciplines. I just think it's a shame she never combined hardcore porn with crossover appeal and collaborated with Catherine Breillat.
All images by Sasha Grey from Neü Sex (Vice Books, 2011, 192 pages, $30.)