Back to selection
HAMMER TO NAIL REVIEW — "BAD POSTURE"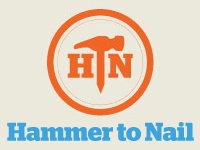 (Malcolm Murray's Bad Posture, which premiered in Rotterdam, opens tomorrow in New York at Brooklyn's reRun Gastro Pub theater.)
You stay on this beat for long enough and things start to bleed together. One low-budget, poorly lit, competently acted, overhyped, overpriced festival hit after another seem to flood your brain with little sense of lived experience or aesthetic invention. No wonder the underpaid and overstimulated fall so hard for movies that have all of the symptoms of this toxic stew, as long as one seemingly clever gimmick is thrown in. (Oh look, a blonde who also writes! And jeeze Louise, he's got a real flamethrower!)
Most indie crime flicks, like the half dozen or so genres that generally dominate AmerIndie Festivaland (stories of young white romances in flux, minorities overcoming societies' obstacles, austere "I wish I was a European Auteur" travelogues, upper middle-class family dramedies and several variations of mumblebore for starters) are, by in large, a dime a dozen. Whether reaching for comedy, social critique or grotesquerie, they generally find one way or another of recycling tired genre cliches, dramatic structural conceits and modes of feeling that make some layman filmgoers (and, perhaps not surprisingly, many festival programmers) comfortable.
Malcolm Murray's calmly assured, generally delightful narrative debut Bad Posture is not one of these and we should all be thankful for that.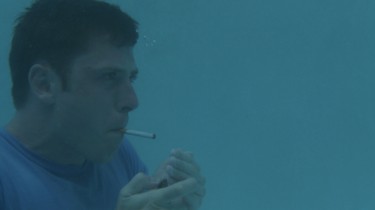 An anti-mumblecore western of sorts populated by non-actors and set in the filmmakers' hometown of Albuquerque, New Mexico, it follows an awkward, unassuming graffiti artist named Flo (Florian Brozek, who also wrote the film), newly unemployed for smoking too many cigarettes on the job. Soon after we meet him he begins to hit on a girl named Marisa (Tabitha Shaun) at a local park but is thwarted when his roommate steals her purse and car while he's laying on his mack moves. "Didn't you see me talking to that girl?" he asks as they drive away in her car. "Of course man, but I'm trying to pay our rent here," says his adorable, matter-of-fact, thief of a roomie Trey (Trey Cole, in a terrific performance). They trade the car to a chop shop owner for $400 and an AK-47, and so begins this leisurely, deadpan hilarious, sneakily ambitious narrative, in which Flo spends his days pining for a way to meet that young woman again, when he's not unintentionally discharging firearms into their toilet during domestic disputes or handing out flyers for the party at his place that weekend.
After taking a bow in Rotterdam, where its lugubrious cadences and droll humor were well appreciated, it has played here and there, winding its way around the margins of AmerIndie Festivaland. Perhaps I find Bad Posture so enjoyable, so much more enjoyable in fact than the broad majority of indies that have found American screens this year, because with its arthouse rhythms gently propelling a pumped up, ostensibly naturalistic story of romantic longing amidst post-adolescent criminality, it never creates a sense of expectation for what exactly you are going to see next. It is more interested in feeling, landscape, and boredom. You know, the things that make up most of our lives.
The conventionality of most films, from the endless stories of attractive if troubled people set in coastal metropolises to the predictable beats of overly workshopped, three-act romantic comedies with their quirk simulacrum level pumpep up to +3db, prevent the feeling I just described from being more prevalent in our cinema. That's a shame. Sure, there are movies about drug dealers and slackers, about the margins of the American Southwest, and certainly about white dudes looking for love (or sex or companionship or whatever), but there are rarely movies about friendship and boyhood's dying light (and eternal spirit) as generally effervescent as Mr. Murray's.
Admittedly low key and light on consequence despite the thievery and black market behavior chronicled, Bad Posture contains worlds of rich texture and character interaction, of, for lack of a better word, community. While watching it, one almost expects many of the colorful cast of Albuquerque outcasts who make up the supporting players to walk off the screen and start talking to you over 40s and blunts. In fact, I really wish they would.
Filmmaker has partnered with our friends at Hammer to Nail for a weekly "Pick of the Week" post that will be exclusive to our newsletter and blog for a long weekend, at which point it will go live over at Hammer to Nail as well. In the meantime, be sure to visit www.hammertonail.com for more reviews and lots of other great editorial.