Back to selection
Five Questions with God Bless America Writer/Director Bobcat Goldthwait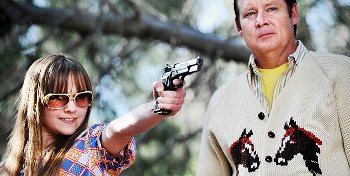 After building a career as one of the wackiest comedians of the '80s, Bobcat Goldthwait has spent the last decade redefining himself as a director making awkward satires like Sleeping Dogs Lie and World's Greatest Dad while directing episodes of Chappelle's Show. For God Bless America, his latest feature directing effort executive produced by Richard Kelly, Goldthwait looks at our obsession with Reality TV. Screening in TIFF's Midnight Madness section, a 45-year-old man (Joel Murray) and a teenage girl (Tara Lynne Barr) go on a Bonnie and Clyde-esque rampage after the country unites in the ridicule of a simpleminded contestant on a television singing competition.
Filmmaker: Tell us a little about what your film is about?
Goldthwait: I feel like the American Empire is starting to crumble, and we're using Reality TV as the new Roman coliseum. This movie is about a man who doesn't want to be a part of that anymore.
Filmmaker: What motivated you to tell this story?
Goldthwait: I heard about a guy who had a friend who was fed up with kids looking up to the Kardashians, and wished he could blow up the MTV building. No I'm kidding, I am that guy.
Filmmaker: What do you think has been your biggest improvement as a director from when you started?
Goldthwait: I know the difference between grips and lamp ops now.
Filmmaker: What do you hope audiences will take away from your film?
Goldthwait: A healthy disdain for the new American dream of being a reality star, or a "real" person instead of a good person.
Filmmaker: Is there a subject you would never take on in one of your films?
Goldthwait: Diamond heists. Some things are too serious to be made light of.