Back to selection
Francis Ford Coppola Talks to Toronto at TIFF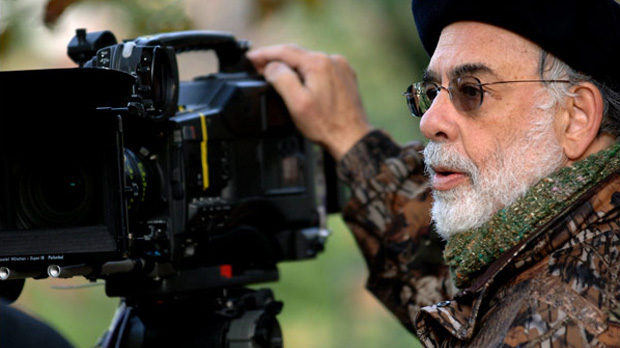 Last Sunday, a sold-out audience awarded Francis Ford Coppola a standing ovation when he strolled into the 548-seat Cinema 1 at TIFF's Bell Lightbox, the new multiplex at the center of the world's largest film festival after Cannes. To the adoring audience, Coppola smiled warmly and cracked, "I'm very embarrassed I left my black shoes on the plane," as he sat down at center stage in tan shoes and a dark suit with TIFF Festival Director Cameron Bailey.
This event was a rare 85-minute chat directly with his audience and enjoyed all the hype of a red-carpet premiere.  In fact, right after the talk Coppola unveiled his latest movie, Twixt, at a posh gala.  Though Twixt has been enduring harsh reviews, Coppola was jovial as he recounted doing a location scout in Turkey and drinking one night in Istanbul.  "I fell asleep and had vivid dream.  I began to realize in the dream that I was being given a story, a Gothic strange story….The call to prayer came in the morning and woke me up, and I thought, No, no, I have to get to the ending.  That was the germ of the screenplay."
Coppola revealed that he wanted to be a playwright he was a young man, then dreamed of being a screenwriter.  "I never had any idea that I would become an important Hollywood director," citing his early dramas The Rain People and The Conversation as the career direction he wanted to take.  "Then as now to make those 'personal films' I had to get a job, and that job was The Godfather [scattered applause] and that made me something I didn't know I was going to be.  I became a big-shot kind of director."  That sudden wealth and power opened up "endless possibilities"  like launching a movie studio and making an iconic Vietnam War film, Apocalypse Now.   "In my heart I wanted to make little art films."  However, Coppola took enormous risks and (to his credit) put his own wealth on the line to make his films.  His "day job" remains the winery he runs which he confesses has subsidized many of his recent movies.
Bailey asked him about balancing his art films with his studio movies.  Coppola replied that "you have to understand the financial situation in each year and whether that year was a calamity or not. "  He revealed that despite the massive worldwide hits of the first two Godfathers, nobody in the mid-70s wanted to bankroll his film about Vietnam, which was too fresh in the American psyche.  So, Coppola mortgaged his estate to make Apocalypse Now.  "Nobody wanted you to make this film at that time," interrupted Bailey, "so why did you want to?"
Surprisingly, Coppola answered:  "If I were to tell you you'd die laughing.  I thought that we could make this great, big hit war movie called Apocalypse Now, make a lot of money, and make a lot of art films the rest of our lives."  As we all know, the making of that film took Coppola on a "surreal journey" mired by crises on location, with his cast and even his own marriage (and thoroughly documented in his wife's superb documentary, Hearts of Darkness).  When Marlon Brando first arrived on set in the Philippine jungle he chuckled and said to his diretor, "You've painted yourself into a real corner, haven't you?"  Brando knew that the original ending written by John Milius featured a macho John Wayne shoot-em-up climax and Coppola had shot the rest of the story in a brooding, abstract tone.   A completely different direction.
"I didn't know that was going to happen," revealed Coppola.  "I was pretty scared.  I was betting the family farm.  Creatively I had no idea how I was going to end it."   He recalled that Brando tended to have a bad memory.  "I'm convinced his acting style was based on that…He was literally trying to remember the lines.  He was a master at using cue cards."  On set for those crucial scenes, Brando relied on a nearby tape recorder to feed him lines.
The 72-year-old maestro then opened the floor to questions from the audience:
How do you work with A-list actors?  All the bad behaviour you hear about [i.e. late on the set, forgetting lines] stems from the fact that they are scared… Actors have to give a performance, but they don't have a violin between them and the audience.  They are the violin.  You have to love them for what they do and give them every edge [through rehearsal].
Some screenwriting advice?  Put together the 80-90 pages of the draft [without going back] then get comfortable and read it, and make good notes on what you liked, what touched you, what moved you.  Then you go on a rewrite.  "Rewriting" is just the middle name of "writing."
Best advice to young filmmakers:  To guys, I say get married...When I was married I was broke and eight weeks later I had a job as a screenwriter.  I attributed a lot of it to my family and our sense of togetherness.  If you're a young woman, I would say don't get married.  Then you have this guy getting you to do everything for his career.
Any good anecdotes about making the Godfathers?   I had said at the time, 'Absolutely I don't want to do another Godfather.  The story is over.  He's become the new don.  What's there more to tell?  [Later, Coppola agreed to be a producer and would suggest a director to Paramount Pictures.]  I will choose a young filmmaker whom I feel could do it…Martin Scorsese.  [Paramount] said, "That's crazy!"  I realized I was facing the same mentality that didn't want Brando [for Godfather I].
Very few questions were in fact asked, because Coppola loved to embellish, offered anecdotes and even sang a few bars from Pal Joey.  The audience laughed often and competed for his attention.  I've attended many conversations at the Lightbox in the past year and this was the most electrifying.  The audience was in the presence of film royalty.
In fact, it was impossible to get anywhere near Coppola after the session, as security guards cut a path through the jam-packed Lightbox, where Coppola disappeared through a secret elevator.  A young fan begged security to pass his DVD of Godfather I  to get signed, but no luck.  He and everyone else melted into the delirious flow of TIFF and headed off to the next show.