Back to selection
"WEEKEND" — A HAMMER TO NAIL PICK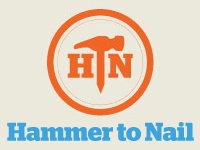 (After world premiering at the 2011 South By Southwest Film Festival where it won an Audience Award, Weekend was picked up for distribution by Sundance Selects. It opens theatrically in New York City on Friday, September 23, 2011, before expanding to more cities in the coming weeks. It's also available through cable VOD for three months beginning on September 30th. Visit the film's official website to learn more.)
It is Independent Film Week in New York City. As this is the first time that I've personally been involved in IFP's annual program to the extent that I have (I'm pitching my life away in the No Borders International Co-Production Market with my next project), I am forced to cut my losses and admit that it has become flat-out impossible for me to write an even somewhat well-conceived review of Andrew Haigh's Weekend. But if there is any movie in 2011 that deserves to be a Hammer to Nail Pick of the Week, Weekend is it.
Seeing so many talented friends and strangers — and Cocktail's Bryan Brown(?!) — pitching worthy projects at IFW over the course of the past few days has been both an inspiring and deflating proposition. Inspiring because so many of these projects sound incredibly cool. And deflating because, man, sometimes it really does feel like everyone has a feature film script in his or her back pocket. This summer, we haven't had a breakout indie hit like Winter's Bone (and, no, Midnight In Paris doesn't count). I personally worry that there are simply too many films flooding the marketplace for any of them to catch hold. In the coming weeks, we'll see if Take Shelter or Martha Marcy May Marlene can forge a path outside our little bubble. But this weekend, there's a little movie from the UK being released that has a direct kinship to American indie cinema and deserves to connect with a much wider audience (honestly, if it isn't received well by savvy filmgoers at the very least, I'm tempted to give up on this game completely).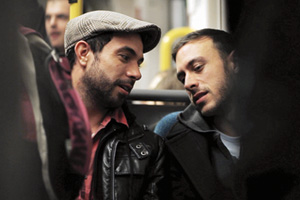 Believe what you've heard. Weekend is an incredibly special film. Over the course of just a few short days, it covers so much ground in its exploration of homosexual identity — beginning with having such flawlessly, deeply realized characters — that it's hard not to believe strongly in this movie's potential to become a mini-breakout hit. A gay friend jabbed to me, "It's a gay movie for straight boys," and though I disagree with that sentiment — I know gay boys (and straight gals) who love it too — in some ways I hope he's right. Weekend likely won't soar to the heights of Once, and it probably won't change the minds of true homophobes and general simpletons, but by making these characters so three-dimensional and their relationship so compelling, Haigh has taught us all a very powerful lesson. And not just that budget doesn't matter. I don't know how he pulled it off, but Haigh and his team have made a movie that is firmly defined by its sexuality while transcending its sexuality at the exact same time. On its own humble terms, it's as perfect as it could be.
Filmmaker has partnered with our friends at Hammer to Nail for a weekly "Pick of the Week" post that will be exclusive to our newsletter and blog for a long weekend, at which point it will go live over at Hammer to Nail as well. In the meantime, be sure to visit www.hammertonail.com for more reviews and lots of other great editorial.