Back to selection
THE ARIZONA UNDERGROUND FILM FESTIVAL 2011
Kevin Corrigan in "Some Guy Who Kills People"
It's surprising that the Arizona Underground Film Festival is only in its fourth year since it's got the vision and confidence of fests that have been around a lot longer. The brainchild of founder/director David Pike, who handles acquisitions for locally based BrinkDVD, AZUFF seems to have a strong sense of film camaraderie and community on its side. (Indeed, stepping out of the hot Tucson sun and into the downtown art-house The Screening Room – one of the venues of the Arizona International Film Festival, which I covered back in April – to pick up my press pass, I was greeted by none other than Giulio Scalinger, founder/director of the 20-year-old AIFF, who runs the cozy theater and was busy setting up the concession stand.)
In addition to an unwavering passion for non-mainstream fare Pike also has a strong sensibility and an unapologetic appreciation for behind-the-lens risk-taking. "It's really our need to play edgy independent filmmaking that drives AZUFF every year – to showcase these filmmakers. What has started from a small, three-day festival has turned into a nine-day fest playing some of the best films from around the world. And we are looking to grow bigger beyond that as the festival grows too," Pike enthused as we sat at the airy, artisan coffee bar Sparkroot down the street from festival headquarters. "We would love eventually to tour with AZUFF. We have thought about it, and it's something that will be on the table in the future," he added.
Discussing AZUFF post-fest I admitted that my own tastes didn't always align with his. Pike's favorite selection this year, Australian director Emma Varker's short Hansel and Gretel, is a binge-and-barf tale it would seem only John Waters, narrator of Susan Marks's frustratingly by-the-book doc Of Dolls and Murder, about Frances Glessner Lee's The Nutshell Studies of Unexplained Death, could love. Nevertheless, I can certainly respect his fearless and diverse programming. I expressed my surprise that so many of the films chosen were directed by women, and wondered if Pike purposely strove for gender equality. "We look for great edgy films every year. We are never disappointed by filmmakers from around the world, and what they can do," he noted. "Honestly, it just happens that some great female directors made some excellent films this year. I hope this is something that continues, and we are proud to have them as part of the festival."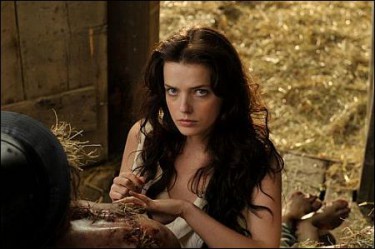 Refreshingly, Pike's every bit as excited about the little gems he discovers sent to him through Withoutabox as he is about the opening night's Some Guy Who Kills People (pictured above), director Jack Perez's standout, serial killer comedy – and perhaps my favorite film of the fest – featuring indie vets Kevin Corrigan, Barry Bostwick and Karen Black, and executive produced by John Landis. Indeed, though I saw some thrillingly unconventional shorts (such as Facing Rupert, Australian director Gregory Erdstein's British-humored tale of a deadpan dude peeved at his "twin" Rupert – "A small human being found inside the skull of a grown man," as his pompous doctor explains to colleagues) and one thoroughly engrossing scare flick on closing night (Swiss director Michael Steiner's big budget Sennentuntschi: Curse of The Alps, starring a made-for-horror Roxanne Mesquida as a sexually-tortured mute who may also be the devil incarnate), it was three deftly-executed, feel-good American comedies that both warmed my heart and stayed in my mind long after the credits rolled. Though Pike is currently preparing for his pre-Halloween, Tucson Terrorfest (October 20-22), I'm personally hoping for a cult comedy event the next time I find myself surfing through cinema in the Wild West. So without further adieu, here are my top AZUFF picks that deserve to come to a theater near you.
Some Guy Who Kills People
A throwback to the inventive American indies of the '90s – complete with the idiosyncratic Kevin Corrigan, who inexplicably doesn't have Mark Ruffalo's career – Jack Perez's brilliantly titled film lives up to its executive-produced-by-John-Landis-hype and then some. Corrigan stars as Kenny Boyd, a recent release from the insane asylum, who seeks brutal revenge, one by one, on the group of bullies who tortured him as a teenager. That is, when he's not being interrupted by the gregarious daughter who's turned up at his doorstep, or his chain-smoking mom (played by Karen Black – need I say more?) phoning to tell him to get his ass back home because his newfound pre-teen "won't stop talking."
Which is a good thing since Ryan Levin's unpredictable script is chock full of quotable lines, especially from Barry Bostwick's deceptively bumbling Sheriff who happens to be banging Kenny's mom. ("We're gonna get freaky on her Murphy bed" he warns Kenny, and then later tells the mentally fragile man that he himself relaxes with chess. "I don't actually play the game, but thinking about it relaxes the shit out of me," he explains.) When the mayor complains that the local force is slow to solve the serial killings, the understaffed Sheriff responds with, "Hell, these two other guys can barely read" – before Perez cuts to the underlings trying to decipher the police line tape. With solid editing and sound design, and pitch-perfect acting from all – Ariel Gade as Kenny's daughter is not only delightful, but she even looks like Corrigan! – it's easy to see why Landis would want to put his signature stamp of approval on the marquee. And when Kenny's loser life goes on the upswing (including a new British girlfriend played by Lucy Davis) right in the middle of his killing spree – or so it all seems – Some Guy Who Kills People becomes equal parts comedy and suspense thriller. It's a bloody tough balancing act – and one the director pulls off with gory aplomb.
The Selling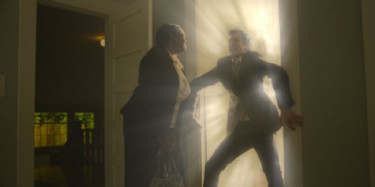 Another directorial feat could be found in The Selling, Emily Lou's unpredictable haunted house story with an L.A. twist. The fun script was penned by Gabriel Diani, who stars as Richard Scarry – "like the children's book author" – a too-nice real estate agent who finds himself saddled with unloading a real stinker in the form of a mansion still occupied by the spirits of a serial killer and his victims. ("This is your life we're talking about – on a physical plane," Scarry's unscrupulous nemesis tells the "ancient unnamed spirit," as she tries to negotiate a deal.) With terrific sketch comedy acting from an ensemble radiating chemistry, in lieu of any name stars, The Sellingwas also my genuine find of the fest.
White Knight
Up and coming studio director – and Tucson native – Jesse Baget's White Knight also boasts some exciting comedic chops, albeit from the likes of recognizable faces. Tom Sizemore plays the straight man in the form of Leroy Lowe – a former KKK grand dragon sentenced to three years at a Tuna, Texas prison work farm – to both Stacy Keach's over-the-top warden obsessed with the award-winning potatoes his inmates grow, and Héctor Jiménez's (of Nacho Libre fame) sassy immigrant who's been jailed for demanding labor rights. (Jiménez – hair styled like an ethnic Einstein – is especially impressive with his veteran timing.) After Lowe's racist bunkmate Bubba chokes on a "wayward piece of potato" the Klansman is forced to bunk with the annoyingly talkative Mexican. Besides its laugh-out-loud script, Southern fried music, quirky fisheye-lens close-ups and swift editing – one sequence cuts back and forth between Lowe being forced to endure both Warden Merville's ode to spuds and the U.S.-loving Latino's monologue about Americans with great hair – White Knight also contains an unlikely dose of Cyrano de Bergerac, to boot. When Lowe falls for the warden's Latina maid and starts surreptitiously exchanging notes with her he's also reduced to using his roommate as a translator. All in all, the perfect unlikely buddy flick for a film fest just north of the border.