Back to selection
TODD SKLAR BEGINS PRODUCTION ON HIS NEW FILM "AWFUL NICE"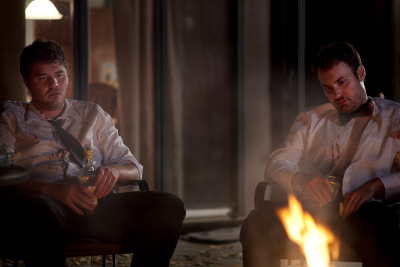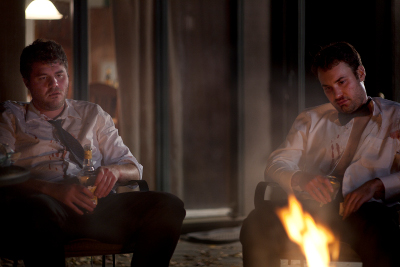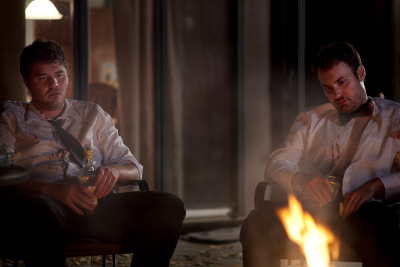 For our Fall 2008 issue we highlighted Missouri filmmaker Todd Sklar, who embarked on a DIY road trip with his film Box Elder and three others, screening at arthouses and colleges throughout the midwest.
Sklar is now in production on his next feature, Awful Nice, through his Range Life Entertainment company.
Shot in Branson, Missouri, the film follows estranged brothers Jim (James Pumphrey) and Dave (Alex Rennie) as they return to Branson to renovate the vacation home that their recently deceased father left them.
Sklar co-wrote the script with Rennie. Shooting begins in Branson next week and will end in mid November.
Sklar recently wrapped on a short film version of the story titled '92 Skybox Alonzo Mourning Rookie Card (the card is behind one of the brothers' fights) that he hopes to screen in festivals before locking picture on Awful Nice. "One thing I noticed at a lot of festivals over the years is that I'd see a really awesome short and then wanna know what the filmmaker was doing next and often times they're wondering the same thing," writes Sklar via email. "I thought it would be cool to be able to not just know exactly what we're doing next, but have it tie into the short itself."
Sklar says the short reveals a bit of the backstory behind the brothers' relationship that will be fully formed in the feature.
The inspiration behind the story, Sklar says, comes from the relationship that he has with his brother and the one Rennie has with his. "Me and Alex both wanted to write something about brothers, and our relationships with our brothers in specific," he says. "He's the younger one in his family, and I'm the older one in mine, and we found a lot of the same themes and issues and bonds in our two relationships."
Looking back on his roadshow with Box Elder, Sklar says one of the biggest lessons learned was the need to do less on the fly and have better planning, such as marketing, in place ahead of time. He hopes to correct these errors when he takes Awful Nice on the road. But this time he hopes to premiere the film at a festival before hitting the road.
"That was the biggest mistake we learned on Box Elder," he admits. "There's no reason not to wait for a festival premiere to use as a launchpad for your release. There's literally no advantage to taking it out without doing a festival first. With Box Elder, we sort've didn't know any better, and I was just extremely impatient. This time around we're gonna make sure that we focus on being a part of a festival first, and then plan everything else around that as the catapult."
Unfortunately Sklar had to sell the van he and his fellow filmmakers rode throughout their roadshow (and also used as a projection room sometimes) to help pay for the production of Awful Nice. He hopes the station wagon that's featured in this one can become their wheels for the next road trip.
Here's some stills Sklar sent from a recent location shoot, along with his captions:
Top photo: (L-R) Actors James Pumphrey & Alex Rennie sit by the fire after a brotherly discussion that involved punches.