Back to selection
New Super 35 Digital Motion Picture Cameras from Canon and Red – What They Are and Aren't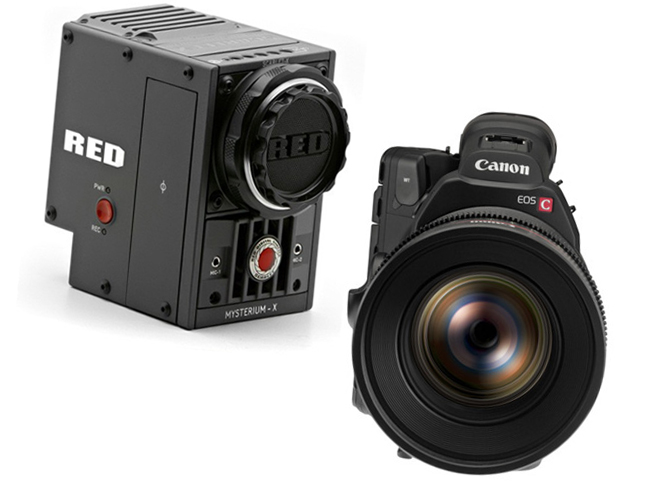 November 3rd marked the highly anticipated arrival of the Canon EOS C300 and RED Scarlet-X, two compact digital Super 35 motion picture cameras. I'll parse the details below, but first, what do these new kids on the block signify?
Super 35 is nothing more than a modern rebranding of the original motion picture frame created 120 years ago by George Eastman and Thomas Edison. Their felicitous collaboration standardized motion picture cameras and projectors for a century, so perhaps they would enjoy the fact that Super 35mm-sized sensors are now standardizing digital cinema cameras. This would include the Sony F65, Sony F35, Sony PMW-F3, Sony NEX-FS100, ARRI D-21, ARRI Alexa, RED ONE, RED EPIC-M, Panavision Genesis, Phantom HD Gold, and PS-Cam X35. On the DSLR side, also APS-C cameras like Canon's EOS 7D.
Standardizing on a Super 35-sized sensor means that the same lenses can be used on all cameras. This development has unleashed a flood of new zooms and primes and drained the market of used lenses. (Try finding a 30-year-old Zeiss Superspeed on eBay.) It has crowned a de facto Super 35 lens mount standard, ARRI's "positive lock" PL.
For independent filmmakers, standardization around Super 35 opens floodgates to the use of commodity-priced lenses designed for SLRs, whether film or digital. Because the SLR market is so broad, this brings a windfall in specialty optics like catadioptric telephotos and tilt-shift lenses for perspective control, virtually nonexistent in filmmaking use until now.
Tapping into an alternative source of affordable lenses is most significant, because, as I've long noted, there's no Moore's Law for optics. Transistors, circuit boards, and by extension, cameras, may shrink every 18 months, but physics is physics, and cine-style lenses for Super 35 remain as large, heavy, and expensive as ever.
We do indeed have Moore's Law to thank for the Canon EOS C300 and Scarlet-X. In dramatic contrast to the bulky cameras listed above — with the notable exceptions of RED's EPIC-M and Sony's NEX-FS100 — the EOS C300 and Scarlet-X fit in your hand. They're smaller and lighter than many of the lenses that will be mounted to them, and possibly cheaper too. (Will we someday speak of which camera is mounted to a particular lens?)
And both introduce, in addition to a PL mount, a Canon EF mount. I'll get back to this terribly significant development in a moment.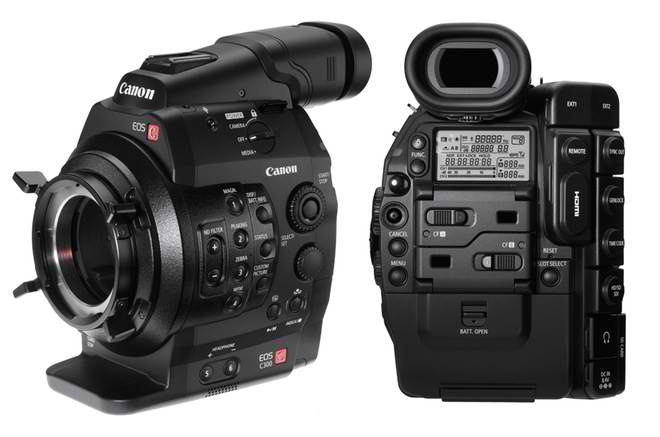 The debut of Canon's "Cinema EOS System" was announced at a splashy Hollywood press event at Paramount Studios, featuring Canon execs, stars like Martin Scorcese and DSLR evangelists like Vincent Laforet.
Canon, chief beneficiary of the accidental DSLR craze, has a lot on the line — and a lot to prove. One of the world's premier optics R&D and manufacturing outfits, Canon has marketed small camcorders since the days of analog Hi8, but has never built a true broadcast or digital cinema camera.
The C300's body at first glance looks like a tall DSLR with the sides shaved off. It is slightly longer than wider, with a front toe at its base, the better to attach to professional video tripods. (Unlikely to prevent tip-overs from hefty lenses.) A camcorder-style viewfinder juts backward from the camera's top. The operator side and rear are covered with small round buttons like any handheld camcorder. All conventional functions are where you'd expect to find them. Any experienced video camera operator could have this camcorder up and running in minutes without reading the manual. That's a compliment.
You don't see a flip-out LCD screen in the photos above because it's an add-on. Or should I say, a pile-on. First, there's a detachable handle attached to a cold shoe mount just above the Canon logo. (Note to Sony and Canon: cold shoe mounts are flimsy and shaky compared to the threaded mount points we're used to in professional production cameras.) On top and at the front of the handle are two additional cold shoe mounts to accommodate a "Monitor/Controller" module containing a hinged LCD panel, a horizontal surface with menu, playback, and audio controls, and two XLR inputs for mics.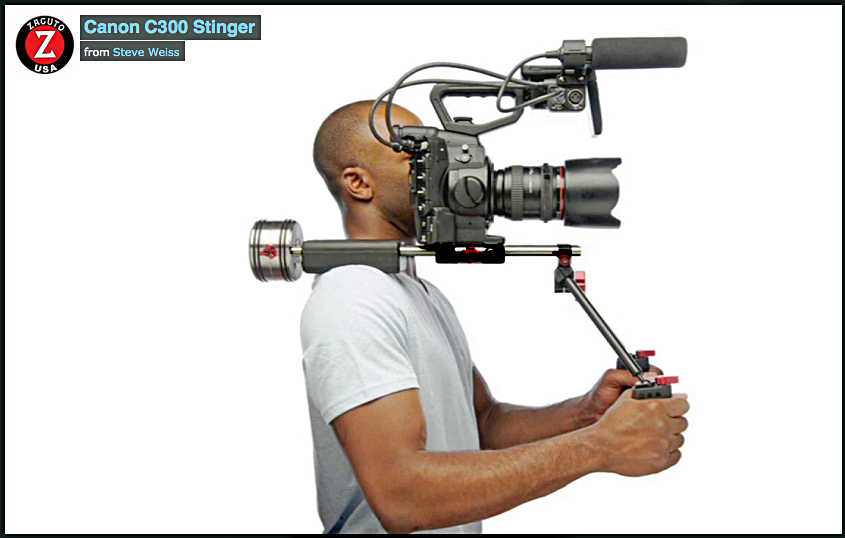 In the image above, borrowed from a Zacuto video demonstrating their new Stinger Kit for the C300 (back weight, shoulder pad, baseplate, rods, and handgrips), you can see the result. So much for ergonomics. Note that the LCD display, shown here dangling down from the microphone (at quite a distance from the eye), can be used in an upright position too, making the contraption a few inches taller.
It's possible to forgo the handle and attach the module directly to the camera. Canon's product shots show this configuration, sans handle, below. Better, but still top-heavy, especially with a mic, mic cable, and XLR connectors attached. Imagine handholding while two cables caress your cheek. Those are the power and signal cables for the LCD and audio modules.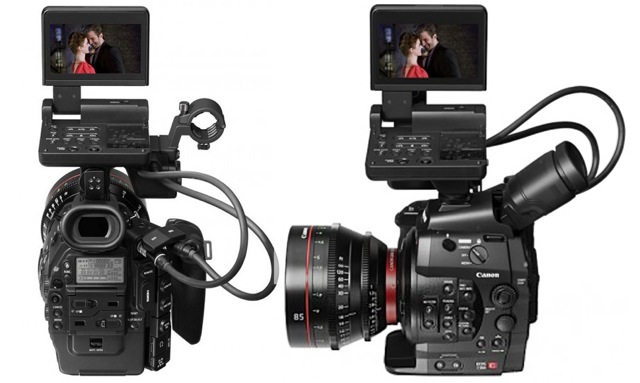 Fortunately, taking a page from Sony's FS100, there's an attachable handgrip, below, which can be rotated to best position.
You'll notice that I've dissected the C300's ergonomics and profile before getting to actual specs. I use digital video cameras of all types frequently — have done so for years — and while a camera's image capabilities are critically important, they aren't everything. I recently gave a talk on the history of "large sensor" cameras — those featuring Super 35 sensors — at the Society of Motion Pictures and Television Engineers Conference in Los Angeles, and I dedicated a good number of PowerPoint slides to the parallel case for "small-sensor" cameras, those with 1/3-in. to 2/3-in. sensors. I showed several frames of Gregg Toland's Citizen Kane to make the point that depth of field has nothing to do with "cinematic." Likewise, I argued that just as the sublime ergonomics of a 16mm Aaton favor intimacy and flow in handheld footage, small-format camcorders favor spontaneity and coverage. Their featherweight 10x-20x zooms enable today's documentary cinematographers to instantly frame and track moving subjects — no lens cases to juggle, mounts to tighten, caps to misplace. Try finding a fast, lightweight zoom with an adequate zooming range for handheld work with a Super 35 camcorder, never mind the cost.
But I digress.
Make no mistake, Canon's C300 is a state-of-the-art compact HD video camcorder, albeit one with a large sensor. I headlined this blog "New Super 35 Motion Picture Cameras…" because I happen to include video under the rubric of motion pictures.
Examine the generous input/output connections in the photo above. From top to bottom, there's HDMI, sync out, genlock, timecode, and HD/SD-SDI. The SD in HD/SD-SDI means that the C300 is capable of outputting uncompressed standard definition in addition to high definition. That's because it records NTSC and PAL along with HD. It's a worldcam.
But it's a video worldcam. There's no 4:4:4 or RGB. The C300's video, whether HD or SD, is 8 bits, 4:2:2, and component (YCbCr). This is true of both recorded (compressed) and uncompressed HDMI or HD/SD-SDI, unless I'm reading Canon's own specs wrong. Canon does offer a version of log capture, Canon Log Gamma, to increase apparent dynamic range by creating a flat "digital negative," akin to Sony's S-Log or ARRI's Log C, but again, it's 8-bit.
Compression, captured to dual CompactFlash cards, serially or in parallel (for instant backups), is 8-bit MPEG-2 Long GOP, with a choice of 25mbps constant bit rate, 35mbps variable bit rate, and 50mbps CBR. In 1080, only 60i is available. For slo-mo, 60p is possible in 1280 x 720 modes of 50mbps and 35mbps. These are identical specs, by the way, to Canon's XF305 three-chip 1/3-in. camcorder. (Ditto specs of the viewfinder and LCD.)
For cinema production, the C300 does offer true 24p in addition to the standard 23.98p. To speed up action, frame rate can be lowered to 1 fps in 1-frame decrements (not continuously). Time-lapse is enabled through interval programming.
Taking a page from DSLRs, sensitivity is indicated as an ISO number. Per Canon, 320 to 20,000. Familiar gain settings of -6 to +30 dB are also available.
Focus, aperture, color balance, and gain are manual-only. There are no automatic functions on the C300. No AE or AF modes to wrestle with.
There are built-in mechanical NDs for 2, 4, and 6 stops of exposure attenuation. (Those with video-only backgrounds will jump for joy at this.) Not surprisingly for an HD camcorder this compact, there are dual fans, a heat sink, and vents. I have no idea whether these fans are always 100% silent or controllable.
There are many useful production touches. On the bottom there are both 1/4-20 and 3/8-16 threaded holes for mounting. There are four start/stop buttons. While there's no built-in mic, there is a 3.5mm mic jack on the camera body, no doubt borrowed from Canon DSLRs, useful for attaching a small reference mic. Like the XF305, there are built-in displays of a waveform monitor, RGB parade, and vectorscope, which I heartily applaud. Battery, which slides into the rear bottom of the C300, is a BP-9 series common to all Canon camcorders. A BP-955, a 5200 mAh intelligent battery introduced with the XF305, is said to power the camera for four hours.
The Super 35 sensor is newly developed by Canon for this camcorder. It is 16:9 and contains 8.3 active megapixels. However I dispute the Internet description of it as delivering 4K resolution, on several grounds. It is a classic Bayer pattern sensor with an active matrix of 3840 x 2160 pixels. Notice that each number is a multiple of 1920 x 1080, by a factor of two. The following diagram depicts how the C300's sensor groups four photosites together to form each pixel of the 1920 x 1080 image.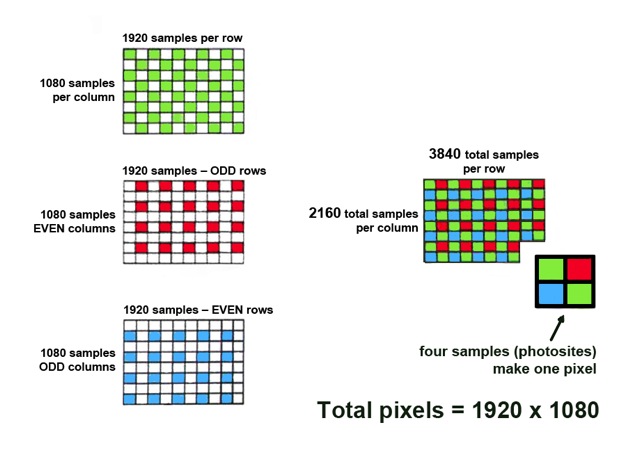 This is a smart arrangement, and it is a valid claim that each pixel contains a real sample of red, green, and blue. Further, the double sampling of green adds photographic sensitivity. But in the end there are only 1920 x 1080 pixels. (Since each pixel contains RGB already, there's no need for debayering!) That's HD. Not 4K.
You're going to be seeing "3840 x 2160" a lot in the coming years. It's what folks in the video industry call "4K," more a marketing term these days than a precise technical term. I think 3840 x 2160 should instead be called "Quad HD," which is what it is: 1920 x 1080 doubled along both dimensions.
The term 4K hails from the scanning of film to uncompressed DPX files. It is a description of the number of full RGB samples taken across the width of a frame of 35mm film. It's called 4K because the number of pixels with full RGB sampling is 4096. In other words, an entire red, green, and blue sample for each of 4096 pixels. No 4:2:2, no Bayer checkerboard, no interpolation.
When I hear a color sensor described as 4K, this is what I'm expecting.
I mentioned at the outset I'd get back to the fact that both the C300 and RED Scarlet-X offer a PL mount and Canon EF mount. In the case of the C300, there are two different camera models, one each with a PL or EF mount. You have to choose one or the other.
While there are "smart" PL mounts with electronic contacts for exchanging lens data and metadata with cameras — namely, Cooke's /i Technology and ARRI's Lens Data System — the C300 doesn't yet support this. The C300's built-in PL-mount is "dumb." If you want lens-camera communication and lens data capture, Canon's EF mount is the way to go.
EF stands for "Electro-Focus," and instead of mechanical threads and cams like cine lenses, EF lenses use miniature voice coil motors for focusing, iris adjustment, and image stabilization. (Image stabilization could prove a killer app for use of EF lenses.) All of these functions can be made automatic of course. As a consequence, EF lenses don't have iris rings. How to control f/stop when using the EF version of the C300? There's a dial on the side of the C300 for this, assigned to other functions in the PL-mount version of C300.
Hmmm, what could you do with a lens that can be entirely controlled by electronics? How about wireless focus and iris control without mechanical gears? With a choice of smooth, finely pitched electronic "gear ratios." Remember, EF lenses numbering over sixty — of all types and focal lengths — are widely available to the public. (Which is why firms like Birger Engineering are racing to produce wireless EF adapters for non-Canon cameras like Sony's FS100 and F3, Panasonic's AF100, and ARRI's Alexa.)
According to Canon, the C300 is "preconfigured so that camera settings can be viewed and securely controlled on third-party devices with common web browsers, including computers, smart phones and tablets without the need for additional software." All you need is Canon's WFT-E6A Wireless File Transmitter ($600, introduced with Canon's new EOS-1D X DSLR), an option that attaches to the C300 and connects via a dedicated port. It creates a WiFi cell for controlling a C300 from up to 150 meters, including start/stop, focus, white balance, gain, and iris settings of EF lenses. You see a live view of what the camera sees (not full frame rate). Did we really need another reason to buy an iPad2?
Wireless control with live view on an iPad is a slam dunk and could be the C300's killer app. At 3.2 lbs, the C300 is already a natural for 3D rigs. Wireless remote set-up would seem to seal the deal. It certainly puts the Electro-Optical System in "Cinema EOS."
Both C300 and C300 PL models will be available in January of 2012 for a list price of $20,000. Outside of Transformer ergonomics, what's not to crave?
Those four zeros, instead of three, is the reason the faithful will fail to loft this camera to DSLR heights of popularity. A Canon EOS 7D body can be had at B&H for $1700, a full-frame EOS 5D Mark II for $2500. At 1/10 the cost of a C300, that's a mere swipe of the credit card to a student filmmaker. DSLRs furthermore rule as makeshift HD cameras because of size, familiarity, lens choices, and striking image quality — a perfect storm of enviable attributes that has blindsided the world of professional HD cameras, capturing the spirit of a generation in the process. But by now everyone realizes that an affordable DSLR-sized body is an occasion to hang expensive stuff from, like baseplates, rods, follow-focus gears, matte boxes, filters, monitors, EVFs, batteries, flash disk recorders, wireless transmitters, and not least, lenses. I'll wager most people interested in a C300 would prefer to end up at $20,000, not start there.

To underscore Canon's commitment to Cinema EOS, lenses for the C300 were also announced, including three EF-mount primes with wide cine-style barrels — 24mm T1.5, 50mm T1.3, and 85mm T1.3 — and two compact zooms, available in either EF and PL mount versions. The wide zoom is 14.5-60mm, T2.6, and the long zoom, 30-300mm, T2.95-3.7. (Shift in T-stop due to ramping while zooming). The PL versions debuted at NAB last April, where they were announced as "4K" zooms. The primes will list for $6800 each, and the wide and long zooms, $45,000 and $47,000 respectively. Availability of all lenses is first quarter, 2012.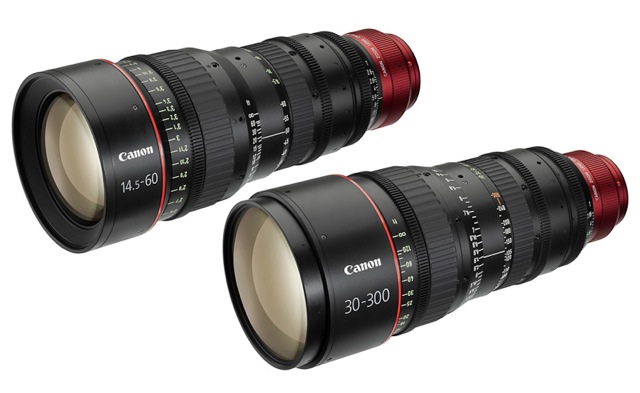 These PL mount lenses will perform equally on any PL mount camera, which makes their introduction notable in and of itself. It's good to have Canon back in the cine lens business.
Canon has launched a nicely designed website with photos and a rotating 360° image exploring the C300's advantages here.
Despite the obvious DNA — Canon is the leading maker of HD-capable DSLRs — I haven't mentioned the C300's capabilities as a still camera because Canon wisely chose to make the best motion picture camera they could, optimized for creating HD images. The C300 can, in fact, capture stills, but as 1920 x 1080 images to an SD card. Handy for location scouts and storyboarding perhaps, but you wouldn't shoot a photo spread with it.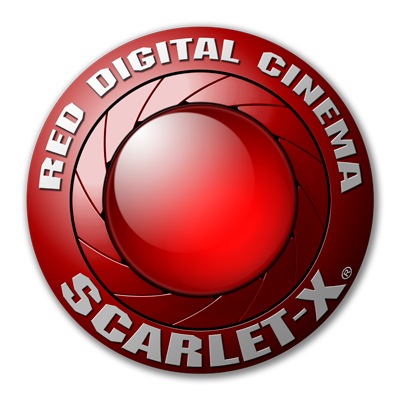 RED's Scarlet-X, announced the same day as the C300, is a different story. With the debut of its compact Epic-M earlier this year, RED made good on founder Jim Jannard's concept of a unified Digital Stills and Motion Camera, or DSMC.
Scarlet-X brings to Jannard's DSMC concept the same size, sensor, and form factor as the Epic-M, a hand-built, pre-production version of Epic-X that went on sale earlier this year for $43,000 (body and PL mount). Scarlet-X weighs the same, boasts identical dynamic range, uses the same user interface and shares RED modules and accessories with Epic.
The Scarlet-X body or "Brain" will ship December 1st with an aluminum Canon EF mount and a side slot for the REDMAG SSD (solid state drive) for $9,750 — half the list price of Canon's C300. A PL version with a titanium PL mount will cost $11, 250 and ship a little earlier. There will also be a titanium Canon EF mount version, also $11,250, and several packages in the $14-15K range that include handgrip, LCD, SSD, batteries, charger, and more.
Inside, Scarlet-X houses the same Mysterium-X Super 35 sensor as Epic, with an active area of 5120 x 2700 photosites. RED says that Scarlet-X will provide 5K resolution for stills, 4K for motion. When RED says 4K, they mean a true 4K count of 4096 pixels across.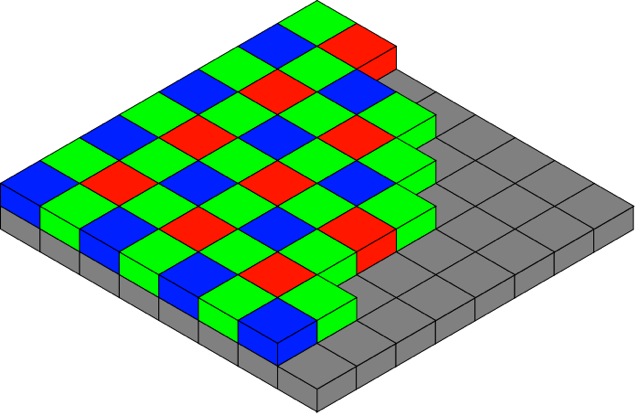 However RED's M-X sensor uses a checkerboarded Bayer color filter like the C300 does, so my remarks about true 4K, above, apply equally here. In the case of RED's M-X sensor, each photosite equals a single pixel (unlike the C300's sensor, which groups four photosites into a single large pixel). Because of its Bayer pattern filter, individual M-X photosites can not capture samples of red, green, and blue at the same time. Instead, each photosite is assigned a single color only. As is true of any conventional 4K Bayer pattern filter (illustration above), each row of 4096 pixels contains alternating photosites for green and red, or green and blue. As a result, there are 2048 pixels of each of two colors in each row. Since no single pixel can contain a sample of more than one color, this means that for each pixel, the two missing colors must be interpolated, which is what time-consuming debayering is all about. Although Bayer pattern filters can produce spectacular images, no amount of interpolation can fully replace the color detail that is discarded by not sampling full RGB for each pixel in each row. This is the reason a Bayer pattern sensor like RED's M-X always produces up to 20% less resolution than its nominal pixel count.
I'm explaining this because 1) 4K hype is endlessly bandied about in this industry for reasons having to do with selling things; 2) in the careful-what-you-wish-for department, uncompressed 4K DPX files are enormous and costly in terms of storage and processing, which is why RED pioneered capturing its "4K" RAW files using compression called REDCODE; 3) most D.I.s are 2K anyway, just as most digital cinema projectors are 2K; and 4) what truly matters, more than camera resolution, is what you experience on the screen due to myriad factors including artistry, color capture science, and the limits of projection technology.
The striking difference in cost between Epic and Scarlet-X has to do with lower processing power and data rates. (Jannard said this is the only difference.) Like Epic, Scarlet-X captures RAW images to REDCODE at a data rate of 440mbps, which, as Jannard crowed at RED's press conference, is 9x the data rate of Canon's C300.
For 5K stills, Scarlet-X can achieve burst speeds of 12 frames/second; for motion at 4K, 25fps; for HD derived from Quad HD, 30 fps. To shoot 60 fps for slo-mo, Scarlet-X must shrink the capture window of its CMOS M-X sensor to a 2K frame of 2048 pixels across, halving the angle of view of any lens compared to that of the wider 4K frame. Oh, and RED's groundbreaking HDRx that extends dynamic range up to 18 stops? Limited to half of each available frame rate. Think of Scarlet-X as Epic Lite.
The real surprise of RED's announcement has to do with Scarlet's long and tortuous development. RED made a huge splash at NAB 2008 by showcasing prototypes of Scarlet and Epic to giddy throngs of attendees. The catch phrase for Scarlet, the budget RED, was "3K for $3K." There were to be four models — "Pick your Brain" proclaimed the banner — including two with 2/3-in. CMOS Mysterium-X sensors. One was depicted with an 8x built-in zoom, the other with a choice of Mini-RED lens mount, video B4 mount, or threaded C mount.
Many who had longed for a 2/3-in. sensor version of RED for 2K work (c.f. my remarks, above, about small-sensor cameras and handheld documentary work) were deflated by the RED's November 3rd announcement. At the RED USER site, founder Jim Jannard posted the following: "Stills need to be higher resolution than 3K. So does motion. What seemed like a good idea 3 years ago is not a good idea now nor will it be a good idea going forward. Additionally, a 2/3″ sensor is not big enough. The world has moved past small sensors and low resolution."
For these folks, that leaves Silicon Imaging's SI-2K Mini with its 2/3-in. sensor and 2048 x 1152 capture as the only option.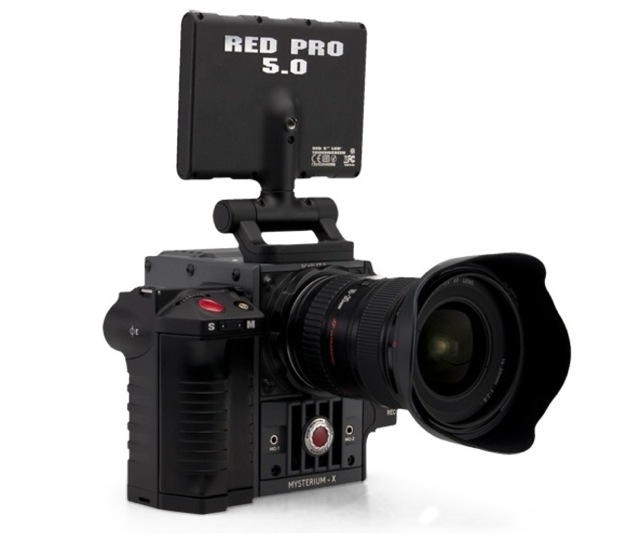 At RED's press conference, Jannard made it clear that as upgrades and new features came to Epic, they would come to Scarlet-X too. For instance, Scarlet-X will ship with in-camera playback, something Epic-M presently can't do. Jannard said this feature would be enabled in Epic-M before Scarlet-X ships, bringing parity to the two platforms. RED says improved performance is already in the works, including a future version of HDRx with "modified compression" to permit use at higher frame rates in Scarlet-X.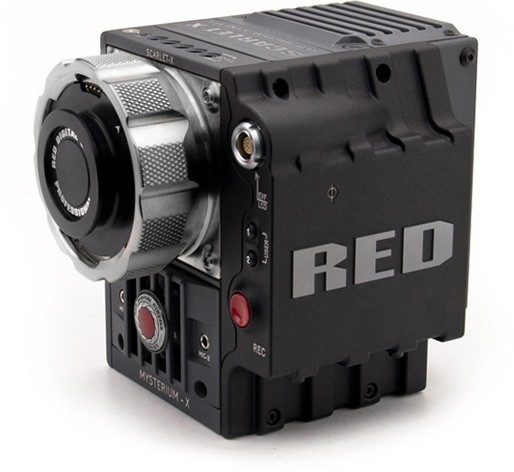 Jannard described Scarlet-X as battleship gray instead of black like Epic and "smooth" because "she's a girl." Which is why, per Jannard, Scarlet-X no longer has ribs on her side. (Insert Eden joke here.) All the better to dress her up in butch accessories like the REDMAG SSD side module, shown above, with its inky affect and aggressive RED ribs.
On second thought, hold the jokes. This is a serious contender.