Back to selection
CALVIN LEE REEDER AND LINDSAY PULSIPHER OF "THE OREGONIAN"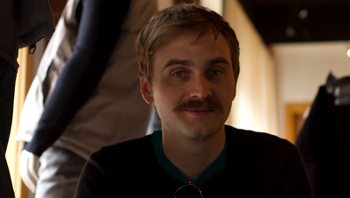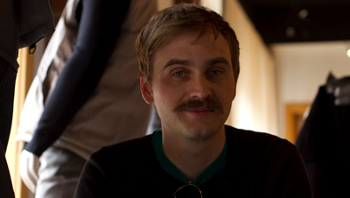 Calvin Reeder's trippy art-horror film The Oregonian lands in New York today for one screening at Brooklyn's Nitehawk Cinema.
When we selected Reeder for our 25 New Faces series, Mike Plante wrote:
"I'm not really sure" how he arrived at his alt-horror style, Reeder says. "Just sorta roll the dice. I do love Sleepaway Camp. I just like to make movies all bent up, I guess." Originally from Portland, Ore., and living in Seattle up until this year, Reeder played extensively with the great art-punk bands the Popular Shapes and the Intelligence. But he got notoriety, for better or worse, with the twisted public access show and later-feature film Jerkbeast, co-made with Brady Hall.

Perhaps stemming from his musical background, the sound designs in his films are complex in their layering of thick aural moods. They give the movies the feeling of old folk songs telling brutal tales. "Songs tell stories and set a mood like nothing else," Reeder says. "When I listen to Jimmie Rodgers or someone like that, they just lay down these amazingly sad and gnarly stories so perfectly. 'T.B. Blues' is a favorite that comes to mind. If I could write songs like that, I would never even bother with film."
And here are some quotes about the new film:
"Strange and sweep­ing, with shock­ing, hal­lu­ci­na­tory imagery that at times defies descrip­tion let alone ratio­nal com­pre­hen­sion…. Bold, impres­sion­is tic, pos­si­bly sym­bolic or maybe just nuts, The Ore­gon­ian fol­lows a young woman (Lind­say Pul­sipher of True Blood) as she wakes up from a car crash to find the world has gone hor­ri­bly wrong. With its star­tling sound design and Reeder's back­woods, David Lynch-esque world­view, the film nev­er­the­less fits com­fort­ably within what seems to be one of the sub­texts of Sun­dance films this year: "Am I crazy, or is this the apoc­a­lypse?"" –Mark Olsen, Los Ange­les Times

"A movie like no one has seen since 1977." – David Gordon Green, fan
Here's a short video we shot at Sundance with Reeder and star Lindsay Pulsipher talking about their film.
And here is the film's trailer.