Back to selection
25 NEW FACES UPDATE #3
Here's the third of our catch-ups with previous "25 New Faces" filmmakers. If you've been on the list and haven't sent us an update, you can still email one to editor.filmmakermagazine AT gmail.com.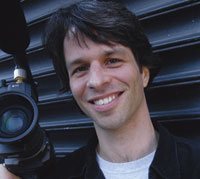 Marshall Curry, director, 2005: Since releasing Street Fight, I have been working on two docs– one about the radical environmental group, the Earth Liberation Front, and the other about three 12-year old kids who aspire to be NASCAR drivers (they race gokarts that go 60 mph in a nationally competitive circuit that's sort of the little leagues for NASCAR.)
Both films are in post now, and the experience in producing them has been completely different. The NASCAR film was fully funded on the spot by the first people I pitched it to (Reason Pictures in L.A); the ELF film required debt and passion to get through filming, though now that it's shot, broadcasters have become interested.
I had a daughter who was born at the same time I was birthing Street Fight, and now I have a son too.
Congratulations to the new 25!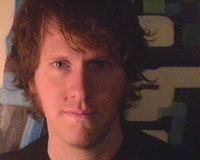 Kyle Henry, writer/director, 2006: Since my feature directorial debut Room (2005) appeared at Sundance and Cannes, I never stopped working … as an editor — eight flicks in three years! Like fellow Austinite PJ Raval, another alumnus of 25 New Faces, who I just finished collaborating with as editor for his feature doc Trinidad (2008), I live a bifurcated existence. Worked for three years with partner Carlos Trevino on a script about a commune that comes under suspicion of terrorism entitled A.O.K. that was recently optioned by The 7th Floor. Also, I will go into production this winter on my next feature At Home with Dick, a documentary-musical about the trials and tribulations of an adult son coping with his father's slow and painful death from Alzheimer's disease. Produced by Megan Gilbride and written by regular Dr. Demento radio show jingle contributor Dick Price, I can guarantee you that our progressively degenerative cabaret will be like nothing you have ever seen. Since I can always earn a living editing, I really think it's my job to wait and throw myself into the fire for something that is really worth existing in the world. With over 11 million Alzheimer's patients in the US and EU, many of whom will live for years after their diagnosis, Dick's journey is the journey of more than 25 million families worldwide who will spend a decade of their lives caring for loved-one suffering from Alzheimer's. It's the real deal, warped through the lens of fantasy and song, but dead accurate in detailing and honoring the long slog of all Alzheimer's care givers.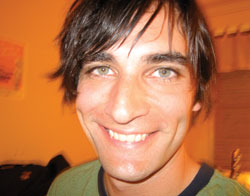 Michael Tully, writer/director, 2006: It was a completely unexpected honor to have been selected as one of Filmmaker Magazine's "25 New Faces of Independent Film" back in 2006. While it didn't catapult me to superstardom, it did provide me with a miniature thrill when I walked into a Barnes & Noble one afternoon, opened up that issue, and read about myself as if I were a legitimate filmmaker. So what have I been up to since then? In 2007, I made a documentary with Matthew Robison called Silver Jew, which played many film festivals around the world and which Drag City is releasing on DVD on September 23, 2008. Currently, I am the main writer and editor for Hammer to Nail, a website devoted to championing the most ambitious, invigorating, original, and inspiring independent cinema being produced. As for filmmaking, I am trying to muster up the courage and strength (and money) to shoot my dream project in the summer of 2009.
Rayya Elias, writer/director, 2004: I've been pretty busy since the Filmmaker 25/2004. I wrote and directed another short called The Lunchroom which Lucy Sexton and Lori E. Seid produced. Also wrote a wonderful feature called Guy on the Couch. I'm now in Bali, Indonesia for the summer and will be starting as an Artist in Residence in September for 9 months. Elizabeth Gilbert who wrote Eat, Pray, Love, is sponsoring me as her first long term artist in residence. It will be in an old Yankee church that has been converted into a house in Little York, N.J. right by the Delaware river. I'm really excited that I'll have nine months to pop out this baby/a book and then take it from there.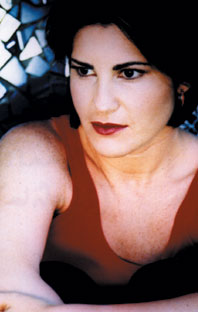 Jessica Sharzer, writer/director, 2003: I am currently writing a dance movie for MTV and attached to direct a dark comedy called Cruddy — based on the cult novel by Lynda Barry and written by Matt Nix. Since 2002, I've written a pilots for CBS and Fox, a memoir adaptation for HBO Films and a biopic for Universal. I also got married and had a baby boy a year ago.