Back to selection
EBERT SMILES ON FROWNLAND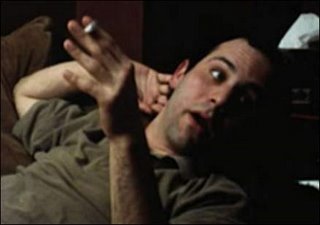 Ronnie Bronstein's Frownland opens this weekend at Facets Cinematheque in Chicaco, and Roger Ebert has written an extraordinary review in the Chicago Sun Times. After opening graphs where he describes the uncompromising nature of the film and the storyline, he ends with this:
Now why would you want to see this film? Most readers of this review probably wouldn't. I'm writing for the rest of us. It is a rebirth of the need for expression that inspired the American independent movement in the first place, 50 years ago. It was written, directed and edited by Ronald Bronstein, who had a crew of one cameraman, one soundman and one grip. It has not been picked up for distribution; he is distributing it himself at shrines to outsider cinema.

Yet the film has gained a foothold. It won a special jury prize at the important SXSW Festival in Austin, Texas. It won a Gotham Award from the Independent Feature Project in New York. To give you an idea of the challenge it presents, the New York Times praised it, but it was hated by Film Threat, "Hollywood's Indie Voice."

Such reactions are inspired by Dore Mann's performance, which in intensity equals Peter Greene's work in Lodge Kerrigan's Clean, Shaven (1993). Indeed, Kerrigan is one of the champions of the film. What Mann does is not caricature, not "performance," not contrived. It is full throttle all the way with insecurity, needfulness, loneliness, mistrust, desperation, self-hate, apology and despair.

Frownland has been described as a test for audiences. There will be walkouts. But it doesn't set out to alienate its viewers; its only purpose is to do justice to Keith by showing him as he is. I will not forget him.