Back to selection
MAN ON WIRE REMAKE?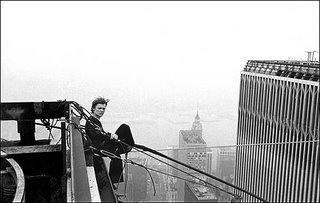 Over at The Circuit, Mike Jones reveals the possibility of a remake of the summer box office darling Man On Wire. According to him, Robert Zemeckis has the rights and could do a motion capture remake in the same style as The Polar Express and Beowolf.
Man On Wire is one of the most powerful films I've seen this year and James Marsh's use of archival footage, the charisma of Philippe Petit and clever recreated scenes makes the doc more than, well, a doc, but a thrill ride. I can't imagine why a remake is waranted, or how it could top Marsh's film (even with the use of visual effects).
But I guess that thinking doesn't come into account when making money is the motivating factor.