Back to selection
25 NEW FACES UPDATE #6
Here's the sixth of our catch-ups with previous "25 New Faces" filmmakers. If you've been on the list and haven't sent us an update, you can still email one to editor.filmmakermagazine AT gmail.com.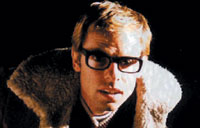 David Russo, writer/director, 2003: I'm in post (special effects & animation) on my live action feature, The Immaculate Conception of Little Dizzle. I'd like to have it done for Sundance 2009 consideration, but I'm really taking advantage of both the Rockefeller and Creative Capital grants to make it thoroughly my own kind of vision. For me that just involves time, time & more time. The investors are chomping at the bit for me to finish, but are grudgingly allowing me to indulge my arty-farty side because it's giving the film such a unique kind of energy. This may be my only feature so why rush?
What else? Are Samsung Instinct and Glyde commercials news? I had a blast making those. Honestly, I think I'd like to make commercials more than films. Commercials as we knew them are so on the wane these days that it's sort of an open field again. In 2009 I'm hoping to devote myself fully to the commercial sphere while I train to become a dental hygienist. And no that ain't a joke.
In a nut shell, I'm happy as fuck and envy nobody (which is weird for me).
Amy Talkington, writer/director, 1998: After being named one of the "25 indie faces to watch," it took more than five years to get my first feature made. While I slogged away trying to get a feature together, I stayed busy making my living as a writer (a few studio scripts, a few pilots and a TV movie). I also continued to make short films, including the 360-degree interactive short, The New Arrival, and Our Very First Sex Tape which, with 4 million hits, has become something of an internet cult hit.
Finally in 2005, my feature The Night of the White Pants came together, starring Tom Wilkinson, Nick Stahl and Selma Blair. The movie premiered at the Tribeca FIlm Festival in 2006, did the festival circuit and is coming out on DVD on October 14th. I am currently putting cast together for my next movie, Deeply Shallow and Really Fake, which is being produced by Neal Moritz. We hope to shoot in early 2008. Meantime, I still stay busy working as a writer and making short form projects for the internet.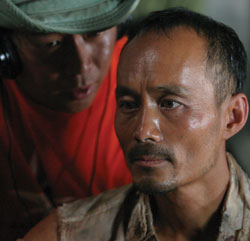 Ham Tram, writer/director, 2006: My name is Ham Tran, and I was in the 2006 list of filmmakers to watch, with my film Journey From the Fall premiering at Sundance. Since Sundance, this film has gone on to win 16 awards for Best Narrative Feature in film festivals world-wide. The DVD has been released, and it is available on Netflix and Blockbuster. There has even been a school curriculum that is based on the events that take place in the film. For two high school districts in Southern Calfornia (Garden Grove and Anaheim), the Viet Nam War and its after math has taken on a new meaning.
Currently, I am working on my next two films. The first is called Distant Country, and it the true life story of two illegal Vietnamese immigrants who went on a world-wind tour in their hopes to cross the borders into the United States. I've had the great privelege of meeting John Sayles, and over the course of this past year I've been updating him on my progress on the script development. I just got the official confirmation that John Sayles and Maggie Renzi have agreed to Executive Produce Distant Country.
My second feature film is one that I've been co-writing with another 25 Filmmakers to Watch alumnus, Stephane Gauger (Owl and the Sparrow). The script, tentatively titled The Storm's Wake, is centered upon the recovery of the Vietnamese community in the aftermath of Katrina, told from three character's point of view. Janet Yang (Dark Matter and The Joy Luck Club is Executive Producing this film. It's a project that the three of us have been developing for about a year now. Stephane and I will each direct one of the stories and then co-direct the third.
What's really great about these upcoming projects is that I get to work with John, Maggie, and Janet, my heroes of filmmaking! I was just an undergrad English major when I saw John Sayles The Secret of Roan Inish, and thought to myself, "If I could tell stories like this, I would love to be a filmmaker." I shook his hand at the James Bridges Theater at UCLA, when I was a grad in the UCLA film school, but never thought that one day I'd get to have dinner with him, let alone have him executive produce my film. All thanks to my great friend, Catherine Park, who invited me to a lunch she had with John and Maggie.
That's basically what I've been up to since the release of Journey From the Fall. Thank you guys so much for the support!
Damani Baker, director, 2000:
The latest:
Feature documentary: Still Bill (director)
Cinematographer for Wisdom director Andrew Zuckerman for Late Night and Weekends.
Music video for Morley
Music video for Maiysha, "Wanna Be". Coming soon
Director of "Return" and "Return Interactive"
Producer/Cinematographer for Puma Online Brand Content feat. Bill T Jones and Paulo Nutini ()
So sorry for the impersonal list. In Malawi for the past two weeks (Southern Africa) on another project, connection is slow and dying.