Back to selection
MAPPING LUCRECIA MARTEL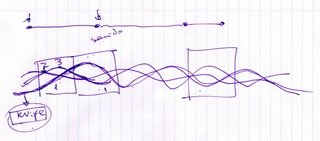 Filmmaker John Magary has been writing over at the newly reinvigorated The Reeler, and he has a great interview up with director Lucrecia Martel, whose The Headless Woman is playing at the New York Film Festival. The interview comes with the drawing reprinted here, which Martel explains:
Undoubtedly, all of my films are organized in layers. For example, if I had to draw it, it wouldn't be a straight line … [drawing a single arcing line] … Normally the structure of a film would be a single line: starts here, then this happens, then it evolves, then it ends. For me, it's like this … [drawing a wavy line] … this layer is a storyline … [draws two more wavy lines on top of the first, causing overlap] … and these are more layers, more storylines … so that at any given time within the film, you have, say, three layers. Let's say that in one specific scene, there's one layer in the foreground, and then a second layer in the background, and then a third layer even farther in the background. This then evolves, and in a following scene, the third layer, which was in the background originally, then pops up to the foreground. And what was in the foreground now gets switched to the background.

So … [pointing to a single wavy line] … say this storyline is "crime." Maybe in the first scene, we'll see a knife … [writes "knife"] … Then in the second scene, the "crime" storyline moves into the background, and we only hear the sound of the knife, or maybe deep in the frame we'll see the shine of the knife's blade. So, in all scenes, all layers are present, but in different degrees. For the "crime" storyline, we'll start with a knife, then perhaps move to a dead body on the ground. "Crime" will be present throughout the film, but in different ways. Because I use this layer structure, I don't feel the need to put things out there in a very demonstrative way from the start. By the time we get to a later scene, the presence of "crime" will be clearly felt.