Back to selection
SPC GETS SOUL POWER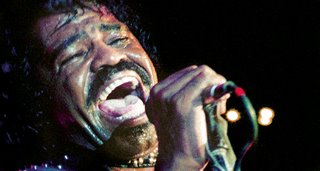 Sony Pictures Classics announced today that they've acquired Jeffrey Levy-Hinte's doc Soul Power.
Having gotten great reviews at this year's Toronto Film Festival, I had the privileged of seeing the film at a private screening a few weeks ago and if you're a fan of R&B of the '70s and documentaries like Michael Wadleigh's Woodstock and Leon Gast's When We Were Kings (which Levy-Hinte was an editor on and where the Soul Power footage originated from) then go see this movie.
Highlighting the music festival to coincide with the Muhammad Ali-George Foreman "Rumble in the Jungle" in Zaire in 1974, the film covers the strenuous yet at times comical setup of the festival and the amazing performances from some of the great musicians of the time, including BB King, Mighty JBs and the incomparable James Brown, who is treated in higher regard in Zaire than Ali was (if that's at all possible).