Back to selection
Five Questions with The Sheik and I Director Caveh Zahedi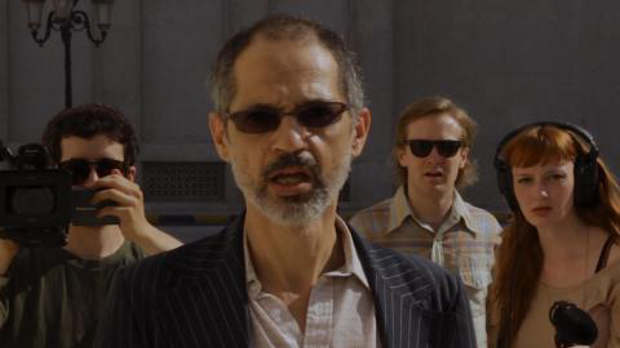 Caveh Zahedi is no stranger to boundary pushing. His filmography, a blend of narrative and documentary, has covered everything from drug tripping to sex addiction, all from a decidedly first-person perspective. But Zahedi's latest, the bitterly-titled The Sheik and I, is perhaps his most flagrantly subversive (not to mention personal) work yet. Banned by the very government body that commissioned it, The Sheik and I finds Zahedi let loose on the Middle East. As he pushes boundaries in his attempt to "make a film about trying to make a film," the resulting work, premiering at SXSW, promises to call into question many of the region's civil rights and free speech issues.
Filmmaker: What was your reaction when you first received the letter asking you to make a film for the Sharjah Biennial centered on "art as a subversive act"? What intrigued you about this offer?
Zahedi: I was thrilled. What filmmaker doesn't want to receive a letter asking them to make a film with an offer of money attached? I actually really love doing commissioned work. I like deadlines and I like having other people involved. It's a less lonely road to hoe and it forces me to think outside the box of my usual aesthetic preoccupations.
Filmmaker: Instead of making a more straight-forward documentary or narrative piece, you chose to meld the two forms and make a film about trying to make a film. How did you decide upon this strain?
Zahedi: Well, it seems to be what I'm drawn to for some reason. I certainly considered making a more straight-forward documentary or a purely narrative piece, but, at the end of the day, it's combining the two strands that I always find most exciting. The trick with a commission is to find a way into it that feels exciting and this was my way into it that felt exciting to me.
Filmmaker: How strongly did you consider the possibility that your film could be banned while making it? Did you take steps or precautions while shooting to try to ensure that it wouldn't be, or was this a possibility you welcomed?
Zahedi: It never really occurred to me that the film would be banned. I was told that it might be censored but I never expected it to be banned outright. The entire time, I was trying to straddle the line between subversion and not-getting-censored. That was the whole point. I guess my sense of where that line is proved to be a bit off. I really wanted the film to get seen as widely as possible, so it wasn't a possibility I either welcomed or sought.
Filmmaker: What was your reaction upon hearing the news that your film had indeed been banned? What were the specific reasons given for the ban?
Zahedi: I was stunned. The specific reason given was that the film was blasphemous and that not only could I be arrested but also the head of the Sharjah Art Foundation who commissioned the film could be fined, be sentenced to jail for up to five years and, upon the completion of his prison sentence, be deported.
Filmmaker: It's a strange Catch 22 – in order to make a film that the people of Sharjah would've been able to see, you would have been forced to tone down or cut out the exact moments you most wanted them to see. Do you have regrets about the fact that the film will not be allowed to screen in Sharjah? Do you have plans to take it elsewhere in the Middle East?
Zahedi: It's a strange Catch-22 indeed. Welcome to the Middle East.
I do regret that the film will not be allowed to screen in Sharjah. I would have loved to go back and see how people responded to the film, but I was especially sad that all the Indian kids who acted in the movie wouldn't get to see themselves on screen in a movie theater with an audience.
I have no plans to take it elsewhere in the Middle East at the moment. Given the reaction in Sharjah and the talk of a possible fatwa, I'm a bit concerned for my safety.