Back to selection
Post Mortem — A Hammer to Nail Review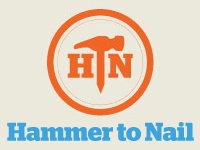 (Post Mortem world premiered at the 2010 Venice Film Festival. It's being distributed by Kino Lorber Incorporated and opens at the Film Forum in NYC on Wednesday, April 11, 2012. Visit the film's page at the Kino Lorber website to learn more.)
There is such a thing as pitch black comedy, and then there is the work of Chilean director Pablo Larraín, whose warped sense of humor deserves its own adjective. Tar black, maybe? With his latest two films, Larraín has returned to his country's unpleasant recent past to try to make sense of what transpired. In Tony Manero, the Pinochet era had been wreaking havoc on Chile for five years, while in Post Mortem, they've only just begun. But rather than bluntly condemning the Pinochet regime, Larrain has other mischievous tricks up his sleeve. The resulting works defy easy genre categorization and confirm Larrain's status as one of world cinema's most jarringly distinct voices.
The year is 1973 and all appears to be relatively calm in Santiago, Chile. Mario (Alfredo Castro) a shy, quiet morgue clerk, is infatuated with his across-the-street neighbor, Nancy (Antonia Zegers), a burlesque dancer. Just when Mario's pipe dream of forging an actual relationship with Nancy miraculously comes true, wouldn't you know it, that's when General Augusto Pinochet unleashes a coup d'etat by murdering Chile's beloved president, Salvador Allende, and turning the entire country upside down. As her father is a left-wing socialist, Nancy's entire family becomes a target of Pinochet's military forces. She must hide out in her backyard—with the help of Mario, of course—to avoid getting caught. Yet when Mario discovers his fantasy-come-true in a compromising position with another man, he performs an act of cruelty that makes him no different than a soldier in Pinochet's army.
On paper, this premise makes Post Mortem sound like a twisted, acerbic A Farewell To Arms, yet it isn't quite that exactly. In actuality, Post Mortem completely subverts the familiar romantic wartime tragedy we've encountered so many times before. Those novels and movies go something like this: "Oh, my love, had this horrific, evil dictator not been here to destroy our lives, our love would have had a chance to grow and we would have lived happily ever after!" But Larraín heads in the opposite direction. Firstly, he let's us know from the get-go that this love is one-sided. Had Pinochet waited a few years to pull off his coup, Mario would likely have suffered a similar heartbreak at the hands of Nancy. Secondly, by having Mario perform an act of revenge in this context, Larraín ups the guilt-by-association ante to the extent that Mario ends up an unwitting accomplice in Pinochet's reign. It is this strange, almost backhanded approach that will likely confound viewers in the same way that Tony Manero left so many heads cocked. And though it's perhaps more somber and less viscerally electrifying than Tony Manero, Post Mortem's voice remains deeply entwined with that film's while staying wholly unique.
Shot on glorious anamorphic celluloid—we're talking the hyper-wide 2.66:1 aspect ratio here—by Sergio Armstrong, Post Mortem's muted color scheme reflects the drab '70s world that only adds insult to injury for Pinochet's trampled victims. Yet, at the same, time, for a viewer such as myself, this approach feels more aesthetically gratifying than the most eye-popping modern 3D spectacle. More than just looking and feeling, let's face it, cool, it adds genuine authenticity to the world Larraín is depicting.
When it comes to the most exciting modern pairings of directors-and-actors, there are many that spring to mind immediately: Arnaud Desplechin and Mathieu Amalric, James Gray and Joaquin Phoenix, Jeff Nichols and Michael Shannon. Yet it's hard to top Pablo Larraín and Alfredo Castro for sheer WTF audacity. One hopes that if and when Larraín decides to leave the Pinochet era behind, he doesn't forget to bring Castro with him.
Filmmaker has partnered with our friends at Hammer to Nail for a weekly "Pick of the Week" post that will be exclusive to our newsletter and blog for a long weekend, at which point it will go live over at Hammer to Nail as well. In the meantime, be sure to visit www.hammertonail.com for more reviews and lots of other great editorial.