Back to selection
AND NOW FOR SOMETHING COMPLETELY DIFFERENT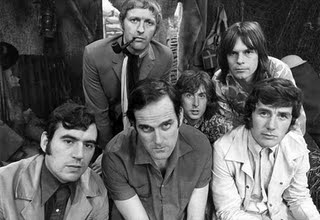 Monty Python fans rejoice, airing on IFC beginning Sunday is Monty Python: Almost The Truth (Lawyer's Cut), a six-part documentary on the legendary Brit comic troupe. A very thorough examination of the six members (with new, refreshingly frank, interviews from all five living members) directors Bill Jones, Ben Timlett and Alan G. Parker leave no stone unturned as they examine everything from the troupe forming while writing sketches for David Frost, how they came up with the name Monty Python, their fights with the BBC, George Harrison fronting the money to make Life of Brian, and finally what they've done since Python.
IFC also plans on airing episodes of Flying Circus next week as well as their films The Holy Grail, Life of Brian and Monty Python Live At The Hollywood Bowl. For those in NYC, you can head over to the IFC Center for midnight screenings of all the Python films (and a few by Terry Gilliam post-Python) starting tonight and going on through November.
Here's some of my favorite sketches from Flying Circus.