Back to selection
BRADEN KING SENDS A POSTCARD FROM HERE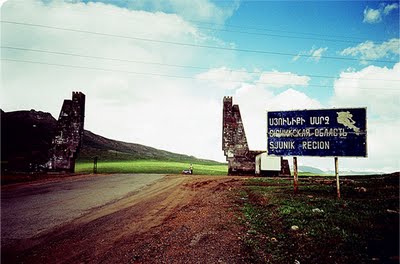 One independent film I'm especially looking forward to in 2010 is Braden King's Here, shot in Armenia by Ballast's Lol Crawley and starring Ben Foster and Lubna Azabal. Braden's film is ambitiously conceived, a story of a romance between a cartographer sent to map the Eastern European country and a local art photographer that will blend King's striking images and moody drama with interstitial material by a number of great experimental filmmakers.
Braden has launched a blog about the making of his film. Here's an excerpt:
It was an adventure. It was magnificent. It was terrible. It was hard. We were the first American production ever to shoot in Armenia. There is almost zero domestic film infrastructure. Few outside the capital speak English. Everything – equipment, film, expendables, supplies – everything had to be shipped in and out through a byzantine ex-Soviet customs "system". There are no labs. The schedule was crazy – I don't think we spent more than three or four nights at any single base camp over the entire 40-day shoot. People got sick from the food and sick from the weather. Picture cars were impounded due to mismatched picture plates. Producers had to be bailed out of jail. Hot springs weren't hot – they were freezing. The Russian military detained half the crew for hours and tried to take our cameras and film on the Iranian border. We found poisonous vipers in the fields where we shot the film's final scene. And, oh… I almost forgot that I broke two ribs in a rather unglamorous accident on a night shoot just a few days in.

By the start of the second week I was obsessing about the corner I'd painted myself into. How did I ever think this was a good idea? Bringing 40-odd people into a multi-national makeshift convoy through the Armenian landscape and land-mine strewn areas of Nagorno-Karabakh suddenly seemed completely insane.

Which it was.

In other words, it was perfect.
Check out his blog for updates as well as, below, the first of his "Postcards from Here."