Back to selection
"PUTTY HILL" DIRECTOR MATT PORTERFIELD BLOGS FROM BERLIN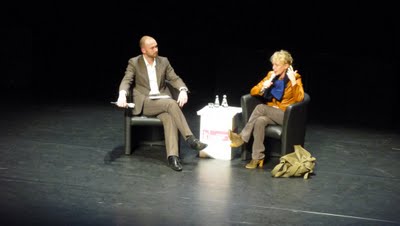 A couple of weeks ago I blogged about Matt Porterfield's Kickstarter campaign for his film Putty Hill. He needed to raise $10,000, and with 30 hours left to go, he is still collecting funds over and above his goal; he's currently at $18,926. Undoubtedly, the film's high-profile premiere — in the Berlin Film Festival's Forum section — helped. You can follow his adventure there over at the IFP blog, where Porterfield has been blogging. Here's an excerpt where he talks about some of the people he has been meeting:
I saw Claire Denis (pictured) speak to the Talent Campus today and knew I was in the right place. To quote: "Retain the essential. Script and budget work parallel — otherwise there is always frustration. Organize one's self mentally, to need things you can afford and to keep what you feel the film will be made of — your secret story, what you really want, what you can do in case your budget is in danger: a little secret of your own."

Coincidentally, I talked to Amos Poe this morning and then watched him in a film tonight (Blank City). Nick Zedd was in it, too. And John Waters. What does this mean? We're all connected, those of us who work outside the system. And the strong ones survive, despite the incredible odds. That's what the Forum's all about,supporting new visions and new talent, and establishing a venue where even little films and independent filmmakers have access to the world's stage.