Back to selection
THE NORTHSIDE FESTIVAL SCREENS FILMMAKER MAG FAVORITES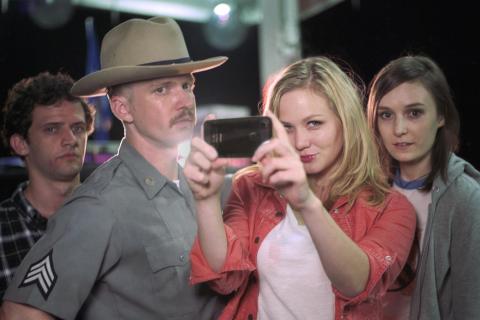 A number of our favorite independent films of the year are screening this week at the Northside Festival, a Brooklyn-based film and music event that gathers a number of film organizations, includuing Filmmaker, to guest curate some of its programming. Filmmaker's night is Wednesday, when we screen in its New York premiere Andrew Neel's wickedly funny King Kelly (pictured) and Jeremiah Zagar & Nathan Caswell's haunting short, Remains, but there are a number of other favorites dotted throughout the schedule. For example, tonight there's one of the best documentaries of the year, Ashley Sabin and David Redmon's Girl Model (presented by POV) as well Ryan O'Nan's warm and spirited IFP Lab project, The Brooklyn Brothers Beat the Best (presented by Oscilloscope and Rooftop Films). Also tonight is the Cuban artist doc Unfinished Spaces, which you'll read about in the next issue of the magazine, presented by Film Sprout. Factory 25 presents Alex Ross Perry's Impolex and Joe Swanberg's The Zone tonight too.
Tomorrow there's Zachary Oberzan's rarely-screened one-room Rambo homage, Flooding with Love for the Kid, which our writer Lauren Wissot is a huge fan of. L Magazine presents another rare screening: Lena Dunham's debut feature, Creative Nonfiction, which placed her on our 25 New Faces list back in 2009. And, IFP presents two IFP Lab filmmakers: David Lowery with his great short Pioneer, and Matt Ruskin's gripping character-based crime film, Booster.
There's more — including the closing-night film, the New York premiere of author-turned-filmmaker Stephen Elliott's Cherry — over the four days, so check out the full schedule here. And I hope to see some of you Wednesday night at Williamsburg's Nitehawk Cinema at the King Kelly screening.