Back to selection
Gothams Tribute: Penélope Cruz
Leading up to the Oscars on Feb. 22, we will be highlighting the nominated films that have appeared in the magazine or on the Website in the last year. Jason Guerrasio interviewed Vicky Cristina Barcelona star Penélope Cruz for our Gotham Independent Film Awards special section in the Fall '08 issue. Vicky Cristina Barcelona is nominated for Best Actress (Penélope Cruz).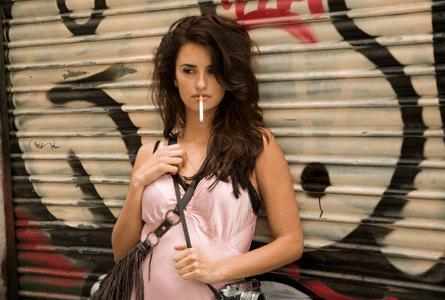 Talking over the phone from London where she's rehearsing her role in Rob Marshall's film adaptation of the Tony Award-winning musical, Nine, Penélope Cruz sounds humbled when congratulated for being named one of this year's Gotham Award Tributes, but she admits there hasn't been much time to think about the honor. Before filming Nine, Cruz wrapped production on her next project with Pedro Almodóvar, Los Abrazos rotos, a modern-day noir where she says she plays "a very different character from anything that I have done for Pedro before." This comes off the two distinctly different roles she performed on screens this year — Woody Allen's Vicky Cristina Barcelona and Isabel Coixet's Elegy — where she has received some of the best reviews of her career.
In Vicky Cristina, Cruz plays Maria Elena, a fiery Spaniard who is the ex-wife of Javier Bardem's Juan Antonio, a playboy painter who woos two American girls to Barcelona during their summer vacation. But when Maria Elena reenters Juan Antonio's life she takes over the film: Her heated exchanges with Bardem, spoken in her native tongue, are one of the film's highlights. In Elegy, based on the Philip Roth novel The Human Stain, Cruz is more subdued. The obsession of an aging bachelor played by Ben Kingsley, her character, Consuela, is more than a mere sex object. In full control of the situation, Consuela wants to take the relationship further than the occasional romp, and when she doesn't get it she breaks it off with a voice message that is itself a heartrending minimonologue.
In her mid-thirties, Cruz has been nominated for an Oscar and is an international star, but as Filmmaker learns, both of her performances this year are examples of her continued drive to challenge herself by playing women who fascinate her.
Most times Woody Allen has an actor already in mind when he casts his films. Is that what happened with you for Vicky Christina Barcelona? No. I think my agent found out that he was going to shoot in Spain so he called and got a meeting. I had never met Woody before and the meeting was 40 seconds long. [laughs] He said he was writing but the script wasn't finished and that he would let me know because he thought there was a character that could be right for me. Then a month later they called me and said Woody wanted me to do the movie. It's been a great experience. I would love to work with him again because he shoots very fast — I did my whole character in three-and-a-half weeks but I wanted more time with him.
How would you compare his style to Pedro Almodóvar's? I think the only thing they have in common is they are both geniuses with an amazing sense of humor. Most of the time their characters can laugh about pain and human confusion in a way that almost makes you feel guilty when you are working in those characters. You suffer as part of the audience sometimes. I love that feeling because they challenge you. And their systems could not be more different; it's like day and night. Pedro rehearses for months and months and Woody doesn't rehearse. But I didn't miss rehearsal time working with Woody because he gave me a script many months before so that is his way to make sure that you have the time to feel ready [for the role]. It's good to jump into that adventure.
How did Elegy come about? I was attached to the project for about five years with producers Tom Rosenberg and Gary Lucchesi. We finally put it together when Ben Kingsley and Isabel Coixet came on. I think they are the perfect people to do that movie; I can't imagine another actor doing that character than Ben and I think Isabel is the perfect director to bring Philip Roth's world to a movie because there's just something that she has, her eye and her sensibility.
Many have called this your best English language-speaking performance to date. Is it still a challenge for you to do English-speaking roles? It will always be a little difficult because it's my third language. I learned English when I was 18 and I knew French before so it's always hardest to learn it that late. But I feel much more comfortable now because I have lived in New York and L.A. and had to use it in real life. When I started my career in America I really didn't speak it, I only knew my dialogue so I've been working very hard all these years, and I'm still working on it. I want to keep working on the accent. But I feel more freedom and I can understand what's going on because in the beginning I couldn't.
You do a healthy mix of Hollywood movies, indies and Spanish-language films; is there a preference? I think every movie is a new adventure, a new goal, a new challenge and I see it like that, one at a time. My home is in Spain, sometimes I live in L.A. and I don't want to stop working in Europe. If good, interesting projects keep coming from America I'm so happy to be part of them too. I don't make a plan of every year going to work more there or here, it's just more of what comes up. Now I'm making an American movie and I couldn't be happier, but I don't know, maybe later I'll do three Spanish movies in a row.
What was it about the characters you play in Vicky Cristina and Elegy that interested you? Those characters are very different, very complex women, women that I would like to know and explore and understand. When I read about them I felt fascinated by them. That was what made me want to do them, and I'm just happy that I'm receiving these offers of characters like this. When I say this I don't want to make it sound less about the projects that I've done in the past, because I don't measure the success of a project by how well they do at the box office or how good the reviews are, I measure it from how much I learned when I was making those movies.
And what does a role need to spark your fascination? The ones that are going to make you feel like this is the first time you're on a movie set, that make you feel new. There's an insecurity that comes from acting that is natural because you can never control everything. That is a beautiful insecurity, and you have to feel like that to enjoy making a movie. I'm interested in the characters that are going to make me feel frightened. The farther they are from you the farther they are from each other, like these two movies where they are so different. But I think we all look for that with this job. It's just great when you get the opportunity, and right now I feel very grateful with the opportunities that I'm being given. I cannot complain right now to tell you the truth.