Back to selection
Five Questions with Alps Director Yorgos Lanthimos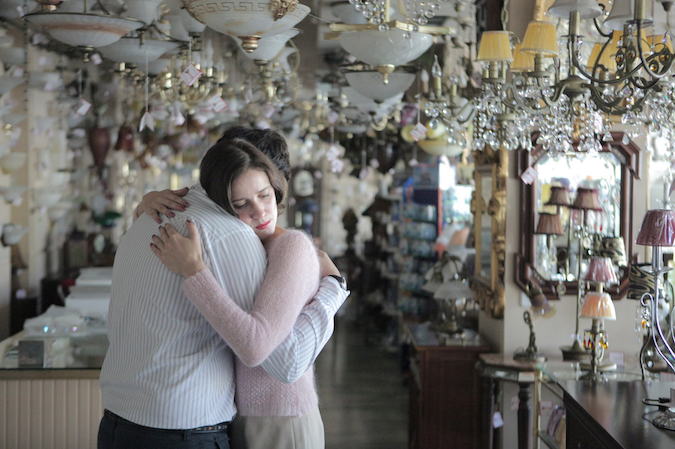 Yorgos Lanthimos attained "one to watch" status as soon as his disturbing, divisive, and hilariously funny Dogtooth premiered at the 2009 Cannes Film Festival. That film — which went on to win the Prix Un Certain Regard and score an Oscar nomination for Best Foreign Language Film — has something of a companion piece in Alps, which opens this Friday at Cinema Village in New York City. Concerning a group of grief surrogates who help the bereaved by impersonating their recently-departed loved ones, the film is similar to its predecessor in its off-kilter tone and refusal to fit into any one genre or classification.
Filmmaker spoke to Lanthimos about the unexpected acclaim he's been met with, the recent wave of Greek cinema (and whether or not they qualify as any sort of "movement"), and what he's working on next.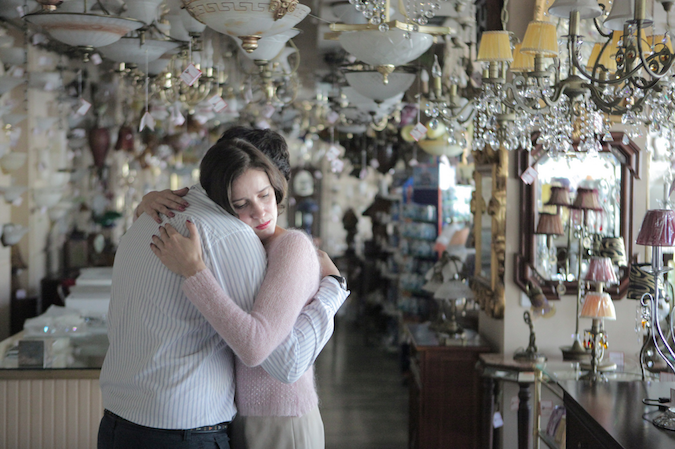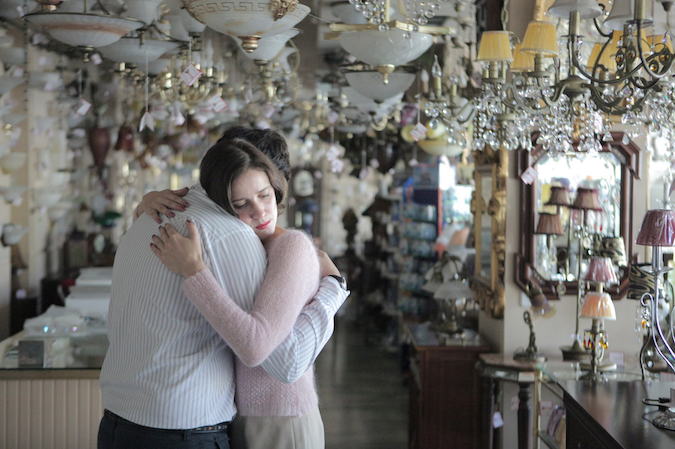 Filmmaker: Did Dogtooth's prizes (to say nothing of the critical acclaim) come as a surprise to you, given the nature and content of the film, and did they in any way affect your approach to Alps? You have something of a built-in audience now, after all.
Lanthimos: We made Dogtooth with very little means under difficult financial conditions, but we were totally free creatively and that's all we cared about. We didn't know if and where the film was going to be shown, we didn't have any specific expectations, we just made the film the best way we could at the time and the way we felt it was right for us. All the prizes, recognition and success came as a complete surprise, even shock, to us. We tried to not care about all that when we were making Alps. We actually started writing soon after Dogtooth won in Cannes, without overthinking what our next step should be after all the success, etc. We tried to make it fast and we had already shot the film when Dogtooth received the Oscar nomination. Unfortunately we had to make Alps under even more strenuous financial conditions than Dogtooth, which was something we didn't really expect. It was a risky decision, we didn't even have the money to finish the film, but mainly thanks to the insistence of Athina [Tsangari], who produced the film, we didn't freeze, we went ahead with it and in the end it paid off. Many people came on board on the way and all went well.
Filmmaker: Between Dogtooth, Attenberg, L, and now Alps, there's a certain odd style people are beginning to associate with recent Greek cinema. Do you accept the comparison? How do you feel about being at the forefront of a supposed movement?
Lanthimos: I think those films have probably more differences than common things. I don't understand why the word "odd" is used so commonly nowadays. People have become very conservative, definitely as far as cinema is concerned. Whenever a film doesn't follow to the letter the preset strict conventional rules of today's commercial cinema it's considered weird. There were much more interesting and "weirder" films, both in form and content, being made even in Hollywood, during the '70s for example. And I don't believe there's a forefront or a movement in Greek cinema. There's just a new generation of film makers who are making films with no means basically, which is great and impressive, especially given the circumstances the country is under. It shows that this younger generation is determined to make films any way possible, but it doesn't necessarily mean that there is a common philosophy or aesthetic. And like always, some of the films are going to be good and some of them bad.
Filmmaker: In many ways, Alps is as difficult to pin down as Dogtooth was. Do your films mean any one thing to you, or are you left wondering about them in the same way as your audience?
Lanthimos: Our films have certain meanings for us. Definitely not one meaning and we strive to achieve that. And the content and meaning could be different for me and Efthimis [Filippou, Alps's co-writer]. We try to make our films open enough so people are allowed to have their own understanding and interpretation of them. Even I realize certain things only after the film is finished. And hopefully in the end the film has taken a life of its own and has touched on many other subjects that we didn't necessarily have in mind while we were writing it, or filming it.
Filmmaker: One thing people have responded to in your films is how they manage to be funny even as they're disturbing. Does that balance come naturally to you, or is it something you and Efthimis put a special amount of work into?
Lanthimos: Efthimis' writing is very particular and unique. It includes being disturbing and funny and relevant to many things at the same time, but not limited to that. It's also natural for me, when I make choices, to try and include all of these things. We do try hard to keep the balance, because every little thing that you decide on — dialogue, story, actors, locations, clothes, camera angles, rhythm — shifts the tone of the film in one direction or another. And in the end the film doesn't feel the same to every person. We can only go by our understanding of what is balanced and right in relation to what we are trying to achieve. We can't control the effect the film will have to everyone, though. It will naturally be different for each person.
Filmmaker: Lastly, what are you working on next?
Lanthimos: Right now I'm working on 3–4 projects that are in different stages of development. Mainly being written, or rewritten, or waiting to be written. It's a painful process for me, because if I'm not in preproduction, or filming, I feel that I'm not doing anything. So that's why I decided, in the meantime, to make a short film in London. All of these projects are in the English language and very different from one another. One is a period film set in early 18th-century England. Another is a film I'm working on with Efthimis, which has fantasy/sci-fi elements. Possibly a book adaptation about a contemporary plague in London, and an American film that touches on the horror/thriller genre. I really don't know which is going to happen first, maybe it will be a different one altogether.
Follow Michael on Twitter: @slowbeard