Back to selection
JUAN IS THE LONELIEST NUMBER: LATINBEAT AT FSLC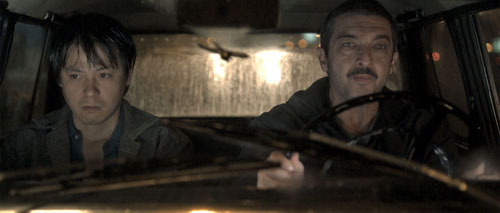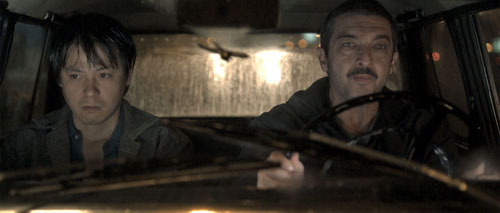 Solitude: It can come from choice, or by default. An unusual number of movies made across South and Central America over the past year have as a central theme the existential state of loneliness, be it operative or merely a hovering threat. In an umbrella culture that honors celebration, music, and gossip, being shunned, marginalized, or discarded is a declaration of non-being, a metaphoric death sentence. Does the stereotype of Latin Americans as gregarious, affable extroverts hold water?
The annual Latinbeat exhibition at the Film Society of Lincoln Center (August 10-23), curated by Marcela Goglio and Richard Pena, measures the pulse of southern cinema for the gringos up north. Within the diversity of forms and topics in this year's selection, the theme of isolation pops up insistently, defying our entrenched expectations. For the characters this may be tough going, but for spectators, it is a godsend. The depiction of this epidemic of separateness has paved the way for the manufacture of alternative narratives as well as the exploration of unconventional psyches formerly suppressed.
Here are the six best of that bunch. They also happen to be the six most noteworthy films in the entire 18-feature series:
SOLITARY MAN
Chinese Take-away (Sebastian Borensztein, Argentina)
Save for the memory of his beloved mother, Roberto (the inimitable Ricardo Darin) is a complete misanthrope for whom the rest of the world is a minefield to be avoided. He lives alone, works alone, dines alone. He will not let himself reciprocate the interest of his one friend's beautiful sister, Mari (Muriel Santa Ana). He is cranky and demanding, even counting out screws from every order at his hardware store and confronting vendors for any shortage.
The film (pictured above, with Huang Sheng Huang and Ricardo Darin) begins on a placid lake in China, where a cow mysteriously falls from the sky, killing a young woman about to be proposed to by a man called Jun (Huang Sheng Huang). The wheres and whys of this scene are put in temporary storage until late in the film, long after Jun, who speaks no English, has gone to Buenos Aires. When he first arrives, he is helped by the reluctant Roberto after being beaten up and robbed on the street. Jun ends up living with and working for Roberto, who is inconvenienced by the man's presence. Mari, whose joie de vivre is in total contrast to Roberto's general outlook, becomes a mediator for the two, taking Jun on excursions and getting him out of Roberto's hair.
What distinguishes this cross-cultural narrative is not only Darin's typically pitch-perfect, nuanced performance and the humor of his and Jun's endless clashes, but a surprise debate between the two men about whether or not there is truth behind strange tales generally considered fictitious. Their discourse leads to the sharing of their own back stories, which just happen to overlap. The confluence results in a marvelous shifting of gears. This is sophisticated stuff for an otherwise fairly accessible commercial film. Without giving away the twist, let's say it involves the cow in China and Roberto's time as a soldier in the Falklands. And just when you think you've got it, another character enters the picture and tilts the storyline yet again.
The cinematography is outstanding in this film with limited sets; its physicality mirrors the self-imposed claustrophobia of its protagonist. That feeling of confinement highlights the dramatic impact of Roberto's fantasies and the bizarre cow-falling-from-the-sky sequence.
Songs (Eduardo Coutinho, Brazil)
Seventy-eight-year-old Coutinho films 18 different poor and working-class Cariocans (residents of Rio) each singing a cappella a song that has had a strong impact on their lives. Stage props are minimal; the accompanying gestures and expressions of each performer are apt complements to the lyrics and tunes. Singing one's chosen number helps regurgitate the emotions behind it, something each of these people obviously responded to. So we experience the participants natural and raw. Most of the singers have been left behind by their lovers, often the loves of their lives. They frequently cry spontaneously. No matter whom they have hooked up with subsequently, an aching loneliness remains.
The lack of visual distraction helps to foreground the passion, joy, regret, revenge, and melancholy the singers reflect upon through their renditions of samba, something resembling Portuguese fado, or just plain slow-rhythm love songs.
The range of themes the singers address (and sometimes speak about) is wide, though most are about love in some form. Our song is a recurring reference. But having our song isn't always a plus. "Suffer like I suffered for you," croons Jose David. "Oh, this poor heart of mine," Fatima sings sadly. Silvia is resigned: "I've already been down this path. I know it goes nowhere." These individuals do not hold back; neither does the culture from whence they come. Few of the stories have happy endings like one would find in, say, North America, and several are absolutely tragic, with revenge, murder, and infidelity popping up with more frequency than fulfilling relationships.
Malaventura (Michel Lipkes, Mexico)
Made with exceptional rigor and paced according to the rhythms of a senior's unexciting daily activities, Malaventura has a strong non-fiction feel. This is a starkly beautiful, widescreen observation of a lonely man during the course of the last day of his life, shot in dark rooms and, outdoors, against the peeling but impressive architectural facades of his stomping grounds in the seediest part of downtown Mexico City.
The old man (Isaac Lopez, a nonprofessional who perfectly takes his time performing the simplest of tasks) is nameless. He may lack the dignity of a label, but his quotidian existence is singular.
The film's structure is elliptical. It begins with an extremely long take in the near total darkness of his bedroom when he awakens and prepares himself for another day without much significance, and ends the same night when he drops dead in front of a church. What occurs in between does not point to much of a life in conventional terms, but it has been his life, and Lipkes does not allow you to forget it.
He walks the avenue, drinking alcohol out of a plastic bag, sitting in front of a fountain trying to sell balloons no one will buy. He's going through the motions, trying to find some sort of structure to justify his existence and occupy his time.
But he can do nothing about a black mark on his past. We learn he was a sex abuser. To lighten the heavy topic and atmosphere, Lipkes includes such quirky scenes as a bingo/Scrabble game in which the caller reads out a William Blake poem, and tight shots of a taco vendor chopping off every imaginable part of a pig's head—to the old man's delight.
FAMILY PLOT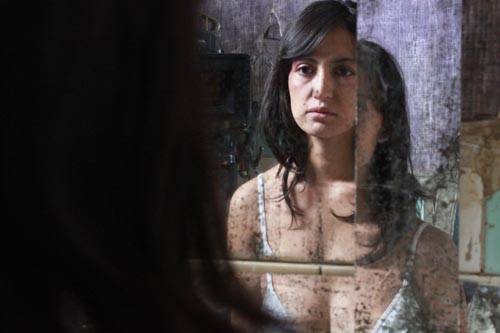 Expiration Date (Kenya Marquez, Mexico)
Here we have a mature black comedy in which several of the characters, although in various ways interconnected, lead lives so lonely that they are nearly detached from the human race. Director Marquez works from an imaginative, meticulously economical screenplay she co-wrote with Alfonso Suarez Romero. It relates the same story successively from two different characters' points of view.
You can't delve much more into the undervalued terrain of black comedy than setting it around a morgue, plotting it around a lonely old woman's search for her presumably dead only child and an abused young woman's bloody revenge, offing one of the only likable characters, and revelling in nonstop miscommunication and misinterpretation.
The film, which takes place in the huge city of Guadalajara, opens with Ramona (veteran thesp Ana Ofelia Murguia), the elderly meek slave to her wimpy ingrate of a grown son, clipping his toenails. When he doesn't come home after a three-day absence from her dark apartment with its multiple crosses hanging on the walls, and its nightly dinner presentation of Campbell's tomato soup, she begins a frantic search of hospitals and Red Cross offices, finally resigned to checking out the morgue and its forensics department, where she is helped by a kind woman named Milagro (Martha Aura). The seemingly sleazy assistant at the forensics lab, Genaro (the multi-talented Damian Alcazar), is a jack-of-all-trades who just may know something about the fate of the missing man.
Simultaneously, a mysterious beautiful young woman, Mariana (Marisol Centeno), moves across the hall from Ramona's apartment, in a building in which speakeasy-type openings in the front door are telescopes to the world, and in Ramona's case the principal method of experiencing it. Our first glimpses of the sexy Mariana in her flat are a visual tease: She stares at herself in a cracked, blood-splattered mirror
Unlike Ramona's abode, homey if depressing, Mariana's is virtually empty. She is broke and knows no one in the city, but she lucks out, finding a job in the perfumery across from their building. Accepting Milagro's well-meaning but misguided advice, Ramona decides that Mariana is actually the missing son's girlfriend, whom he has sent on ahead to meet Mama.
Little is what it appears to be. Genaro, who combs junkyards for scrap to sell and wears tellingly loud print shirts, is actually a gifted forensics man who could not afford to attend medical school. He meets these women after first encountering Mariana in the shop, where he is looking for cosmetics to make the face of a decapitated head look more presentable for a murder victim's family.
The first half of the movie is from Ramona's Wonderlandish point-of-view, based on her incorrect but unquestioned suppositions. Half-way through, the plot is rehashed from Mariana's perspective, with dialog and set-ups that are much closer to reality. Mariana is using Genaro to obtain sulphuric acid so that she return to her hometown and dispose of the corpse of her abusive lover, who had gone too far.
One of the film's many guilty pleasures is watching Ramona morph from a passive, sweet senior into an obsessed, vindictive crone. Mexican directors from Bunuel (well, the Spaniard lived and worked in Mexico) to Arturo Ripstein to Carlos Carrera have mastered dark comedy, and now Marquez proves she is their equal.
Thursday Through Sunday (Dominga Sotomayor, Chile)
Some people are alone, others live in dread of ending that way. In Sotomayor's road movie through the Chilean countryside, Fernando (Francisco Perez-Bannen) and his wife, Ana (Paola Giannini), can barely hide the faltering state of their marriage from their children, seven-year-old fun-loving Manuel (Emiliano Freifeld) and precocious 10-year-old Lucia (Santi Ahumada), from whose point-of-view we observe the continued unraveling of the relationship. At this point, we get the feeling that they stay together more out of fear of living without a partner than from mutual devotion.
Lucia's narration is silent. Her eyes and movements tell us a great deal about what is going on behind the masks the parents don to hide the truth. She would of course be affected by a split, but she also has a strong maternal streak that pushes her to look out for her folks. Fernando, a smooth liar, is tough to the point of insensitivity, but Ana is upfront, fragile, and bitter.
The trip begins with a nine-minute take in the early morning darkness through Lucia's bedroom window, as the family loads the car and finally takes off, supposedly for the beach and to look at some land Roberto has inherited. He seems to think that the journey will re-cement the broken marriage. Ana will have none of his shenanigans, and Lucia never stops investigating with her eyes.
Several digressions interrupt the potential monotony of a long trip. The car gets stuck in a river bottom, and they are rescued by a single male friend of Ana. The chemistry between the two does not go unnoticed by Lucia. The passengers stop for a picnic and to poke around at a roadside souvenir stand. The kids get up on the roof for a more fun ride. In themselves these scenes are unexciting, but they do mimic real life and alleviate their, and our, boredom.
For a first film, the cinematography is outstanding, as are the performances, especially Ahumada's subtle interpretation of an adolescent oscillating between childhood and maturity. She and Freifeld are both first-timers, with the freshness and spontaneity that are the cinematic pluses of youth and inexperience. To her credit, Somomayor does not impose closure on this tale of the open road.
Unfinished Spaces (Alysa Nahmias, Benjamin Murray, U.S.)
Politics generates its share of loners.
Case in point began with a round of golf between Fidel Castro and Che Guevara in 1961. The course had been, before the 1959 Revolution, part of a fancy country club in the swank western Havana suburb of Cubanacan. Then and there they decided to commission a group of national art schools (at first called Escuelas Nacionales de Arte, but later known as the Instituto Superior de Arte) to be built on that turf. Castro later said he wanted the complex to be the most beautiful art school in the world.
In this documentary about the planning and building of the school, Nahmias and Murray reveal the individuals and chart the social conditions that impacted both their construction and reception. They eschew voiceover in favor of meaty interviews and vivid cinematography (by Murray), including graceful inserts of the project at various stages, appropriate supporting archival footage, and Giancarlo Vulcano's seductive non-stop soundtrack of salsa music, happy guitar, and melancholic violin.
Three visual artists—the Cuban Ricardo Porro and the Italians Roberto Gottardi and Vittorio Garatti–were given carte blanche to hurriedly design (in two months) the schools. Here was an opportunity to fuse their shared revolutionary fervor with a concept of architecture that flew in the face of the prevalent modernism.
The structures were created from available clay, in the form of brick and terra cotta. (The embargo prevented the import of steel reinforcing bars usually needed to create wide spans.) They poured concrete continuously into formwork for the mostly curved sections to prevent it from drying prematurely. They revived the old Catalonian vault, which didn't require bars but still permitted sufficient spans.
The young team decided to make physical the ideology of the new Cuba: not closed systems as in the past but an open, non-hierarchical architecture, with all elements intertwined. The multiple entrances followed the contours of the golf course and, in some cases, tapped into indigenous traditions. The complex took on a magical realist quality.
Gone were the then-dominant strategies of linearity and rectilinearity: Vaults, arches, and domes predominated, with the tropical light and intentionally dark spaces alternating for an intended disorienting effect. The meandering passageways were also a bit confusing, as they were meant to be. It might be difficult to imagine structures made primarily of brick appearing airy and light, but by carefully selecting size, scale, and positioning, the architects succeeded brilliantly.
The freedom of design they enjoyed was short-lived. The 1961 Bay of Pigs and the Cuban Missile Crisis of 1962 contributed to a militarization of the populace, converting the sense of openness into more and more rigid dogma. Some powerful bureaucrats in the Ministry of Construction chastised the project as megalomaniacal, of little practical use, and unrelated to the newly empowered proletariat. Even Guevara came down on the art school. Construction officially ceased in 1965.
Once Cuba became dependent on the Soviet Union, all things Soviet, including sterile functionalist architecture, became the norm. Not only did the more anonymous prefabrication (a disaster in the Cuban climate) become the preferred type of construction, buildings had to look prefab. The organic, tactile quality of the art schools became outré, disdained. They were hardly ever used.
The successful triumvirate was dismantled by the state. Porro, relegated to designing objects in the ministry, moved to Paris. Garatti was deported on trumped-up charges. Only Gottardi remained, even though it meant unfulfilling jobs, because, as he explains on camera, he connects with the Cuban people. The fall of the USSR precipitated a desperate economic situation in the early '90s, the Special Period, but soon afterward, Castro ordered construction and restoration to resume. That lasted until 2009, when two devastating hurricanes and the implosion of the world economy triggered a final stoppage.
The foliage that had engulfed some of the dilapidated buildings has been removed. So has the undeserved stigma attached to these unique structures and their visionary designers.