Back to selection
THOU SHALT NOT WORSHIP FALSE GODS BEFORE ME: ISRAELIS, CHILDREN, AND THE 2012 JERUSALEM INTERNATIONAL FILM FESTIVAL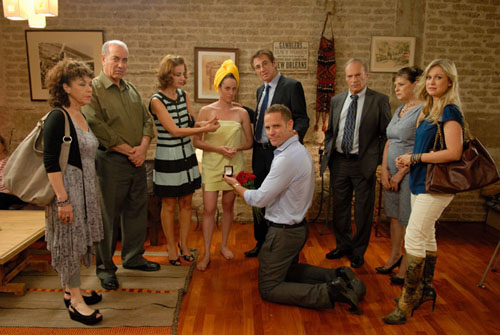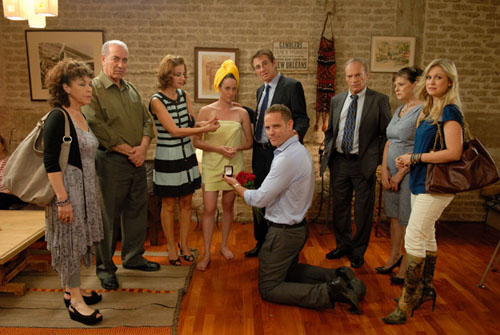 We learnt from Abraham that when it comes to the hierarchy between our children and God, God comes first…but this story, with all its profound meaning, has been lost and denied—for many understandable reasons-by contemporary Israeli culture…a fact that can be seen in two films I recently viewed at the 2012 Jerusalem International Film Festival.
Dover Kosashvili's new feature, Single Plus (above), tracks the story of a woman and her 35-year-old single daughter. The mother is so distraught by the fact that her daughter has not yet reproduced that she comes up with an outrageous ruse. The mother lies to the daughter, telling her she has cancer, and refusing to take her life-saving medicine until her daughter gets pregnant.
This filmic premise leads to 90 minutes of horror-comedy with various live semen-donors, a few unexpected plot twists here and there—and in the end: success! The daughter gets pregnant and gives birth—all is OK in the world. Order has been restored. Giving birth in the Holy Land conveys a state of grace on the mother and everyone around her.
Single Plus was not one of my favorite films at the fest, but I admire Dover's courage in broaching an ugly subject: the fact that in modern Israel, children and grandchildren have usurped God's first position, leading to a collective psychosis in which getting pregnant, by any means necessary, is more important than anything else on earth or in heaven.
Israel is the only (only!) country in the world where fertility treatments are covered under national health care; and the sociopolitical reasons are obvious: the state needs more Jews in general, more soldiers specifically and, in a total climate of endless violence and death, it makes sense to want births.
But the collective insanity denies these concrete (and unromantic) reasons, preferring to confer on pregnant women the status of Goddesses, and on children and grandchildren a position higher than the Godhead itself.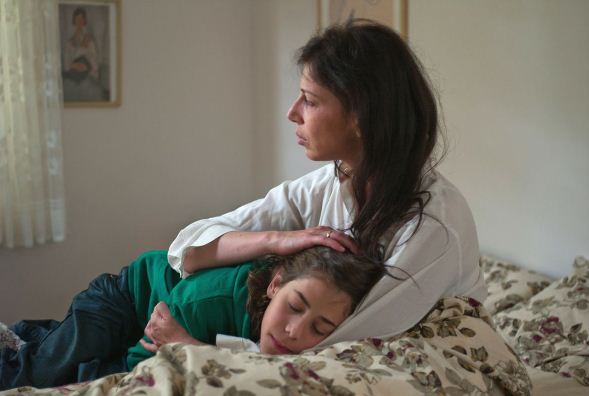 Even Dana Goldberg, a smart and wonderfully talented filmmaker, whose beautiful new film Alice rightfully took away many of the top prizes at this year's film fest, falls prey to this pervasive ideology.
Alice tracks the mournful existence of a woman close to 40 years old, with a husband who seems irrelevant to her life, and an eight-year-old son she cannot connect with at all. Dana's portrait of the alienated mother struck me immediately with its power—not only because of her sure but subtle direction, and the remarkably strong performance of Ilanit Ben Yaacov but because an Israeli filmmaker who dares to show an unloving family, and a total disconnect between mother and son, is clearly an independent thinker.
Almost the entire 82 minutes of Dana's film is precise and unsentimental. She also chooses not to use music at all, a perfect decision that only makes this first feature more powerful. The pastel, sort of drab-on-purpose cinematography by Asi Oren also supports the story beautifully.
In the end we are—almost—left with a truly brilliant portrait of modern Israeli alienation.
And yet, even Dana falls under the spell of the iron rule: Sacred Israeli Motherhood Above All.
In the last shot of her film, we see the endlessly rejected son, running to his mothers arms… (she's in the hospital)….she embraces him…the camera zooms to a huge close-up of loving mother and child…and, for the first time in an hour and a half, romantic music swells on the soundtrack.
Phew! Redeemed! Mother and Son restored!
It was almost a brilliantly courageous work…all the way to the finish line, but not quite.  This stuff runs deep, but it might be wise to remember that golden calves…in any shape or form…lead only to our own destruction on multiple levels.