Back to selection
FACTORY 25 ACQUIRES SOPHIA TAKAL'S "GREEN" FOR WORLD DISTRIBUTION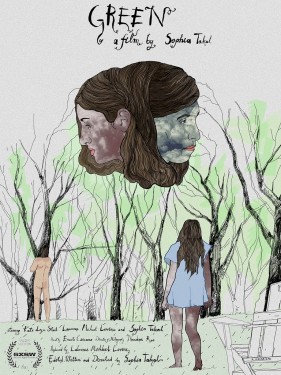 On of our favorite independent films of 2011, Sophia Takal's debut feature, Green, has been acquired for distribution by Factory 25. Factory 25 will debut the film theatrically next month, with runs planned at reRun Theater in Brooklyn, Chicago's Facets and other venues, will release the film digitally and on VOD platforms in November and will issue a DVD next Spring.
Writer/director/actor Takal was selected as one of Filmmaker's 25 New Faces of 2011, and Green scored a Filmmaker-sponsored "Best Film Not Playing at a Theater Near You" Gotham nomination. Here's the lede of my "25 New Face" profile of Takal:
Sophia Takal is engaged to filmmaker Lawrence Michael Levine and their roommate is actress Kate Lyn Sheil. After the three worked on Levine's debut feature, Gabi on the Roof in July (Takal played the eponymous lead, and Sheil co-starred), Takal decided to make her own movie, which would explore the theme of jealousy. She cast rising star Sheil as an insecure bookstore clerk, Genevieve; Levine as Sebastian, her intellectually patronizing boyfriend; and herself as Robin, the offbeat, emotionally hungry local girl the couple meet when they rent a country cabin where Sebastian will document for his blog the planting of an organic garden. What results is a sharply observed, incisively directed and sexually provocative drama about competition and female identity. The more Genevieve imagines Robin as a possible rival for Sebastian's love, the more unmoored she becomes, shaping herself into what she imagines to be his fantasy object. "She's motivated by jealousy and competition, not love," Takal says of Genevieve. "It's sad. These two girls can't come together, support each other, and create their own identities. Genevieve would rather be totally miserable as long as she's close to this man, who gives her this sense of self."
In addition to the Gotham nod, Green was the recipient of SXSW's Chicken and Egg Award, and it won a Special Jury Prize at IFF Boston. For more on Takal, read Brandon Harris's interview here, and look for more Filmmaker coverage of the film leading up to its release.