Back to selection
In Production: Coldwater, A Long Way Down, Stay Then Go and Stage Fright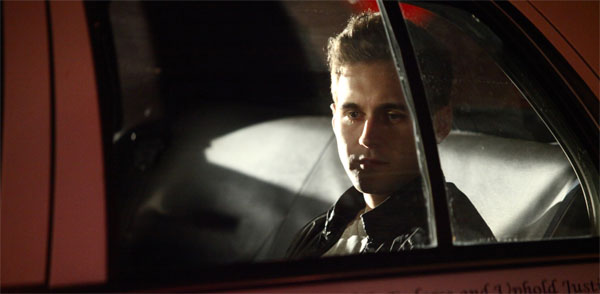 "In Production" is a regular column which focuses on notable independent films that are currently shooting. If you would like your film to be included in this space, please send an email to nick@filmmakermagazine.com
Bellflower producer Vincent Grashaw gets into the director's chair for Coldwater, a drama-thriller about a teenage boy who is placed in a "wilderness juvenile center" overseen by a malevolent army veteran. Produced by Grashaw, Kris Dorrance, Dave Gare and Sarah Farrand and co-written by Grashaw with Mark Penney, Coldwater was originally slated to shoot in 2004 with a different director at the helm and a high-profile cast. Now, Grashaw is directing with a cast of unknowns including P.J. Boudousque (above in an exclusive shot from the film), Chris Petrovski and Scott MacArthur. Filming throughout California, Coldwater is being produced by Gare Farrand Entertainment, Skipping Stone Entertainment and Flying Pig Productions.
Four strangers' suicide attempts are thwarted when they run into each other on the same roof in Pascal Chaumeil's dark comedy A Long Way Down. Based on High Fidelity author Nick Hornby's novel of the same name, the film stars Aaron Paul (AMC's Breaking Bad), Pierce Brosnan (The Ghost Writer), Imogen Poots (Fright Night) and Toni Collette (Jesus Henry Christ). Originally, Johnny Depp owned the rights to the book, which he acquired before it was even published (no word if he's currently involved in the project – maybe a cameo appearance as the voice of reason of the protagonists?). Wildgaze Films, DCM Productions and Film 4 are producing. Lionsgate Films is handling distribution.
Writer-director Shelli Ainsworth's feature debut Stay Then Go is a self-described authentic depiction of autism. Currently shooting in Minnesota, the film stars Janel Maloney (NBC's The West Wing) as Marion, an event planner whose world turns upside down when she learns of her son Eddie's diagnosis with the aforementioned disorder. With Stay Then Go, which was a project at IFP's No Borders international co-production market in 2011, Ainsworth plans to move as well as enlighten audiences on issues pertaining to autism. Christine K. Walker (Life During Wartime) is handling producing duties.
A killer with a disdain for musicals targets (what else?) a musical theater camp in Jerome Sable's Stage Fright. Currently filming in Canada, the horror-musical stars Minnie Driver (Barney's Version) as a former Broadway star and Meat Loaf (Fight Club) as a washed-up theater producer/camp councilor. Sable (who also wrote the film's music) attracted a lot of buzz for his award-winning short film The Legend of Beaver Dam (2010), which played and received honors at many festivals including TIFF, Sundance, BFI London, Sitges International and Fantastic Fest, among others. Serendipity Point Films is producing.