Back to selection
Mike Birbiglia to Host 2012 Gotham Awards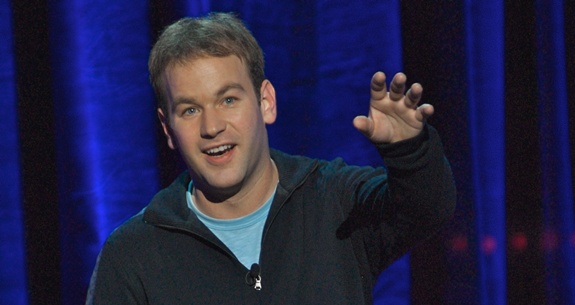 Mike Birbiglia's directorial debut, Sleepwalk with Me, has provided one of the underdog success stories in U.S. indie film this year, so it's all too fitting that Birbiglia has been chosen to host this year's IFP Gotham Awards on Monday, November 26, 2012 in New York City.
IFP's Executive Director, Joana Vicente, said of the actor/writer/director's appointment as the 2012 Gothams emcee, "We are so thrilled that Mike Birbiglia will be hosting the Gotham Awards this year. Coming off an exciting year as a debut director, with a hit film under his belt, Birbiglia's charm and humor are sure to delight our audience."
Commenting on his role at the 22nd Gotham Awards show, Birbiglia added, "I couldn't be more excited about hosting the Gotham awards. I've only attended once before; that was as a coat check guy (and I'm not kidding), where I worked with my sister Gina. I don't mean to brag, but I must have done a pretty damn good job hanging up coats to be asked back to host the thing. At first I thought maybe they should have asked Gina to host, but then I remembered that she lost a few coats. The point is, I'm really excited about the Gotham Awards! It's truly an honor to be asked by IFP."
Standup comedian Birbiglia turned his autobiographical tales of sleepwalking first into a story on This American Life and then an off-Broadway show before adapting that for the big screen. Sleepwalk with Me premiered at Sundance 2012, where it won the NEXT section audience award and was picked up by IFC Films. In what has unquestionably been the most successful year in Birbiglia's career, he also notably appeared in Lynn Shelton's Your Sister's Sister (also released by IFC) and an episode of Lena Dunham's Girls.
Birbiglia gave the following interview to Filmmaker just prior to departing for Sundance with Sleepwalk with Me.