Back to selection
THE YOUNG PERSON'S GUIDE TO KATHRYN BIGELOW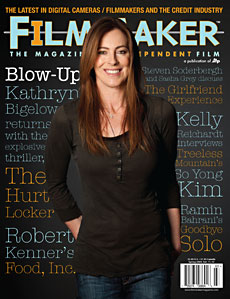 A big congratulations to Kathryn Bigelow, Mark Boal, and the team behind The Hurt Locker for their well-deserved Academy Awards tonight. (I'm pretty sure it's the first Filmmaker mag cover film to ever win Best Picture and Bigelow the first cover director to win Best Director.)
For any newcomers to Bigelow out there, here's a quick history courtesy of YouTube. (Missing, unfortunately, is her 20-minute Columbia University student film The Set-Up. According to the New York Times' Manohla Dargis, it portrays "two men […] fighting each other as the semioticians Sylvère Lotringer and Marshall Blonsky deconstruct the images in voice-over.")
Bigelow's first movie, 1982's The Loveless, also happens to be Willem Dafoe's proper debut. (Bigelow directed the film with her co-screenwriter, Monty Montgomery.)
A personal favorite, her vampire thriller Near Dark. Back in the day everyone was obsessed with actress Jenny Wright from this film.
Here is her Jamie Lee Curtis cop drama, Blue Steel, which, strangely, seems to be available on YouTube in a German version.
The amazing chase scene from Point Break.
The trailer for her cool and underrated Strange Days (produced by ex-husband James Cameron).
Five years passed between Strange Days and 2000's The Weight of Water, which starred Sean Penn, Sarah Polley, and Elizabeth Hurley in an erotic-tinged mystery that flashed from present day back to 1873.
And then came K-19: The Widowmaker — Bigelow in mainstream mode with Harrison Ford.
Six more years would pass before Bigelow would premiere her next film, which is, of course, the Academy Award-winning The Hurt Locker. Read our interview with Bigelow about the film here.