Back to selection
GILBERT SHELTON AT SXSW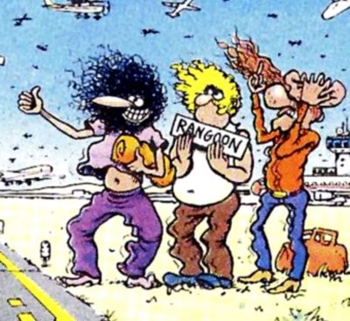 As part of their annual look at SXSW, The Austin Chronicle gets ready for the fest with this piece on iconic psychedelic comic book artist Gilbert Shelton, who's best known for his Freak Brothers comics. He will also have an exhibit of his work in town during the fest as well as Harry Knowles conducting a conversation with Shelton on March 15 at the Austin Convention Center.
Here's an excerpt from the piece:
Freewheelin' Franklin, Phineas, and Fat Freddy symbolized the pot culture of the Sixties, their free-spirited lifestyle in pursuit of sex, drugs, and rock & roll the model for a generation that broke more molds than any before or since. Their hairy appearances and attitudes were summed up in one philosophy: "Dope will get you through times of no money better than money will get you through times of no dope."

It was a potent anti-establishment mantra that sold about 40 million comic books in 15 languages and is still chanted by the faithful. The Freak Brothers were such a hit that even the appearance of Fat Freddy's Cat attracted fans, and the cat, whose panels started appearing on the bottom of the comic pages, soon got his own comic. But the Freak Brothers were Sixties hippies in the Seventies, anachronistic by the New Wave Eighties, relics by the Gen X Nineties, and ancient history by the Aughties. What was left but for them to become retro cool?

"We never expected them to stay popular," says Gilbert Shelton, the Cheshire grin on his face almost audible as he speaks on the phone from France, where he resides with his wife. "Maybe they were just easy to read. At the time, the daily newspapers wouldn't touch certain subjects, so weeklies sprung up, some leftist. Before the Chronicle, there was The Rag, and I was in sympathy with these weekly newspapers, but they were godawful dull. I thought what they needed was a comic strip to improve readership. So that's the reason I started the Freak Brothers."
The Freak Brothers may also be coming to the big screen soon. There has been a stop-motion animation feature in the works since 2003 titled Grass Roots. Some footage from the film is below.