Back to selection
How to Go Green with Producer Miranda Bailey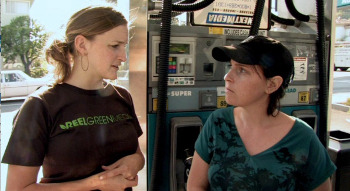 For a filmmaker approaching L.A.'s Ambush Pictures with a new project, "greenlit" is the happiest word in the English language. For Ambush Entertainment co-founder Miranda Bailey, an executive producer of The Squid and the Whale and a producer of the upcoming Super, the word came to mean something very different as she made her directorial debut. Greenlit is its title, and it refers to Bailey's commitment to "green" the company's The River Why by hiring an environmental consultant during production. While there's been much documentation about greening the motion picture business, Bailey brings a perspective that's both practical and irreverently funny as she dramatizes her own experience.
Filmmaker asked Bailey to list ten green filmmaking tips she learned from making her film.
1) Take a deep breath and realize you will not be able to be completely
green. Acknowledge what you can green — trash, catering, water bottles — and go from there.
2) Make sure there is a recycling bin next to EVERY GARBAGE CAN. EVERY SINGLE ONE.
3) Give everyone a reusable bottle and show them where they can fill it
up instead of using plastic disposable ones.
4) Tell craft services it is very important to you to use non-disposable plates and utensils at meals.

5) Look in the trash. See that soda can or bottle in there that should
be in the recycling bin that is right next to it? Pick it out and put
it in the proper bin. Then tell a PA you don't want to have to do that
again and that you will give them quarter for every person they tell to
recycle from here on in.
6) Go raise your budget to include $100/day for the PA who has to guard the trashcans.
7) Go to set a week later, see that there are trash cans located
everywhere but no recycling bins anymore. Go put the recycling bin that got moved and forgotten about back next to the trash can. Find a PA. Tell them to make sure there is ALWAYS a recycling bin next to the trash can.
8) When you are at lunch and you realize you are eating with a plastic
fork, complain to catering and ask why it isn't silverware. Demand silverware.
9) Go raise your budget AGAIN to hire your catering another dishwasher
because they refuse to use non-disposable plates and utensils on the
budget you originally negotiated with them.
10) Never drive where you can walk. And always use recycled paper if
you can afford it. — Miranda Bailey