Back to selection
Joke's on You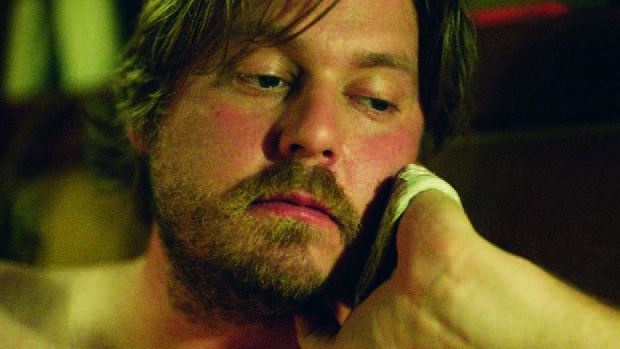 Tim Heidecker in The Comedy
At first glance, Rick Alverson and Tim Heidecker don't seem like obvious collaborators. Alverson, indie filmmaker with two features under his belt, and Heidecker, on-half of absurdist Adult Swim comedy duo Tim and Eric, command vastly different audiences. But The Comedy finds the two joining forces — Alverson behind the camera and Heidecker in front — to create one of the year's most challenging films, a dense character study more unsettling than it is funny.
Set amidst the streets of Williamsburg, Brooklyn, the film follows affluent aging hipster Swanson (Heidecker) as he widdles away his days, unemployed and rudderless. While his faher lies dying in a nearby hospital, Swanson engages in a series of provocations with the outside world–dark vignettes that hint at his slowly eroding sense of self.
For Alverson, the film was born out of a fascination with America's leisure class. "There's always been people in this country who have been fixated with deconstructing sincerity, with irony and with flirtations with protocol, but it seems to be becoming a progressively larger cultural enterprise," Alverson says. "The middle class today, they live like kings and queens, in so far as their access to information is unprecedented. When you have all of the stimuli in the world literally at your fingertips, desensitization occurs."
Alverson and Heidecker first met through mutual friend Will Oldham (star of Alverson's previous film New Jerusalem, and known in the music world as Bonnie 'Prince' Billy). In Heidecker, Alverson found a collaborator with similar interests, even if his chosen medium was different. "I was fascinated by [Heidecker's Adult Swim TV series] Awesome Show. His interest in discomfort in the comedic sense seemed compatible with my interest in discomfort in the dramatic sense."
For his part, Heidecker is not worried about his Adult Swim audience's reaction to his turn toward the dramatic. "I think people should expect that [Eric and I] aren't ever going to be delivering what anybody expects. And this is just another case of that."
While shooting, Heidecker worked from a 20-page outline by Alverson that detailed scenes and plot beats, and improvised on set to fill in the dialogue. Heidecker's long-time collaborator Eric Wareheim came along for the ride to round out the ensemble, as did Greg Turkington (better known in the comedy world as Neil Hamburger) and James Murphy (leader of the recently-defunct LCD Soundsystem).
For Alverson, who spent a decade fronting Richmond art-rock band Spokane before turning his focus toward film, the process was an organic one. "I'm interested in a certain type of muddy naturalism," he explains. "When I step onto location, the objective is usually tonal. That's part of the reason why I don't use scripted dialogue."
"I ask a certain relinquishment [of my actors]," Alverson continues. "I ask them to make themselves bare to some degree; to bring in parts of their personality that we fictionalize or augment. And Tim was just completely generous in that regard."
While the filmmaking process was a pleasant one, Alverson and Heidecker have faced some hostility on the festival circuit. At Sundance, SXSW and elsewhere, audiences have had strong reactions – both positive and negative – to the film's disquieting content and alienating lead character.
But this was to be expected. "From the beginning, the film was an attempt to flirt with sincerity in a really base way — hence the title," Alverson explains. "I think that really puts some people on edge. Audiences can watch decapitation or bestiality or whatever if it's in the context of some particular kind of spectacle. But they need to know what they're signing up for. They need to watch film couched in the comfort or safety of a certain genre or mental environment."
"[I have a] desire for people to compromise themselves with the medium, just because they're so seldom asked to do so," Alverson continues. "That's why I cast comedians and personalities that were engaging and charismatic — to draw people in."
To Heidecker, this type of forced introspection is no foreign concept. "A lot of my work is about the question of what comedy is — an exploration or dissection of comedy," he says. "In Tim and Eric, it's often comedy itself being lampooned — we put the question of what is funny and what is not up for debate. In The Comedy, I think that idea comes across in the way people joke around, and the way humor is used as both a weapon and a shield."
"You might be sitting around a bar drinking beer," Heidecker continues, "and you get into a routine with your close friends that's like, 'I'm going to rape you with my own shit-filled piss.' But that's not about the reality of it — it's about the absurdity of it. And that's where I think my character and I separate — he brings those kinds of conversations into the real world, and to people who aren't on the same page."
"Look at studies of apes in the '70s," Alverson argues. "People were perplexed that they were violent when we put them in confined spaces, without the natural world around them. I think that cruelty and violence operates similarly in human beings. It's environmental, even in small ways."