Back to selection
FILMMAKERS SQUARED
Love was in the air at the Filmmaker Brunch on Friday afternoon, where the top shelf tequila ran rampant.  Against the backdrop of the soon-to-be-retired Troublemaker Studios green screen — where almost every Robert Rodriguez film has ever been shot — filmmaker pairs mixed and mingled.  They were implored to hold this moment dear, because "this is the moment,"  in an actually very moving speech by Up In The Air director Jason Reitman, who got into his car the day after the Oscars and drove straight to Texas.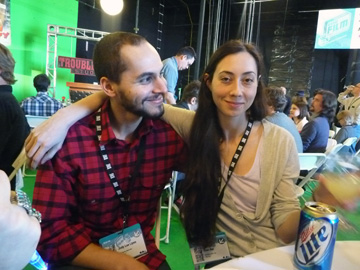 Jody Lee Lipes, co-director of NY Export: Opus Jazz and DP of Tiny Furniture, with NY Export: Opus Jazz producer and ballerina star, City Ballet's Ellen Bar.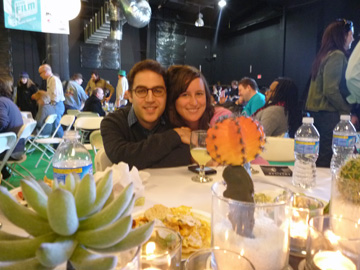 11/4/08 director Jeff Deutchman, pulling double-duty at SXSW this year as Acquisitions Coordinator of IFC Films, as is 11/4/08 producer Natalie Difford, Program Associate for Chicken & Egg Pictures, who will administer a generous cash prize to one lucky female director at this year's festival.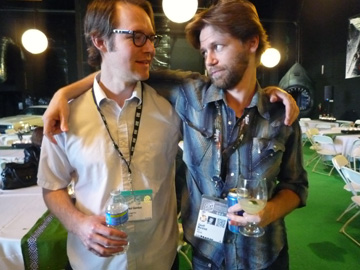 An Austin Affair:  Local filmmaker Paul Gordon, writer/director/star of The Happy Poet, accepting an affectionate glance from neighbor Geoff Marslett, writer/director of Mars, a film in which Paul also stars.
– Alicia Van Couvering