Back to selection
This Ain't California: This Ain't a Doc?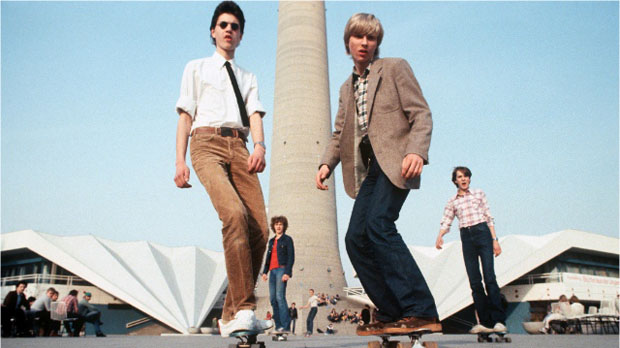 The most gratifying aspect of curating a film fest is being able to bring an under-the-radar gem you feel passionate about to an audience that might never otherwise see it. And as the director of programming for this year's Santa Fe Independent Film Festival I was asked several times to name my favorite selection (which, of course, is like being asked to choose between kids). Nevertheless, I'd be lying if I pretended one film didn't immediately leap to mind, a flick I'd fallen head over heels in love with when I caught it over the summer, courtesy of Rooftop Films. As I wrote in my program notes:
"The talk of the 2012 Berlinale and a hit at this year's Rooftop Films Series NYC, West German director Marten Persiel's This Ain't California thrills on so many levels it ultimately defies description, much like its stunning skateboarding tricks caught on archival super 8 and set to 80s German synthpop. To call it a doc about a gang of skateboarders on the wrong side of the Berlin Wall doesn't nearly do justice to this punk nostalgia trip and fragile time capsule, to this alternative history of the German Democratic Republic, and personal tribute to a lone teenage rebel with a universal cause."
And I still stand by those words. Even after learning that much of that "archival" super 8 footage was freshly shot, and that the lone teenage rebel who grew up to die fighting in Afghanistan was played by a pouty-lipped German model. And, fascinatingly, my not caring whether the flick is "real" or not seems to shock a lot of my friends and colleagues as much as them learning of the movie's many reenactments. So why don't I feel duped? For the same reason I don't feel betrayed watching professional wrestling – i.e., if you're busy wondering whether the matches are staged or not you're missing the point. You're also missing what's real. I'm talking about the acrobatics, the athleticism – and the honestly earned sweat and pain – and, most importantly, the artistry behind the "fakery." It's why I could go to Site Santa Fe, the museum next door to the Warehouse 21 venue where This Ain't California screened, for an exhibit called "More Real? Art in the Age of Truthiness" and feel a thrill when stumbling upon a display of the Coney Island Amateur Psychoanalytic Society. So taken with Zoe Beloff's meticulous labor of love, that purports to document the history of a previously unknown Brooklyn organization founded in 1926 – and dedicated to exploring Freudian theory and its relation to film among other intriguing aspects – I didn't have time to ponder whether this group was a figment of Beloff's highly creative brain or not. And now that I know there's no "proof" that the Coney Island Amateur Psychoanalytic Society ever existed, I'm even more enthralled. The wild imagination required to dream up such a project is more exciting than any piece of found footage (and Beloff uses many archival photos and materials, regardless of their supposed attribution) could ever be.
In other words, I consider cinema an art form no matter the genre, and one which should be allowed the same breathing room as any painting or musical composition. Expanding our definition of doc in the age of Colbert and the Yes Men could go a long way to freeing our perception and eliminating preconceived notions as well. Like Shane Meadows' fiction films, This Ain't California presents one of the truest depictions of growing up punk in the 80s that I've ever seen. And that's more than real enough for me.