Back to selection
Hearing Central Pitches at the IDFA Forum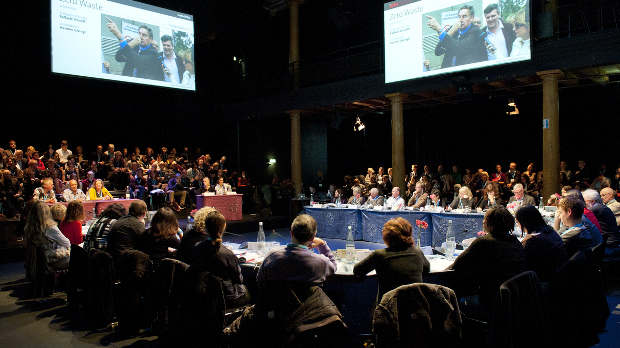 So, I am in Amsterdam, attending my first IDFA, a fest I've been dreaming of attending since I first started working in documentary. IFP has 11 films in the fest, and four works in progress in the Forum, so I'm here for moral support, promotion of IFP, and reconnaissance. What is happening in documentary in the rest of the world?
In advance of my arrival, I was most anticipating being a part of the Forum, "IDFA's international co-financing and production market, Europe's most important breeding ground for new documentary work." The Forum presents works in progress to the international funding and broadcast community, and the Central Pitches every morning are public presentations from filmmakers to a huge panel of 25 top broadcasters & others from around the world. All this plus an audience of 300 observers; festival reps, funders, peer filmmakers, other film orgs. No pressure.
Now, despite producing some element of IFP's last seven Independent Film Week Spotlight on Documentaries programs, broadcast still mystifies me to a great extent; which is why I am here (and why you hire a sales agent). So, while I know some of the players, the Forum pitches provide me the insight on the kinds of conversations that were happening in the hive of our own Project Forum meetings, but on a huge scale.
The Central Pitches are incredible, a kind of spectacle of media education. I love a spectacle. And these conversations are spicy! The moderators, deft and to the point, seem to encourage and goad the industry to take these projects seriously, and to come out with it: is this a project that you want to support or not?! And when one seems positive, it becomes our role as audience to cheer their support; yes, we too want this film shown! And when you hear a no, the moderator, before you can process rejection, is off to the next person. Its like ripping off the band-aid — you can move on and you're not left wondering why they're not returning your email.
Here, the industry has no time for nonsense: they argue and ask tough questions, putting the filmmakers under the microscope. "What is your perspective as the filmmaker?" "This trailer is very atmospheric, which might be fine for 20 minutes, but what of an hour or more?" "What is the real substance of the film?" "How will you communicate the context of your complicated issue?" Exactly the kinds of questions they need to ask, and that filmmakers should be able to answer without hesitation. The filmmakers, in turn, hold their own, and express the vitality, timeliness and passion of their projects.
It's really quite incredible, presenting new all kinds of new creative non-fiction right to the lion's den of hungry, and picky, broadcasters, grantors, and other exhibitors, and leaving them to argue over the choice morsels. In the end, it's the filmmakers who benefit from this competitive marketplace, the Forum gives them the platform to share their work and the urgency to take action in a world market place.