Back to selection
Five Questions with Tchoupitoulas Co-Director Bill Ross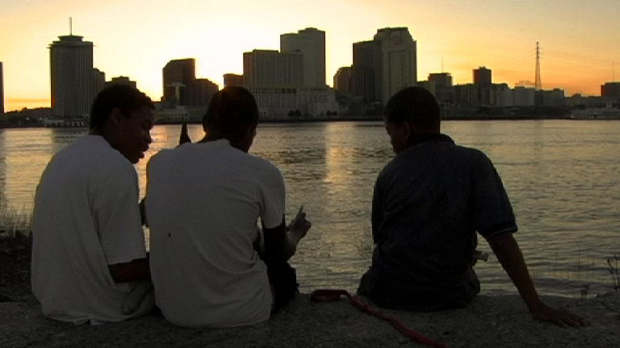 Every once in a while, a film comes along that invites the audience to transcend their theater seats and join a cast of characters on a strange journey, where initially the final destination remains a mystery to all. Over the course of 80 lean minutes, Tchoupitoulas, now playing in New York City at IFC Center, asks us to follow three brothers who, after missing the last ferry home, traverse the streets of New Orleans by night with little more on hand than their wits and a dog named Buttercup. The film weaves together the various nightlife scenes, ranging from striptease shows to impromptu jazz sessions, culled by filmmakers Bill and Turner Ross over an extended shooting period, with the loose narrative of three siblings spending all night on their feet until the sun rises. It's never clear what might be around the next corner, but Tchoupitoulas is primarily a vivid experience of imagination and sound inescapably connected to its setting, a documentary to be savored for every frame. Filmmaker interviewed director, producer, cinematographer and editor Bill Ross about the making of the film.
Filmmaker: What was the inspiration for Tchoupitoulas?
Ross: Turner [Ross] and I spent a lot of time in New Orleans as kids and we wanted to speak to that experience.
Filmmaker: What initial work went into establishing a trust and familiarity with the subjects of Tchoupitoulas, the three brothers that we follow for the entire film?
Ross: The kids were in immediately, we just had to keep up. There were other situations like the time we had to strip at a club while singing Frank Sinatra that made gaining trust a little more interesting.
Filmmaker: There is a very clear distance between filmmaker and subjects as the night progresses and the brothers' odyssey through New Orleans nightlife evolves. How did you decide on this approach for the film? Was this your intent from the start?
Ross: We went in hoping to find a group of kids to be our eyes and ears. We weren't going to cast it and ask them to do what we wanted. It needed to be a natural situation that would be happening whether we were there or not.
Filmmaker: The film is almost like a subdued, vérité entry into the "one crazy night" film genre. While editing Tchoupitoulas, how did you balance the narrative framework of one night-long adventure and the bevy of observational situations captured in the film?
Ross: The kids made it somewhat easy on me because they had a direct point A to point B adventure. All I really had to do was color in the landscape around them, which I did with the seven months of footage we shot before we found them.
Filmmaker: What were the challenges on shooting on location in New Orleans after dark, especially in a film where the music and people the subjects encounter along the way play an integral role in the film's remarkable sense of atmosphere and space?
Ross: Staying sober was an issue. Getting swept up into the environment is always something we're after, but eight months of all-nighters in a place like that, [it] wears on you. Every night was interesting, though. One particular evening, a guy we were following considered killing us so he could sell our cameras, but in the end we just had another beer and looked at the river.